Apple Unleashes a Lion -- and the Heir to the Air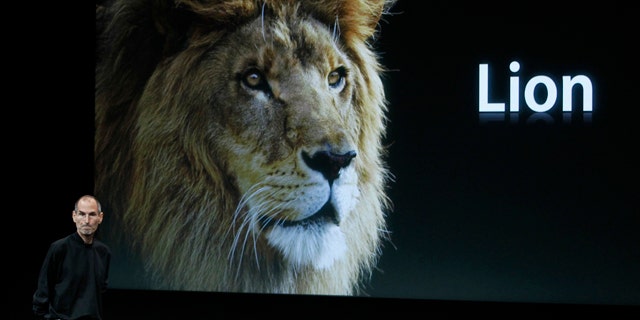 With a new version of the Macintosh operating system called Lion, a superslim new MacBook Air, and updates to the iLife application suite, Apple CEO Steve Jobs hit the stage with a characteristic flourish at an October 20 event.
At a crowded event featuring appearances by executives Tim Cook (who claimed that momentum on the Mac "has never been greater") and Phil Schiller, Apple unveiled several new products for the holiday season -- including a preview of the next version of the Mac operating system, called Lion.
"What's the philosophy behind Mac OS X Lion? Well that's where the 'Back to the Mac' thing comes from," Apple CEO Steve Jobs said. With it, the company plans to bring many of the features developed for the iPhone and iPad to the Macintosh operating system, features such as multitouch, an app store, and full screen function.
With one-click downloads, auto-updates and free as as paid apps, the Mac app store will be a key part of the new operating system. And a "launch pad" feature will make it easy to organize and launch apps in the new version of the operating system.
Multi-touch functionality is built into many new features -- notably Mission Control, a new view of the Mac desktop -- though support for the touch interface is limited to users with touch-sensitive trackpads or mice. Look for Lion in the summer of 2011, Jobs said.
With a characteristic "one more thing," Jobs went on to unveil a new version of the ultraslim MacBook Air, which tapers down to just 0.11 inches thick. The laptop comes in two models, one with a 13.3-inch screen and one with 11.6-inch screen. The new laptops will feature full-size keyboards and Intel Core 2 Duo processors.
"As interesting as what it has is what it doesn't have," Jobs went on to point out, announcing that the new laptop would not contain a hard drive. By going with flash memory (like that in an iPad or iPod), Jobs claimed that the new MacBook Air would be 80% smaller, two times faster, and more reliable -- and like an iPad, it would turn on instantly, rather than booting up as other computers do.
The new MacBooks will sell for between $1,000 and $1,600, and are currently available at Apple stores and online.
Jobs began the event by unveiling a new version of the iLife application suite, iLife 11. The suite contains a photo editor, a movie editor, a music maker, and more.
"I get to be the first to show you this great piece of software. I know a lot of you use it. This is the best version yet," vice president Phil Schiller said, joining Jobs onstage to unveil the software.
The iPhoto app includes new slideshow functionality with fun templates, a new fullscreen places view, and a new fullscreen view of all photo albums, including those from Facebook and Flickr. The software also lets users print out stylish greeting cards. The iMovie app contains new audio editing, new effects, a "people finder" that can detect faces, and more. The movie application features a new "Sharing" menu that lets you pump your videos out to various services and friends as well.
GarageBand, a neat part of the iLife suite designed to facilitate making your own music, features a new "Groove Matching" function that automatically corrects for songs that are off-rhythm. Xander Soren, the product manager who showed off the app, joked that this feature was incredibly useful.
"It's like a spell checker for bad rhythm," Soren said.
The iLife 11 application suite is available today as a $49 update for older computers; it's included for free with the operating system.
Apple also unveiled Facetime for the Macintosh, allowing you to make calls from a Macintosh directly to an iPhone or a newer iPod Touch. A beta version of the software is available at the company's website.
The previous update to Apple's OS -- version 10.6, or Snow Leopard -- made its debut in August 2009.
FoxNews.com is live at @fxnscitech.