Apple Shows Off New iPods and TV, Unveils Social Network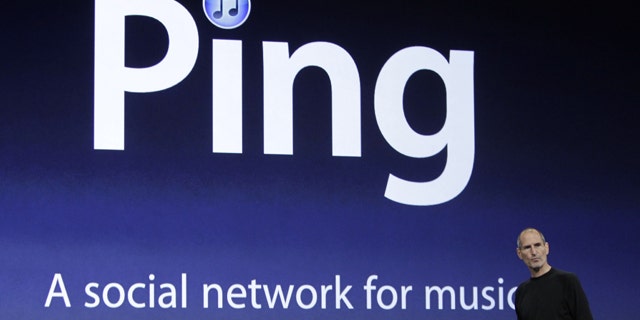 Apple fans Web-wide tuned in to an annual music-themed event Wednesday, where Steve Jobs unveiled an updated streaming TV device, funky new iPods -- and a social network that's all about music.
The main focus of the event was iPods, ostensibly -- Apple claimed to have sold 275 million of them to date. And at the event, Apple chief Steve Jobs unveiled a slimmer new version of the Touch including "Retina display," the 24-bit high-quality screen that Apple introduced with the newest version of its iPhone.
Jobs called the Touch "the number-one portable game player in the world," noting that over a billion games and entertainment titles have been sold for it. Though the new Touch shares other hardware similarities to the latest iPhone (such as front and back cameras), it doesn't have cellular connectivity, and therefore won't share the radio issues that haunt the new iPhone.
Apple also unveiled a new version of the diminutive iPod Shuffle, with a square design and 15 hours of battery life; it will sell for $49. Jobs showed off a new squarish version of the iPod Nano as well, one that incorporates a multitouch screen. All three new iPods will be on sale next week, Jobs announced.
iTunes is a key part of the music package, and at the event, Jobs showed off the newest version, iTunes 10. It adds an intriguing new music-discovery function called Ping.
Ping aggregates posts from friends and artists you follow, a function similar to the social-networking features in Twitter and Facebook, and includes a new database with over 17,000 concert listings from those artists. Follow a person and get updates from him, with photos, concert dates, and new music he's bought or added to iTunes. It also creates a custom, top 10 chart of music based on those people you follow.
"It's a social network all about music," Jobs said.
Jobs unveiled a redesigned, smaller version of the Apple TV product too, which he acknowledged had not sold as well as the company hoped. "We've sold a lot of them but it's never been a huge hit. But neither has any competitor product," he said.
The new product has no local storage, instead streaming videos and photos directly from iTunes. With it, you can rent first-run movies for $4.99 or high-definition TV shows for just $0.99, initially just from ABC and Fox.
"We think the rest of the studios will see the light and get on board with us pretty soon," Jobs said.
Jobs wrapped up his demonstration by announcing a major price drop for the Apple TV, which will be available "in about 4 weeks," from $229 to just $99.
He began the event by unveiling iOS 4.1, which fixes bugs and adds support for high dynamic range photos, HD video, rentals and more. High dynamic range photos combine images from three pictures taken almost simultaneously into one, incredibly detailed image.
The operating system update also includes GameCenter, Apple's central point for game developers and players.
"If you don't have any friends, GameCenter will automatch you with others," Jobs said. Look for the free download for certain models of the iPod Touch and iPhone next week, he said.
Jobs also gave a preview of iOS 4.2, which brings wireless printing, GameCenter, high dynamic range photos and more to the iPad. Notably, it will also include AirPlay, which lets users send audio, photos, and video over Wi-Fi to other gadgets. Jobs said the update would come in November, and would be free for iPod Touch, iPhone, and iPads.
The event was streamed live from Apple's website, though the "open" format Apple chose to use for the live stream (based on the new HTML5 standard) proved choppy, and was only supported in certain Apple devices, such as iPads, iPhones, and the latest version of the company's operating system, MacOS X 10.6.
Follow our live coverage on Twitter, @fxnscitech.