Americans turn to social media to air feelings on slimdown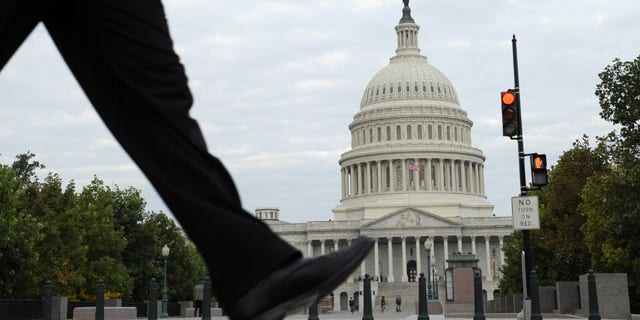 The roiling debate over the partial suspension of government services is extending to Twitter, Facebook and Instagram as fed-up Americans turn to social media to register their disgust with federal lawmakers for slimming down the government.
Those posting pulled no punches, calling members of Congress "immature," "stupid" and "idiots" who need to "grow up." There were a few attaboys, too, by self-described red-state conservatives who cheered on the Republican leadership's unwavering stance against President Barack Obama's health care plan, even if it meant suddenly pulling the paychecks of some 800,000 federal workers and threatening popular federal programs.
But mostly, tweeters said they couldn't understand why a compromise between the two sides seemed so elusive.
"#DearCongress, You should not be getting paid. In fact, you all should be fired!" tweeted Bruce Swedal, a 46-year-old Denver real estate agent who says he is worried about what the partial suspension of government services might do to home sales if federally backed loans dry up.
The public outcry playing out on social media sites this week is a new twist. During the last partial suspension of government operations, in 1995, angry Americans would have had to look up their congressman's address and sit down and write an old-fashioned letter or email. But with the advent of Twitter, popular hashtags like #governmentshutdown and the "Today" show's #DearCongress let voters log their complaints to all 532 members of Congress at once -- provided they stay within the allotted 140 characters or less.
For their part, lawmakers used Facebook and Twitter to reiterate long-held talking points, further angering dissenting voters. Republicans said Obama's health care program would be too catastrophic to allow, while Democrats accused Republicans of sending the government into a free fall to appease a small minority.
House Speaker John Boehner's post urging Senate Democrats to back down earned more than 13,000 "likes" on Facebook and an additional 13,000-plus comments from voters, either hailing the Ohio Republican as a hero or calling him everything from a "crybaby" to a "terrorist." House Democratic leader Nancy Pelosi's Facebook post blaming Republicans for the shutdown earned fewer than 2,200 "likes" and 1,400 posts.
Meanwhile, federal programs used Twitter to announce that they would no longer be responding to tweets or other social media posts until the suspension ends. Even the first lady, Michelle Obama, said her own personal tweets would be limited.
Swedal, the Denver real estate agent, said in a telephone interview that he doesn't think his tweets will make a difference. In the end, he says, politicians are likely to do whatever they want.
"But at least I feel better," he said.