Americans Saving Money By Purchasing Old Military Equipment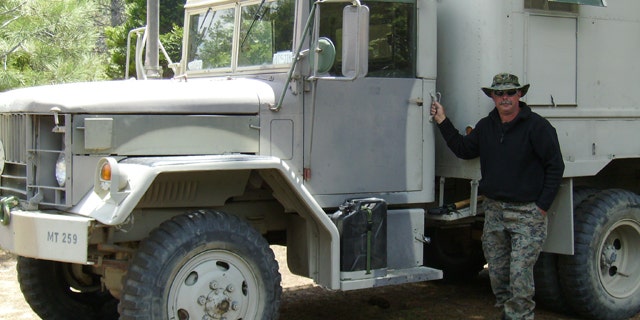 Ever wonder what happens to military vehicles too old for field use, but too good to throw away?
From planes to trains to automobiles -- and even live mules -- people are converting military surplus into valuable business equipment.
Jim Long purchased a 1967 M109 A3 shop truck five years ago, a vehicle once used as a military communications vehicle.
Many shop trucks from this period were also used for machine, woodworking or firearm repair. Long converted it into a solar-powered motor home that helps with his military surplus business.
"I wanted to use as much salvage and military surplus as I could in it, and building it, so people could see what you could do," he said.
Long is owner of G.I. Jim's Military Surplus in Tollhouse, Calif., and an expert in salvaging surplus.
He found the truck on GovLiquidation.com, an online marketplace that sells everything from guided missile maintenance equipment and helicopter rotor blades to fix-winged aircraft -- and even live mules once used by the 1st Cavalry Division at Fort Hood.
There's plenty of other everyday equipment as well: laptop computers, desktops, VCRs and cameras.
"Items that are no longer needed occupy warehouse space … These items are removed from these locations to help the government consolidate and streamline its operations and the items become available to the public market," said Bill Angrick, CEO of GovLiquidation.com.
Anthony Tiapon purchased a Canon DS6031 10D camera in order to give back to his community by taking photographs of local high school sporting events.
Military photojournalists once used the cameras to take portraits of personnel to post on promotional boards.
"Using the photo equipment allows me to stay involved by giving the young adults something they can remember for a lifetime," said Tiapon of Galt, Calif. "It's all top-notch equipment. The government doesn't waste money; they buy good stuff," Long explained.
Jon Lockin purchased an American Transportation Corp MDL SS-22 passenger bus to make money for college by driving students home after a night of partying.
"It's truly fascinating to see the ingenuity and creativity of entrepreneurs and what they can do with the equipment that otherwise would lay idle," said Angrick.
However, not just anyone can get hold of the military's secrets; many items that are hazardous or may have military applications are removed or destroyed.
"There are very strict standards to remove those items prior to our involvement, and we have the ability to essentially provide consumers and small businesses with access to these very attractable priced items," said Angrick.
"Never underestimate the industriousness of American entrepreneurs," said Angrick.