Ambitious 'Free Electric' bike project brings energy to poverty-stricken areas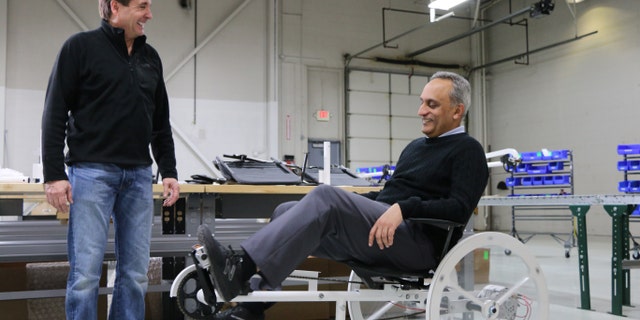 The CEO of the company behind the popular 5-hour Energy drink is spearheading an ambitious project to power homes in poverty-stricken areas using stationary bikes.
Free Electric is a hybrid bike that spins two flywheels, which turn a generator that charges a battery. An hour of pedaling can meet a rural household's electricity needs for 24 hours, according to Manoj Bhargava, CEO of 5-hour Energy maker Living Essentials. This includes running lights, a small fan and charging mobile devices.
Bhargava told FoxNews.com that the Free Electric bike was born out of his desire to power parts of the world affected by poverty. "Energy is a basic human need. And yet, over a billion people are still living in the dark," he explained, via email. "If we can provide poor households with a product that can generate reliable electricity at any time of day or night, at no cost and with no pollution, that could create a ripple effect of better health, better access to education, better jobs, opportunities for entrepreneurship—it could literally change the world."
Related: 5 smart home gadgets to create your home of the future
Made out of regular bike parts, the Free Electric is designed so that any bike mechanic could easily fix it.
Initially, the bikes will be targeted at India. Bhargava aims to have a first batch of 10,000 bikes distributed by the third quarter of this year. Pricing will range from free to $250, depending on people's ability to pay for the bike, he added.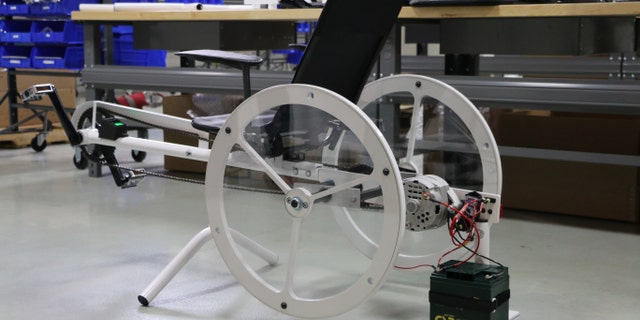 A pilot project with 25 bikes kicks off next month in villages close to Lucknow, Amethi and Raebareli in the north Indian state of Uttar Pradesh.
Related: University of Rochester scientists create 'super polymer' that can lift 1,000 times its mass
Bhargava was born in Lucknow and moved to the U.S. with his family when he was a child.
"We're focused on India for now, but plan to eventually set up manufacturing and distribution channels around the world," he said, noting that prices will be based on production and distribution costs. "Every market is different. However, we do plan to create a fancier version with more bells and whistles for wealthier consumers, which will be priced around $1,200-$1,500."
Some critics, however, have questioned whether off-the-grid energy solutions such as Free Electric bikes are the answer for people living in poverty, arguing that grid-based power is what they most desperately need.
Related: Fuel-cell maker claims smartphones with 7-day battery life just 2 years away
Bhargava told FoxNews.com that there will always be a need for off-the-grid energy technology. "Grid-based power isn't a solution for people who are poor. The poor, by definition, cannot afford utility bills," he said. "Further, connection to the grid has meant intermittent and unreliable power for most poor, rural households in the world."
"Free Electric solves the problems of energy access, affordability, and reliability, all of which are issues the poor face when it comes to grid-based power," he added.
Bhargava is not the only business heavyweight focusing his attention on the world's power needs. The link between poverty and energy resources was a key theme in the annual letter published by the Bill and Melinda Gates Foundation Monday. "If I could have just one wish to help the poorest people, it would be to find a cheap, clean source of energy to power our world," explained Microsoft co-founder Bill Gates. "Without access to energy, the poor are stuck in the dark, denied all of these benefits and opportunities that come with power."
Follow James Rogers on Twitter @jamesjrogers