Alexa loses her voice in Amazon Super Bowl tease starring Jeff Bezos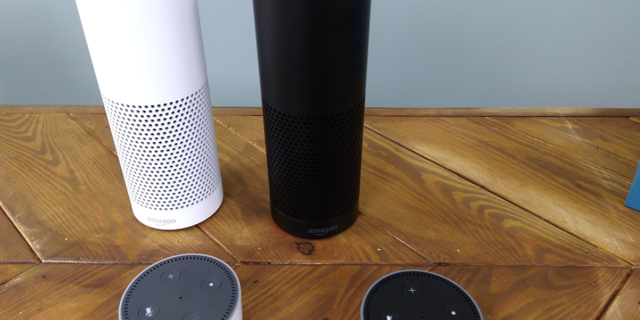 If you bought an Echo smart speaker and Alexa lost her voice, it's fair to say you'd be pretty peeved. All your inquiries about the weather and traffic would be met with a stony silence, forcing you to endure the highly inconvenient procedure of firing up your smartphone.
Well, this is the somewhat bizarre scenario presented by Amazon's Super Bowl ad teaser.
Amazon's 30-second video posted on YouTube kicks off with a woman in a bathroom brushing her teeth. She asks Alexa what the weather is in Austin. As Alexa starts to answer, the digital assistant coughs and splutters, and then falls silent.
The ad jumps to a hectic newsroom where the main story is that "Alexa lost her voice this morning." Cut to a worried-looking Jeff Bezos inside Amazon HQ, who's just learned of the alarming incident. Refusing to dismiss it as fake news, the CEO asks how Alexa, being not a real person an' all, could possibly have an issue with her vocal cords.
Dropping a hint about what Amazon may reveal during its Super Bowl ad on Sunday, Bezos's assistant reassures him: "We have the replacement ready, just say the word."
Bezos asks if she's sure that whatever she has planned is going to work. She nods a kind of weird-looking and prolonged nod, and answers a tad unconvincingly, "Yeah." At this point, Bezos goes into full Oscars-nomination-wannabe mode with a fantastical facial expression straight out of a school of acting that we've yet to hear about.
And there the video ends.
We've really no idea what Amazon has up its sleeve, but the ad seems to suggest it's about to roll out a bunch of Alexa alternatives for its range of Echo speakers. Voiced by celebrities, perhaps?
Amazon, together with all the other moneyed outfits gearing up for an appearance during the Super Bowl breaks, will be spending around $5 million for its 30-second slot on Sunday.
And it won't be Alexa's first appearance during America's most-watched broadcast of the year, either. In 2016, eight months after Echo's launch, Amazon splashed out on its very first Super Bowl ad, putting the smart speaker (oh, and Alec Baldwin) front and center.
At that time, the Echo was something of a niche product, but since then it's gone mainstream with several variants hitting the market. Amazon recently announced the diminutive Echo Dot was the most popular product on its site this last holiday season, selling in the millions.