Aircraft carrier tech makes landings for fighter pilots safer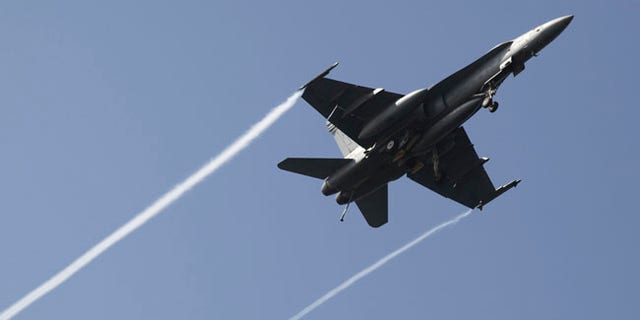 A new carrier landing technology allows jet wings to better control lift, making landings for fighter pilots safer and more precise, according to Military.com.
The system, formerly known as Maritime Augmented Guidance with Integrated Controls for Carrier Approach and Recovery Precision Enabling Technologies, or MAGIC CARPET, now is called Precision Landing Modes. It uses what's called dynamic lift control to take some of the burden of last-minute, high-stakes adjustments off of pilots, who can focus on their flight path in and let the aircraft adjust accordingly.
SECRET X-37B MILITARY SPACECRAFT LANDS WITH SONIC BOOM AFTER 718 DAYS IN ORBIT
The Norfolk, Virginia-based George H. W. Bush and the San Diego-based carrier Carl Vinson were both deployed with the developmental technology in January.
"When a pilot is landing an aircraft, if he wants to come down quicker, he's going to pull power, and if he wants to slow that down, he's doing to add power," Capt. James McCall, commanding officer of Carrier Air Wing 8 aboard the Bush, told the website. "As you get closer to the back end of the ship, any power-off correction tends to get folks' hair raised a little bit. Because, obviously, if that were to result in a large rate of descent, getting the engines to spool back up to do the other correction, reducing the rate of descent, it's not instantaneous."
With the new landing technology, the descending F/A-18 Hornet or E/A-18 Growler will use its flaps to help control rate of descent, allowing for a more consistent throttle speed and fewer manual corrections, according to Military.com.
US MARINES COULD DEPLOY ROBOTS AND 'HYPERSUBS' TO STORM FUTURE BEACHES
On the Bush, a Nimitz-class carrier, pilots have 786 feet of flight deck to work with, less than a tenth of a traditional runway length.
The requirements of landing, however, are far more precise – pilots told Military.com they needed to fly the nose of the aircraft through an imaginary box about one foot across to properly align their descent and snag a landing cable.
On a dark night, Hornet pilots have described the experience of executing such a landing on a carrier as "emotional."