Afghan voters monitor new government's progress via online tool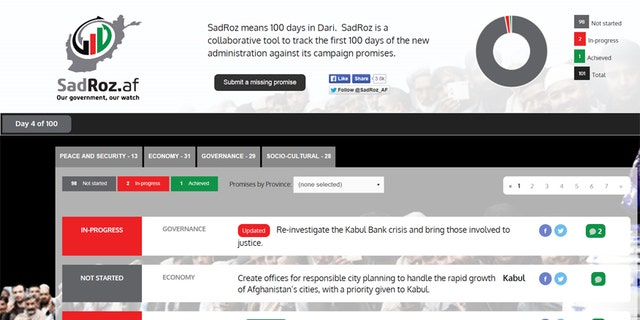 As Afghanistan's fledgling democracy takes its latest baby steps, a specially developed online tool is giving the nation's citizens an opportunity to track their new president's election promises.
Launched earlier this week, the tool, called SadRoz, is tracking the first 100 days of President Ashraf Ghani Ahmadzai's administration. The website has collected 101 key promises, and users can log in via Facebook or Twitter to post updates about how the government is meeting them in their area of the country. They can also suggest new initiatives.
SadRoz means "100 days" in Dari, one of Afghanistan's main languages.
Ahmadzai, a former World Bank official and Afghan finance minister, was sworn in as president on Monday after defeating his main challenger, Abdullah Abdullah, following a drawn out and highly contentious election.
Now, thanks to the tool developed by Kabul-based Impassion Afghanistan, which describes itself as the country's first digital media agency, Afghans can monitor whether their government is delivering on its promises
"[SadRoz] is the first initiative of its kind," Ahmad Shuja, founding partner of Impassion Afghanistan, told FoxNews.com. "It's a collaborative tool that brings in Afghans, even from the remotest parts of the country, to keep the government accountable to its promises."
Shuja cited the example of an election promise to build a dam in Herat province, in western Afghanistan. "Here in Kabul, we don't know what specific progress is being made on that – but somebody in that district, Herat province, would be able to ascertain that and inform anyone via the tool."
Other election promises range from establishing a first-rate women's university to securing the country's highways and a commitment to holding district council elections. The status of the promises is classified in three colors – gray for "Not Started," red for "In Progress" and green for "Achieved."
On Thursday, the new government's fourth day, SadRoz showed that work had not begun on 98 of the promises. But efforts to "re-investigate the Kabul Bank crisis and bring those involved to justice" and merge the country's Office of Administrative Affairs with the President's Chief of Staff office were described as being in progress. The sole election promise that had been achieved was Afghanistan's signature on Tuesday of a Bilateral Security Agreement with the U.S. Ahmadzai's predecessor, Hamid Karzai, had refused to sign the agreement, much to Washington's frustration.
Last month's election marked Afghanistan's first democratic transfer of power since the U.S. toppled the Taliban regime in 2001. But voters in some parts of the country were subjected to violence and threats from the Taliban.
"This election process has dragged on for six or seven months," Shuja said. "People have lost their lives in voting for these candidates. People have lost their fingers in voting for these candidates. People deserve to keep their close eyes on the new administration to keep them accountable for the promises they make."
People who can, that is. Afghanistan's digital divide remains wide. In a country of nearly 32 million, barely over 2 million have Internet access, according to the country's Telecommunications Ministry. Within that number, 1.3 million Afghans use social media.
Nevertheless, Shuja said, Internet use in Afghanistan is actually rising at a fast pace, driven by a number of factors, including rapid urbanization and massive literacy and education campaigns during the last 10 years. "In the cities, there's good Internet connectivity and 3G phones," he said.
Social media is playing a bigger role in Afghan life, too. "Each of the 11 candidates in the election had a prominent social media presence, particularly Facebook, which is very popular in Afghanistan," Shuja said.
"The youth in Afghanistan are the earliest adopters of technology and also make up the bulk of the electorate. This is a gold mine of engagement via social media."
Follow James Rogers on Twitter @jamesjrogers
The Associated Press contributed to this report