A Reason for RIM: Why we still need the Blackberry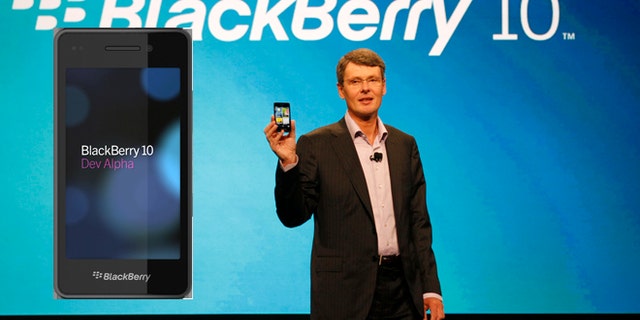 Blackberry maker Research in Motion (RIM) hopes new hardware and software will end a tailspin that has seen stock fall more than 80 percent over two years as the company struggles to compete in an Apple- and Android-dominated world.
Let's hope it can, experts told FoxNews.com.
Because despite the deathwatch, the Blackberry builder is still a key part of the modern smartphone market -- and a vital alternative to the world's iClones.
"Everyone is chasing Apple at the moment, [but] RIM is really the only company that might be able to supply a complete alternative to the iPhone clones the market is awash with at the moment," popular tech analyst Rob Enderle told FoxNews.com.
RIM faces an uphill battle, however, and not just because the competition seems unstoppable. The co-CEOs quit in late January. And the customers are leaving, leading RIM to write down the value of its product inventory and report a loss of $125 million -- its first quarterly loss since fiscal 2005 -- in March.
'It would be a little sad to have a world where everything is Apple and Android.'
And worst of all, the yet-unreleased Blackberrys given to developers at an early May conference are boring, critics say -- mindless clones of leading phones from Apple and Samsung.
Even the company's ad campaigns are boring, some argue.
Yet RIM's combination of hardware and enterprise scale software are in some ways untouchable, experts agree.
"They've solved a problem in terms of security and reliability that these other guys can't touch," Linley Gwennap, president and principal analyst of the tech-focused Linley Group, told FoxNews.com.
"They have some unique assets and a solid customer base where some of their competitors don't," he said. "Blackberry is still a very strong brand. There are a lot of people that feel strongly about it as a brand. There's got to be a way for them to take advantage of that."
The company needs to act, and fast: Analysts note that the company's role as an alternative, pressing the larger makers to innovate, is itself being supplanted.
"Google, Apple, and Microsoft are pretty good at keeping the pressure on the segment -- and part of RIM's problem is they became redundant," Enderle said. "On the other hand each of these companies is almost 100 percent focused on consumers, and RIM was the only company truly focused on business needs."
The company's software is one clear difference: All Blackberry emails are routed through an internal data center for security and reliability. That presents a single point of failure, as evidenced by the October 2011 "core switch failure" that took the worldwide network down for three days.
But it also means peace of mind for backroom IT managers fearful of hackers, holes, and moles in the world at large.
"Everybody else's emails are randomly flying around the Internet, god knows where," Gwennap said. "What RIM has done from the ground up is build its network with that kind of security in mind."
And RIM's hardware, though hardly pushing the envelope with new features, still wins high marks as well -- especially for those keypads.
"RIM still has the best hardware keyboards in the business," Sascha Segan, lead mobile analyst for PCMag.com, told FoxNews.com. "BlackBerries generally have great battery life and are the most efficient users of crowded cellular networks," he added.
The hardware is hardly perfect, Segan was quick to note, and not necessarily what customers want.
"Consumers nowadays seem to want big, colorful touch screens, which RIM has always done poorly. RIM's OS just isn't written for touch screens; touch support feels grafted on, and consumers can tell," he said. But the gadgets clearly have some winning points, experts agreed.
"They're the only vendor who does keyboards consistently well, " Enderle agreed. "If we lose RIM we lose both their professional focus and their unique keyboard optimized hardware."
The company is making efforts to turn itself around. At the May 1 BlackBerry 10 Jam during the BlackBerry World 2012 developer event, the company announced a new software platform for its devices that adds new support for modern developers, with HTML 5 and CSS support.
And on May 8, RIM announced the appointment of two new executives: Kristian Tear as chief operating officer and Frank Boulben as chief marketing officer.
"Kristian and Frank bring extensive knowledge of the rapidly changing wireless global market and will help RIM as we sharpen our focus on delivering long-term value to our stakeholders," said Thorsten Heins, himself newly appointed as president and chief executive officer. "Most importantly, both Kristian and Frank possess a keen understanding of the emerging trends in mobile communications and computing."
Let's hope so. Because the experts agree: Life without RIM might be iBoring.
"It would be a little sad to have a world where everything is Apple and Android," Gwennap said.