A pistol for any purpose: SHOT Show 2015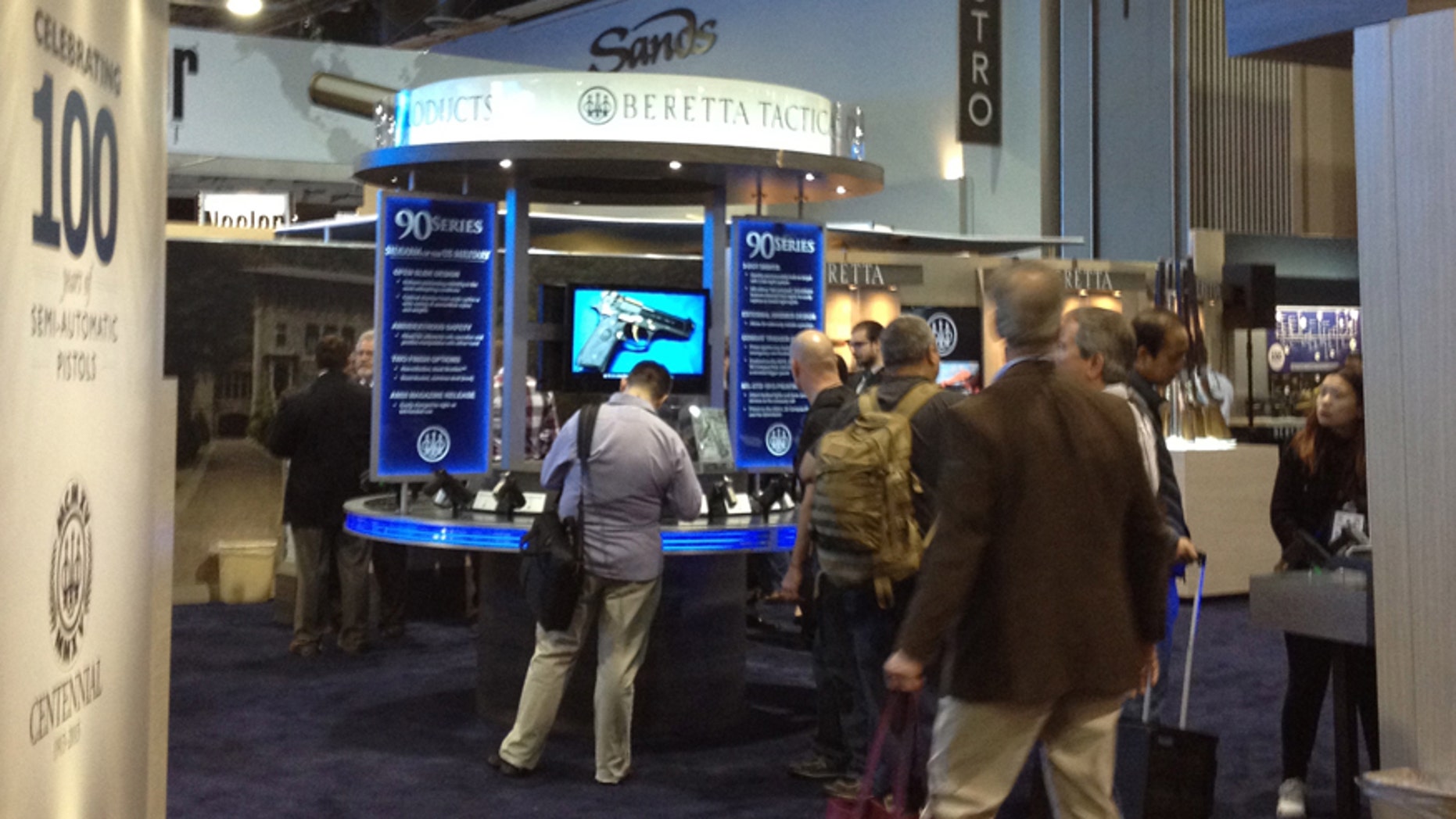 From Bone Collectors and Berettas to Marine Corps Operators, there were pistols for any and every purpose at SHOT Show 2015 last week.
The world's largest gun show took place between Jan. 20 through Jan. 23 in Las Vegas.  More than 65,000 industry professionals from all 50 states and more than 100 countries attended the 37th annual Shooting, Hunting and Outdoor Trade Show (SHOT Show).
Springfield Armory, Beretta and Smith & Wesson debuted some standout new pistols designed for the Marine Corps and U.S. Army, as well as shooting professionals and hunters.
Here's the skinny on those handgun reveals:
Springfield Armory Marine Corps Operator 1911
Springfield Armory's new Marine Corps Operator 1911 made its debut at SHOT this year. It is the new tactical model of the 1911 Operator pistol. This pistol was originally designed to meet the U.S. Marine Corps requirements. Whether for home defense or target practice, it has features that will appeal to both service members and civilians.
Rather than the wraparound grips on earlier 1911 pistols, this one has a larger beavertail grip and new balanced front grip texture to enhance grip and draw. It also has a lightweight speed hammer and an ambidextrous safety.
There's an accessory rail for mounting whatever you might need - whether night sights, flashlights, or laser sights and other accessories.
The 8.6-inch long Marine Corps Operator 1911 has a 5-inch stainless steel match grade barrel and weighs 41 ounces.
This pistol will be available for about $1,299.
Beretta M9A3
At SHOT, Beretta revealed its new M9A3 pistol that it submitted to the U.S. Army for review as part of the Army MP Engineering Change Proposal in December 2014.  The M9A3 represents advances in modularity, reliability, durability, and ergonomics.
Last summer, the Army gave Beretta a contract to supply 100,000 more M9s. Beretta has produced more than 600,000 for the Defense Department in all. The Army has been working on the Modular Handgun System upgrade program looking to provide more durability, reliability and lethality.
It is one good-looking pistol. The M9A3 has a Cerakote earth tone finish with matching polymer grip panels. The coatings are designed for advance corrosion and wear resistance. Its robust design certainly gives it a lot of utility.
Two key new features are the slimmer grip with shortened trigger pull and extended magazine release. This may be particularly relevant for female shooters who tend to have smaller hands as it makes reloading a lot easier. But is also means it could be easier to handle for any shooter with gloves on.
For larger handed shooters, there's the option of the wrap-around back-strap grip unit.
It weighs 33.3 ounces and the over-center safety lever is designed to prevent inadvertent engagement.
Standard M9s give a shooter fifteen rounds. Beretta has increased the M9A3 magazine capacity by two with a sand resistant magazine. The barrel is extended and threaded for suppressor use.
The M9A3's new sights were one feature drawing law enforcement into the Beretta booth for a look. Rather than the permanently-attached sights found on lots of Berettas, this one allows flexibility to select sights fit for purpose. It does have removable tritium night sights, front and rear, enhancing its utility in dark conditions. Another notable improvement is the MIL-STD-1913 accessory rail.
Smith & Wesson M&P Ported pistols
Smith & Wesson introduced four new models in its M&P pistol line at SHOT designed with the competitive shooter in mind.
The M&P Performance Center Ported series is chambered in 9mm and .40 S&W.
They're available in both a 4.25-and 5-inch barrel options. These new models are ported barrel and slide cut.
The mounting platform on top of the slide is great for adding optics. It's "Competition Optics Ready" so the optics mounting kit slide cut is compatible with a range from Trijicon RMR and Leupold Delta Point through to Jpoint, C-More STS and more.
For precise fit and height sight requirements, it also has removable mounting brackets to install the corresponding mounting screws.
The ported barrel and slide keeps muzzle flip to a minimum– helping to keep the muzzle down and the shooter on target while they're firing.
Shooters can personalize and optimize the trigger with the adjustable trigger stop. There's a Performance Center Sear giving the shooter a quicker trigger reset.
There's also a new palmswell grip texture that's a bit more aggressive and three optional back strap grip sizes to customize it to your size.
These new pistols will be available for about $812.
The Bone Collector
Smith & Wesson also introduced the limited edition Performance Center Model 460XVR Bone Collector revolver for hunters.
Only 1,500 of these Bone Collector revolvers will be made. The new revolver is a collaboration with professional hunter Michael Waddell.
It has a two-tone finish with a signature Bone Collector logo above the grip. The Bone Collector has a 7.5-inch barrel and a 5-round cylinder.
Weighing just over 4.8 pounds, the revolver is chambered in 460 S&W Magnum capable of taking down most domestic big game. The company is calling it an "X-treme Velocity Revolver."
It has a fiber optic front sight and is certainly makes a statement as a hunting handgun.
They handguns will be available for $1,680 each.
Ballet dancer turned defense specialist Allison Barrie has traveled around the world covering the military, terrorism, weapons advancements and life on the front line. You can reach her at wargames@foxnews.com or follow her on Twitter @Allison_Barrie.