8 ways to enjoy New Year's Eve military style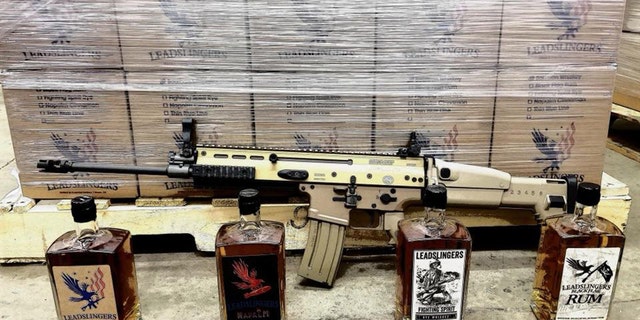 Hunters, shooters, outdoorsman, military and first responder families, this essential New Year's Eve gear list is for you.
Watching the ball drop in Times Square is a time-honored tradition, but what really matters is the company you keep and celebrating anywhere in this amazing country.
Why not gear up with a few tactical hacks for your New Year's Eve celebrations?
10 BIGGEST WEAPONS STORIES OF 2017
Whether you're camping with friends, drinking beers with family and friends around the BBQ, sat at home with family around the tv set watching the ball drop or attending some swanky party…we've got you covered.
All our top picks for tactical drinking this New Year's Eve are made in the USA. Even better, most were created by the nation's most elite warriors like SEALS, Rangers, Naval Explosive Ordnance Disposal officers and Special Forces.
Get country tactical with the excellence US Special Operations is famous for around the world.
Here are 8 fun ways to infiltrate any New Year's Eve celebration with some tactical grade gear.
Leadslingers whiskey
More of a bourbon drinker than a champagne sipper? Then go all-American with a new label created by Special Ops and CIA veteran turned-YouTube sensation and successful entrepreneur Mat Best.
Best served in the Rangers and brings that same commitment to excellence to his liquor creation.
Do not miss their Leadslingers Napalm or their Black Flag Rum too. It's available for about $37.99.
Breach those beer bottles with a bullet
If you need to crack open some holiday cheer, you can tackle beers with the .50 caliber Bottle Breacher.
Made in the U.S. by veterans, this is no ordinary bottle opener. It is made from one fired .50 caliber ammo – the kind the military uses for serious force. This highly polished projectile with chrome plated shell will be a hit at any party.
You may have seen the former Navy SEAL founded Bottle Breacher featured on Shark Tank.
It's available for $25.00.
Don't forget the coasters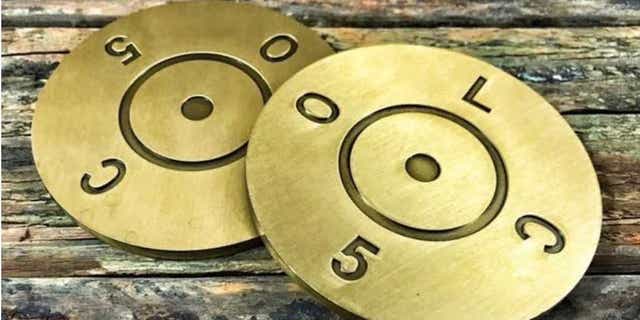 Created by Naval Explosive Ordnance Disposal officers, these .50 Caliber Coasters are made in the U.S. and modeled after .50 BMG rounds with true-to-life headstamps, rings, and primer dents.
They're molded with L C 0 5 carved deep into the surface which signifies the .50 caliber "round" was manufactured by Lake City in 2005.
A set of four is available for $37.99.
Crack open the wine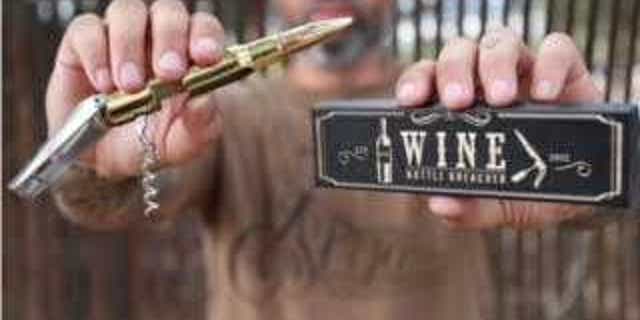 Need to breach a wine bottle? You definitely should wield something worthy of the occasion also made out of a .50 caliber by Bottle Breacher.
The company says they've added a "touch of Class to our Brass! We didn't invent the Wine Bottle Opener - we just made it cool!."
Though it brings the outdoors realm of hunting and shooting into a wine scenario, it has such a sleek elegant look it would not be out of place in the most chic of New Year's Eve celebrations – even Black Tie bashes.
This cool bottle opener can also be engraved and even can relax off duty in its own holster.
The retractable corkscrew that folds inside the .50 caliber brass and it is available for $39.99.
6 OF THE BEST BOND-WORTHY HOLIDAY GIFTS
Battle Mug
Although it was not created by special operations veterans, the Battle Mug with an AR-15 carry handle is made in the U.S.
It has become a a classic, ironic gift for elite warriors' birthdays, promotions and retirement loaded up with optics and more on the rails.
This two-pounder is made from a 10.5-pound solid bar of 6061 T6 billet aluminum and can hold 24 ounces of beer. It has Picatinny rails so you can attach an AR-15 carry handle to use as a handle, as well as anything else Picatinny-friendly, like scopes.
This conversation starter is available for $189. For a lower price point, the Battle Mug Polymer Edition can be purchased for $45.
Stealthy Fave Beverage Party Infiltration Device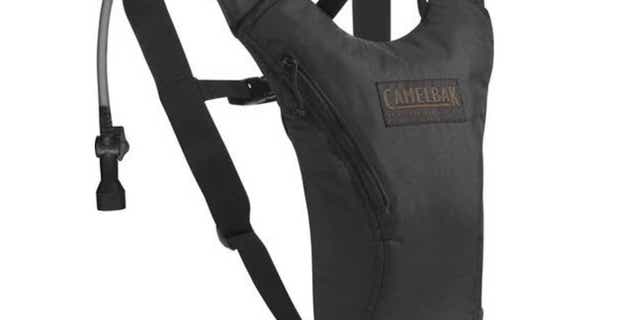 Camelbak products are relied on by special operations all over the world and outdoor athletes. If it is good enough for the most elite warriors on the most extreme missions, then it can be relied on to keep you hydrated in hardcharging partying.
Don't take time out to get those glasses of water to stay hydrated and balance out the booze. Get professional and wear a tactical hydration system designed for pros.
With such advanced design you won't even notice it is on, the MilTac HydroBak is designed for operators who need to be fast and light – and hydrated to maximize performance in combat.
The design will keep your water crisply cool no matter how much you're dancing.
Planning to be on the move, walking and talking? Party hopping and want to ensure a reliable flow of your favorite poison of choice?
With the Antidote Access Port you can also fill it with beer, your fave bourbon or your special NYE cocktail for easy and then easily clean it afterwards.
No more putting down your drink and forgetting which one is yours. Keep your hands free and strap on the HydroBak, have your favorite drink on hand all night and sip away throughout the celebrations with the Camelbak "straw."
There are lots of excellent sizes and shapes available. The MilTac Hydrobak retails for $48.50.
Military-grade cooler
Pelican is synonymous with mobile armories for the military. They are a go-to because they provide ultra tough, shock absorption protection for rifles, pistols and other weapons.
Now they are applying that know-how to provide maximum performance for your partying. Pelican coolers will even keep your ice cold for five days.
The Pelican 55-quart Wheeled Cooler has easy access with a little hatch designed into the lid to pull out a drink without opening the whole cooler. Also built into the cooler are a bottle opener and cup holders.
This cooler can keep your drink provisions easily mobile with a smart design has heavy-duty wheels with a handle that you can pull like a luggage wheelie.
Pelican makes coolers from 20 quarts through to mega party of 250 quarts. The 55 quarts retails for about $449.55. Easier on the budget is the 45 quart size at $379.95.
BEST TACTICAL STOCKING STUFFERS FOR 2017
Nurse that hangover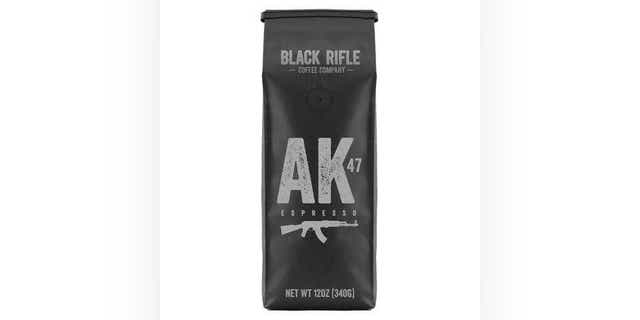 Need to nurse that hangover on New Year's Day and you're more of a coffee kind of cure than a hot springs and spas kind of guy or girl? Then stock up in advance on Black Rifle blends AK-47 and Silencer Smooth provisions in advance.
Founded by a former Special Forces veteran and made in the U.S. by special operations veterans, they use the finest caliber beans and create remarkable blends.
This is the sort of company that represents the best of American values. Even though they are new and small, they donated an astonishing 10,000 pounds of coffee to American military members serving overseas this Christmas.
A big dose of Black Rifle coffee and supporting a veteran owned company with a noble, All-American ethos is just the right way to kick off the New Year. This jet fuel will fire you up to launch those New Year Resolutions and make them happen.
Bags start at about $13.99.