5 tech toys at Toy Fair 2014 that spark imagination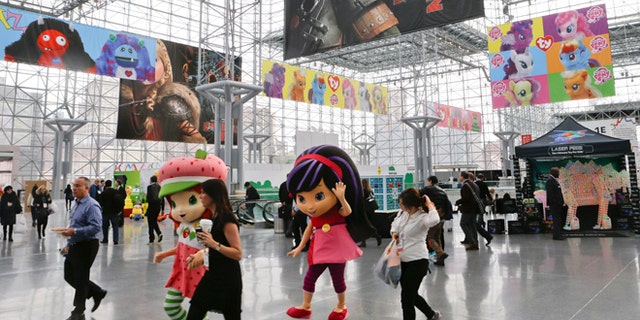 If you're under the impression that toys with built-in technology dampen a kid's imagination, fear not. At Toy Fair 2014, we were please to find a whole new crop of tech toys that spark creativity, learning, and inventive play.
Wikibear, from Commonwealth Toys, is a plush teddy bear that wirelessly connects to a smart device—which turns it into something like Siri and Teddy Ruxpin's love child. Kids can have natural-seeming conversations with the bear, which draws information from the Web to answer questions, but also displays some of Siri's cheekiness. The company was demoing a prototype, so it was a little glitchy at times, but it could turn out to be one of the more engaging interactive toys to date. ($60; fall)
Popar Toys publishes colorful, fact-filled books and charts, which are great on their own. But they also offer free apps that turn the books and charts into interactive, animated 3D images, via a technology called augmented reality. We loved the new Human Anatomy chart that lets you zoom into and through the body! ($17; available now)
For more news and reviews, see our guide to video games, consoles, and tech toys.
The LittleBits Synth Kit takes the company's terrific original concept, electronic modules that snap together magnetically to create working circuits, and expands it to include audio. What does that mean? You create your own gadgets that can play music! Check out the guitar in our video. ($160; preorder now, out in about a month)
The Mod Robotics MOSS Basic Kit is a concept similar to LittleBits—the difference is that you can build a real robot with the modules in its kit. Each cube is preprogrammed with power, sensors, and so on. Put them together, and you get a small robot. MOSS and Littlebits are super fun to play with, so they educate painlessly. ($150; preorder now for shipping in April)
MaKey MaKey is another do-it-yourself-type kit that extends what you can do on your computer to the real world in a unique and simple way. At our demo, the company had loaded a piano app. Instead of using the computer's keyboard to play the piano, the company alligator-clipped the MaKey MaKey to bananas. Voila! Banana piano. Any way you can use your keyboard can be extended to real-life objects. ($50, available now)
Copyright © 2005-2014 Consumers Union of U.S., Inc. No reproduction, in whole or in part, without written permission. Consumer Reports has no relationship with any advertisers on this site.