418 US military drones crashed since 2001, report reveals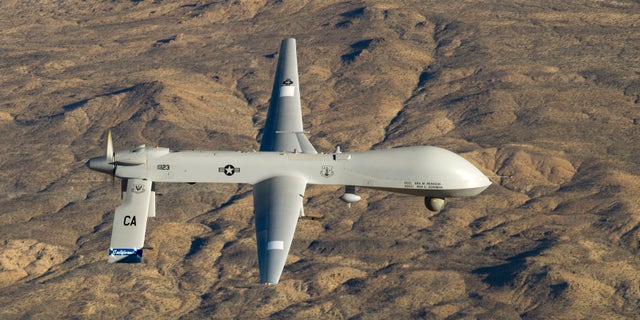 NEWYou can now listen to Fox News articles!
More than 400 large U.S. military drones have crashed in accidents around the world since 2001, according to an investigation by The Washington Post, highlighting the dangers posed by the technology.
A key weapon in the war on terror, drones look set to become part of America's airspace. Thanks to a law passed in 2012, commercial and law enforcement use of drones is expected to increase significantly over the coming years.
The Post's year-long investigation, however, raises questions about drone safety, identifying 418 major crashes involving U.S. military drones between September 2001 and the end of 2013.
According to Air Force safety statistics, the drone crash total is almost equivalent to the number of crashes involving Air Force fighter jets and attack planes over the same period. The drones, however, flew far fewer hours and missions, according to the statistics.
The research found that 194 of the drone crashes were defined by the military as "Class A accidents" that destroyed the aircraft or caused $2 million of damage. Just over half of those accidents took place in Iraq and Afghanistan, while almost a quarter occurred in the U.S.
Some 224 drones crashed in "Class B accidents", according to the Washington Post report, each costing between $500,000 and $2 million. There were no fatalities in the 418 crashes surveyed.
Drone safety challenges identified by the investigation include limited ability to detect and avoid trouble, pilot error, persistent mechanical defects and unreliable communications links.
The Post's investigation surveyed more than 50,000 pages of accident reports and records obtained under the Freedom of Information Act.
The Federal Aviation Administration (FAA) is researching the best ways to add drones to America's crowded skies. Texas A&M Corpus Christi has been picked by the FAA as one of six drone test sites. Another site in North Dakota will test drones to survey crops.
The debate over drone appears set to intensify over the next few years. While Amazon CEO Jeff Bezos wants to make deliveries via drone, not everyone is a fan of the technology. On Friday the National Park Service prohibited drones, citing noise and nuisance complaints, visitor safety concerns and an incident in which park wildlife were harassed.
"We have serious concerns about the negative impact that flying unmanned aircraft is having in parks, so we are prohibiting their use until we can determine the most appropriate policy that will protect park resources and provide all visitors with a rich experience," said National Park Service Director Jonathan B. Jarvis, in a statement.