4 amazing vehicles for Special Operations Forces
The U.S. military is home to some of the most elite teams in the world -- Navy SEALS, Delta, Special Forces, Rangers and Marine Force Recon to name a few.
These highly trained soldiers some of the best equipment in the world in order to do their job, including vehicles to get around.
Here are four vehicles made by familiar brands that have also been quietly making extraordinary special vehicles for the nation's covert military units.
The ultimate ATV
Polaris makes popular all-terrain vehicles (ATVs) and side-by-sides driven all across America, tearing it up in the most challenging off-road conditions. But they also make vehicles for the Armed Forces.
These ATVs are also very popular with the Special Operations Forces (SOF) and Polaris has a dvision called Polaris Government and Defense that specializes in building ATVs like the ones you could drive on the farm, but ramped up and adapted for military purposes.
In just five years, the MRZR platform has grown to 4 vehicles, and is a part of the miltiary in the U.S. and more than 25 allied countries. SOF and the wider military regularly rely on the advanced capabilities MRZR 2, MRZR 4 and DAGOR for their work downrange. The United States Special Operations Command has acquired a whole slew of them for their forces.
These SOF-grade MRZRs feature on-demand, advanced all-wheel drive. When more traction is needed, the vehicle automatically engages all four wheels and can automatically revert back to two-wheel. This advanced tech translates into more power when an operator needs it on a mission plus less general wear and tear on the vehicle.
Both variants also reach a max speed of around 60 miles per hour and sport engines that have 88 HP, designed for extreme performance in the toughest terrains. The vehicles have fantastic throttle response and acceleration.
The MRZR 2 can carry 1,000 pounds while the MRZR 4 can carry an additional 500 pounds.
To ensure maximum agility, the ATVs are built with a low center of gravity. In part, this is achieved by cunning placement of key components like the engine. The vehicles also have keyless ignition, which makes it easy to jump in and go.
Important for keeping a low profile, the vehicle can black out instantaneously. The white light on the vehicle can be immediately shut off by just one switch – there's also the option to use infrared on the vehicles.
To deliver them straight into the action or even behind enemy lines, the MRZRs can arrive by air since their easily transported by CV-22 tiltrotor military aircraft.
The vehicles can be endlessly adapted for different mission configurations and requirements.
Learn how to drive your ATV like Special Forces.
SOFIC SLIDESHOW: 13 EYE-POPPING WEAPONS ON DISPLAY
The military-grade Mack
Though Mack trucks are as American as apple pie, the company has been supporting the US military since World War I when their AC trucks were dubbed Bulldogs for their tenacity on European battlefields.
MACK Defense focuses on the armed forces, developing special trucks for the military.
The Special Operations Sherpa 4x4 armored vehicle family is one of the company's stand outs and available in several variants – with ballistic and mine kits readily available.
It weighs 9.6 tons and the fuel tank takes 43 gallons. It can reach maximum speeds of 74 miles per hour and has a maximum range of 620 miles.
Despite the Sherpa's mighty size, it can be transported by air by aircraft like the A400M and C-130.
The Sherpa Special Forces can be mounted with various weapons like a machine gun. It is designed to provide top on and off road performance. And to deliver that with a maximum payload without compromising on mobility for SOF teams.
NATO, France and other countries are already using the Sherpa Special Forces.
HOW INSECT CYBORGS COULD BATTLE TERRORISM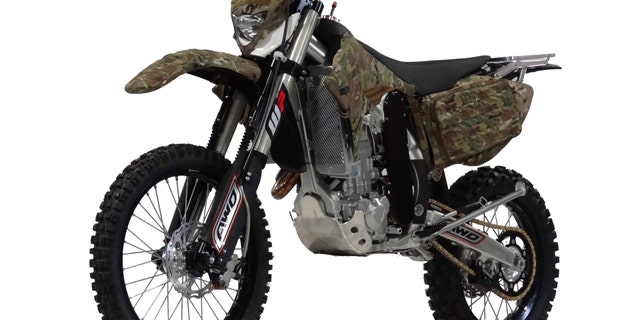 The must-have Motorcycle
The Christini All Wheel Drive Motorcycle Military Edition is nothing short of outstanding. The liquid-cooled, 450cc four-stroke engine gives the bike the sort of power a SOF operator needs.
The frame is light but extremely robust and it delivers fantastic handling, traction and stability with Christini's advanced all wheel drive system. Christini builds these bikes tailored to fit a SOF team's specific mission and application.
Many operators rely on this platform including, the U.S. Navy Seals, SOCOM personnel, U.K. Special Forces, UAE and Jordanian elite forces, to name but a few. It is also used in the wider Marines, Army, Navy, Air Force and even the U.S. Border Patrol.
These motorcycles are now also available to the public and range in price between $9,995 and 14,495.
This ultra-light and immensely capable motorcycle is the bike of choice for many of the world's most elite military teams.
Listen to a SEAL Team 6 Sniper's Adventures.
The Covert Armored Sedans, SUVs and more
Battelle can transform a wide range of regular vehicles into heavily fortified, armored, war machines to protect the passengers inside from threats like gunshots.
Trucks, sedans, SUVs or vans -- all are fair game and all vehicles Battelle takes and make customized armored specialized vehicle that are ready for military applications.
The process produces what the company calls Non-Standard Commercial Vehicle (NSCV).
Learn to drive like James Bond from a top Special Operations Instructor.
Battelle re-engineered about 300 Toyota Land Cruiser and Hilux trucks for SOCOM, for example. The vehicles that looked just like the kind you'd find on a regular car sales lot, but inside they had been fitted out with state of the art covert advancements like cutting-edge hidden protective armor.
Battelle can add a whole range of extraordinary features. They can enhance the car with stronger suspensions so they are more durable tackling rugged terrain. Missions can often happen in extreme climates, so Battelle can modify the car with things like special alternators to ensure max performance in those conditions.
The company can even build in things like a hidden escape route so if the car is under attack, there is an alternate and unexpected way the team can exit the vehicle.
Like Mack, Battelle has a long history of supporting the U.S. military. Since building tank armor back in World War II, they've been working to protect American personnel with armored vehicles.
And the company has been supporting SOF teams for more than 40 years – including supplying SOCOM with hundreds of vehicles for the past several years and just last summer, Battelle won another contract to provide 170 million dollars worth of more NSCVs for SOCOM.