302mph Chinese Passenger Train Sets World Speed Record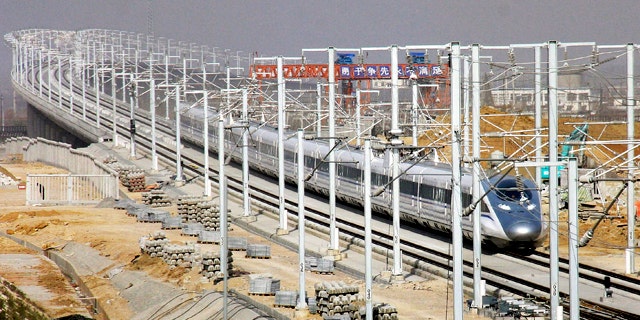 Chinese engineers celebrated Friday after setting a new world record for the fastest unmodified passenger train speed of 302mph.
The train reached the speed on the recently completed high-speed line linking Beijing to the coastal city of Shanghai.
From a standing start, the Chinese-built locomotive reached the top speed in just 22 minutes, and when it starts operating next year, it will cut the journey time between the two cities to just fours hours from the current 10 hours.
The route will open 12 months ahead of schedule and is part of the country's massive $313.5 billion program to create the world's most advanced and extensive railway system by 2020.
The line is expected to carry 80 million passengers a year, double the current capacity on the 818-mile route.
In 2007, a heavily modified French train operated by SNCF reached 357mph. It had bigger wheels and a stronger engine that a conventional locomotive.