1,700 year-old mummy reconstructed in Peru using 3-D printing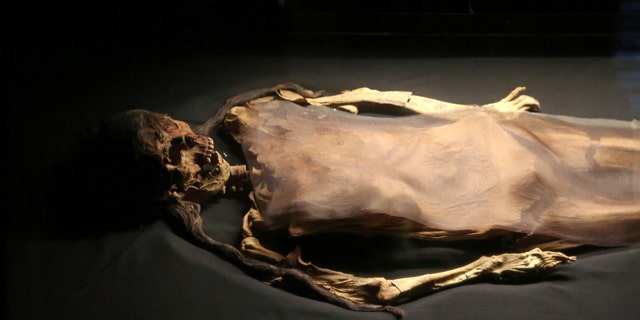 An ancient female leader who died nearly 1,700 years ago has been reconstructed using 3-D printing.
The Lady of Cao has been replicated by Peruvian scientists after they analyzed her skull structure and remains. Found in 2006 in northern Peru, the woman, whose birth name is not known, died approximately 1,700 years ago in the Huaca Cao Viejo pyramid, near Trujillo.
NASA JUST SHOWED OFF HOW IT WOULD HELP SAVE THE PLANET FROM POSSIBLE LIFE-THREATENING ASTEROIDS
According to Peru's Ministry of Culture, the replica was made using 3-D imaging technology, as well as forensics archaeology. The full replica of her face took 10 months to create.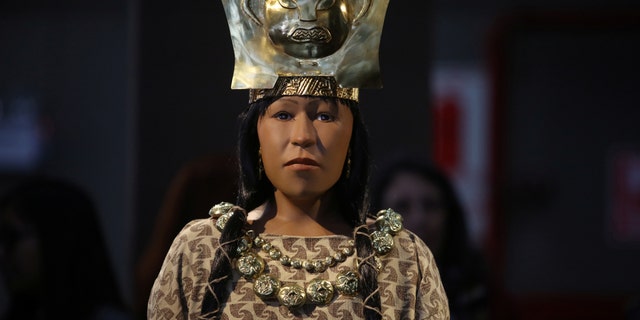 She was found perfectly preserved, wrapped in cloth, with a number of ceremonial items, including a crown and pieces of gold and copper. Weapons were also found, which may indicate the woman was a high ranking priestess or a Moche ruler.
The Lady of Cao was also found covered in a number of tattoos on her feet, legs and face, with symbols of serpents and spiders adorned on her body.
AMELIA EARHEART: 80 YEARS ON, THE MYSTERY ENDURES
The Moche society, which occupied the Chicama Valley portion of Peru, lasted from 100 to 700 AD. There have been several female Moche mummies found, including ones with objects signifying their standing in the culture.
The autopsy performed on the mummified body shows she was in her 20s when she died. The cause of death is thought to be pregnancy or childbirth complications.
The replica will be displayed in Lima, Peru, in Peru's Culture Ministry through to July 16. From there, it will be on exhibit at the museum at El Brujo.