13-inch MacBook Pro Retina Display Hands-on: Meet the Ultrabook Killer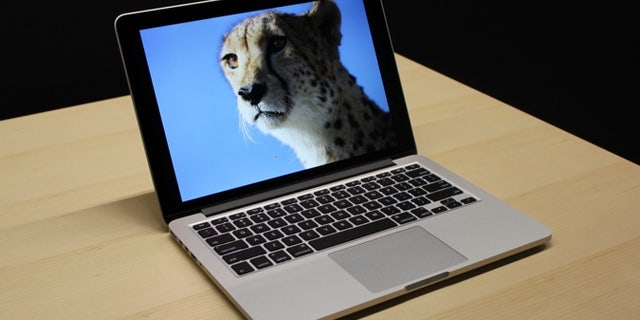 NEWYou can now listen to Fox News articles!
While other notebook makers are busy churning out Windows 8 hybrids with touch screens, Apple is bringing its jaw-dropping Retina Display to a laptop you can take anywhere. The 13-inch MacBook Pro with Retina Display ($1,699) feels like the ultimate Ultrabook in person, thanks to its 2560 x 1600-pixel screen. That's not quite as high as the 15-inch model (2880 x 1800) but still twice as sharp as your HDTV. Everything from images in Pixelmator to text on websites looked very sharp on this panel, which puts all other laptops to shame.
At 3.5 pounds, the 13-inch MacBook Pro with Retina Display is actually narrower than the 13-inch MacBook Air and only half a pound heavier at 3.57 pounds. This is definitely a machine we could see ourselves traveling with often. The left side houses two Thunderbolt ports, and you'll find two USB 3.0 ports as well, along with full-size HDMI and an SD Card slot.
The glass touchpad on the 13-inch Pro with Retina felt silky smooth as usual, but the keyboard doesn't have the same travel as the older and thicker MackBook Pro. Think more MacBook Air in terms of the layout. Still, we could type quickly on this system with few to no errors.
The biggest question we have is whether people will be willing to spend $1,699 for a notebook without discrete graphics. The 2.8-GHz Core i5 processor, 8GB of RAM, and 128GB SSD should all provide plenty of punch. However, we wonder whether creative pros will demand more GPU muscle than the Intel HD 4000 graphics. Still, if the battery lasts 7 hours as Apple says, the 13-inch MacBook Pro with Retina Display could provide the ideal combo of performance, endurance and portability. And eye candy.