Woman, 3 Children Killed in Robbery Getaway Car Crash Mourned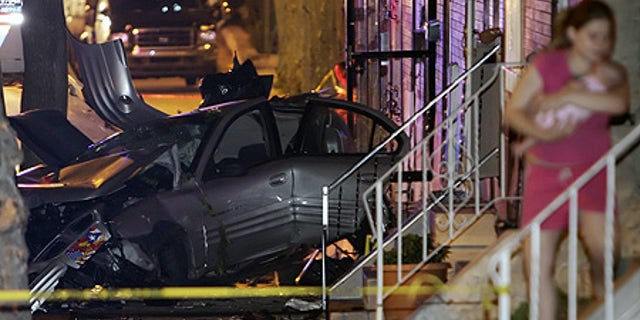 PHILADELPHIA – Dozens of stunned relatives held each other and wept as they remembered a mother who died with her 11-month-old daughter, a niece and a young neighbor when a car fleeing a robbery jumped a curb and smashed into the steps of the family's row house.
Remedy Smith was just two days shy of her first birthday and learning how to walk when she died Wednesday night, said her mother's cousin Tynerra Brown.
"She almost took her first step," she said. "She didn't even get to have her first step."
Remedy was in a baby carriage when the car came barreling toward the family's home in the Feltonville neighborhood. Remedy's mother, 22-year-old Latoya Smith, also died, along with 6-year-old Alliyah Griffin, Latoya Smith's niece, and 7-year-old Gina Rosario, a neighbor.
On Thursday, neighbors and strangers placed flowers, candles and stuffed toys at the scene of the crash.
Sandra Perez, Gina Rosario's grandmother, stood trembling on the front step of her family's home several doors away and held a picture of the little girl in her school uniform signing "I really love you" in American Sign Language.
Perez said her daughter — Gina's mother, Tammy Rosario — is deaf.
Felicia Brown, Latoya Smith's aunt, said the two grew up in the same house and were more like sisters.
"She loved to dance. She was funny," Brown said. "She always made me smile when I was down."
Latoya Smith has two other children, 2- and 4-year-old boys, who were staying with relatives and didn't yet know their mother had died.
The events began to unfold Wednesday night when a witness told a police officer he had seen a passenger jump out of a car and steal a motorcycle at gunpoint. The officer later spotted a car matching the witness' description at a traffic light.
The officer pulled up behind the car, turned on his emergency lights and ordered the driver to get out, but the driver sped off, police Commissioner Charles Ramsey said.
The officer was stuck in traffic and wasn't able to pursue the driver immediately, Ramsey said. He lost sight of the car before coming upon the crash scene about a mile away.
The driver of the car, Donta Cradock, had lost control and crashed into the crowd in front of a home, Ramsey said. Police didn't estimate the car's speed, but Ramsey said there were no skid marks, indicating the driver never tried to brake.
The car jumped the curb with such force that it badly damaged some concrete steps. It became wedged between a house and a pole.
Cradock was injured and arrested at the scene, and a gun was found in the car, police said. He remained hospitalized Thursday, but police said his injuries weren't believed to be life-threatening.
Ivan Rodriguez, the man who fled on the motorcycle, was arrested at his nearby home, where two shotguns, two handguns and a rifle were found, police said. Officers were attacked by a dog at the home and had to shoot it but didn't kill it, police said.
Cradock, 18, and Rodriguez, 20, have been charged with murder, armed robbery, assault and related offenses, police said.
Both men have long criminal records and already had bench warrants out for their arrests, but police said it wasn't immediately clear for what offenses. Cradock has eight prior arrests on charges including assault, burglary and weapon possession; Rodriguez has five prior arrests on charges including car theft and criminal mischief.
The men were in custody but hadn't been arraigned by Thursday. Authorities said they didn't know if the men had lawyers yet.
Click here for more on this story from MyFOXPhilly.com.