Wild Woman Daisy De La Hoya Suffering From Having 20 Guys All Over Her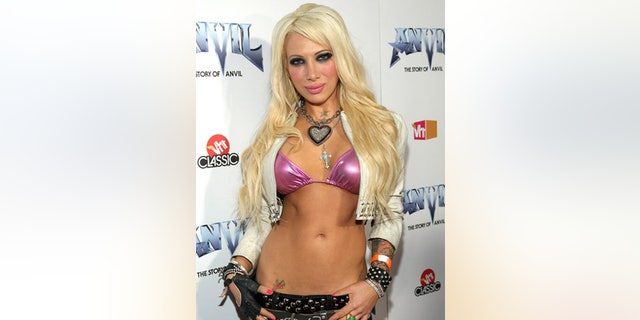 LOS ANGELES – Wild Woman Daisy De La Hoya Suffering From Having 20 Guys All Over Her | Former 'Playmate of the Year' Sara Jean Underwood Was 'Insecure' With Nudity | Rumor Control: Carrie Prejean the Face of Nom? | Pop Tarts Scene & Herd
Wild Woman Daisy De La Hoya Suffering From Having 20 Guys All Over Her
Should we really feel sorry for her?
After finishing runner-up in the second series of VH1's "Rock of Love," Daisy De La Hoya, niece of famed boxer Oscar De La Hoya, recently kicked off her own spin-off "Daisy of Love" - but strangely enough for the very public wild woman, she is struggling with all the male attention.
"I'm just being very open and having fun and it's hard when there are 20 guys all over me," she told Tarts in an exclusive interview. "I could see how Bret (Michaels) had a hard time with it because there are 20 guys and you try to somehow make connections, but at the same time, you can't connect with someone that you don't connect with."
And even though her show is watched my millions of youngsters, Daisy (who came under fire last year when scandalous snaps of her hit the Web) has no intention of being someone teens look up to.
"I don't want to be a role model. I like to push the envelope and I like to stand out. It's kind of like a tough thing for me because I'm not Miley Cyrus, I'm something completely different," she said. "When I was younger, I always wanted to marry a rock star. I just really have a thing for those kinds of bad boys. I'm not an angel myself, there's just something interesting and exciting and appealing about those guys and they're not necessarily good for me, but they're fun."
But when she's not looking for love on national television, Daisy is trying to "Get into the Groove." Seriously.
"I have an obsession with singing musicals; I sing them all the time. I'm actually in the middle of doing an album right now and am working with some amazing song writers and producers. I will hopefully have a new single out within the next month and incorporate it into the show," she said. "For inspiration, I really like Madonna, she's been around for a really long time and she has reinvented herself and she's been bold and done what she's done and didn't care about what anyone thought about it, and she's just a very strong, powerful woman who's not afraid of her sexuality, not afraid to say what's on her mind. She's never been too crazy, like out of control, you never hear stuff about her how she's fallen and you look at her, like 'oh that's sad.' She's always on top of her game, so I respect her for that."
Okay so when she's not looking for love or making melodies, Daisy is into politics -- or so she says.
"I'm really into politics and activism, and I like psychology a lot. too. But I think all of that ties into where I am as an artist, and how I'd like to change the world. I want to do more activist sort of things, like protests and stuff like that," the reality starlet said.
Funny that, she didn't seem to know too much of what's going on in America right now …
"I really haven't been paying attention to what Obama's been doing lately because I've been busy," she added quickly. "I think he's doing a good job but I don't really have any expectations for him."
But back to "Rock of Love," the star of VH1's other spin-off show "Tough Love" Steven Ward seems to be having the same problem as Daisy -- too many people all over him …
"I have 10 times as many women contacting me as men, and men should just flock to me," the reality star/founder of Mastermatchmakers.com told Tarts. "I'm going to give them my love-lab service for free for a month, so keep in mind there are far more eligible women out there than there are men."
And just FYI to the person he's currently seeing -- if commitment is what you seek, pack your bags.
"I am dating, and I believe that being in a committed relationship has the expectation of being there for them, but being so preoccupied with my business," keeps him from doing so, Ward said. "I do have time to date and have a special night for a special individual, but I cannot be in a committed relationship at this current time."
Former 'Playmate of the Year' Sara Jean Underwood Was 'Insecure' With Nudity
Sara Jean Underwood has certainly capitalized on her 2007 Playmate of the Year fame by scoring a coveted role (as herself) in the raunchy new flick "Miss March" which recently went straight to DVD. But even though the busty blonde is pretty used to baring her body now, she was actually very insecure with nudity before gracing the glossy pages of the men's magazine.
"It was scary for the first few times, it sounds so cliché but you just forget you're nude. They've had the same few photographers for forty, fifty years and there are only a couple of people on set and nobody is looking at the fact that you're nude. They are looking at the lights, the hair, the make-up, the wardrobe and just you forget you have no clothes on because nobody's even paying attention to that," Underwood told Tarts. "So it was scary but as soon as the robe comes off you actually feel really comfortable. I was someone who was never comfortable with nudity, I was very insecure and really uncomfortable but I did it."
And prior to exposing all to millions and millions of men across the world, Underwood had only ever flashed the fleshed for her loved one.
"I've only ever been nude in front of my boyfriend totally before Playboy, so that was a big step for me," the 24-year-old centerfold added. "I'm from a really small town in Oregon with about 5,000 people. I've always done the right thing my whole life when I was going to school and college at Oregon State. I was bored and I just wanted to do something crazy, I wanted to feel alive and I've had the time of my life. I'm so glad I decided to do it."
Underwood's public as well as personal life also seems to be benefiting from her "crazy" decision - she also has the comedy flick "Two Million Stupid Women" coming out this year and recently wrapped filming a cameo role in the Bridget Marquardt-produced horror "The Telling" (which also stars Holly Madison).
Rumor Control: Carrie Prejean the Face of NOM?
We can all sleep safe and sound with the knowledge that Donald Trump finally made his decision on Tuesday not to dethrone Miss California Carrie Prejean, but does this mean the controversial pageant princess will continue her association with the National Organization for Marriage (NOM)?
There has been a great deal of words and wonderment surrounding Prejean's involvement with the organization (which seeks to preserve traditional marriage values) since her Miss USA response was featured on their national campaign. In addition she participated in a press conference they held - sparking reports that the 21-year-old had signed a lucrative financial contract as the spokesperson for NOM.
"Carrie never did work for NOM and will not be doing so during her reign. She merely stood for marriage at one press conference, never became a spokesperson for them and was never employed by them," Prejean's rep confirmed to Tarts.
The "No Offense" advert (which uses Prejean's answer to Perez Hilton's gay marriage question) was unauthorized by the reigning runner-up and according to NOM President Elizabeth Ray, Prejean agreed to appear at the presser "because she believes so passionately that marriage should be a man and a woman."
"Carrie's representatives communicated before-hand the conditions under which pageant officials had said she could appear, which included clearly identifying that she was speaking as a private citizen, and noting that she was not affiliated with our organization. We did all they asked," Ray added.
Okay - now we can officially all move on. Once and for all, NOM is NOT paying Carrie Prejean's bills.
Pop Tarts Scenc & Herd
Sacramento Kings owner Gavin Maloof at the Studio inside Sin City's The Palms on Thursday giving Dave Matthews a Gibson Les-Paul Traditional pro guitar to sign so Gavin could give it away at the Maloof Money Cup. However Matthews ended up playing it and fell in love with the guitar he asked if he could buy it, but Gavin ended up giving it to him.
Samantha Harris, Jason Priestly, Brittny Gastineau and Scott Baio at the Silver Spoon Dog and Baby Buffet at Century City's Hyatt Regency Hotel on Friday. The following day Tara Reid, Evan Handler, Candise Cayne and Jai Rodriguez stopped by the hotspot.
Lisa Rinna hanging backstage with stars Mel B and Kelly Monaco after taking in the 10:30 p.m. performance of PEEPSHOW at Planet Hollywood Resort and Casino on Friday.
Dustin Hoffman, Jeremy Piven, Angie Harmon and Jason Sehorn, Anne Heche, Jewel, 90210's Jessica Lowndes, Jon Lovitz, Amanda Bynes, Kim Kardashian and Reggie Bush, Avril Lavigne, Sela Ward, Blair Underwood, Daisy Fuentes and Drew Lachey rocking out to live performances by The Eagles and Michelle Branch at the 16th Annual Race to Erase MS event at the Hyatt Regency Century Plaza in Los Angeles on Friday night.
Eminem wearing a WWE Superstar Rey Mysterio mask in London while out shopping on Saturday.
Vanessa Williams shopping at Scoop and Cos Bar at The Pier Shops in Caesars, Atlantic City along with her stylist on Saturday.
Brooke Mueller, Jason Biggs, Maxim Chmerkovskiy and Karina Smirnoff, Frankie Muniz, Ashley Scott & Kathy Hilton getting pampered with neck lifting products by Adonia and Opi manicures at Gavert Atelier and Mistura Beauty's "On the Go Beauty" Event at Gavert Atelier in Beverly Hills on Saturday evening.
Greg Behrendt, Ali Landry, Maureen McCormick, Sean Patrick Thomas, Courtney Nash, Jared Kusnitz, Nicki Micheaux, Paula Jai Parker & Niecy Nash hanging out at the HemAway Mother's Day Spa Retreat in Hollywood on Saturday afternoon.
In honor of Star Trek's opening weekend, Rod Roddenberry (son of Star Trek creator Gene Roddenberry and CEO of Roddenberry Productions) hosted a "A Star Trek XI Roddenberry Evening" in Catalina Island, Calif. on Saturday. The evening was a happy reunion for Star Trek veterans with attendees including original cast members George Takei ("Hikaru Sulu") and Nichelle Nichols ("Uhura") alongside Star Trek Enterprise's Anthony Montgomery ("Ensign Travis Mayweather").
Vanessa Minnillo helping Watchman star Malin Ackerman celebrate her 30th Birthday with a bash at Sin City hotspot, Prive inside Planet Hollywood Resort & Casino on Saturday night.
Kim Kardashian and mama Kris Jenner celebrating Mother's Day on Sunday by launching Martini & Rossi's new Rosé sparkling wine at W Los Angeles-Westwood.
Boris Diaw of the Charlotte Bobcats dining at Nove Italiano inside Palms Casino Resort Sunday night before hitting up the Playboy and Moon nightclubs.
Holly Madison lounging alone at the Sapphire Pool at the Rio in Las Vegas on Sunday. She was later spotted drinking strawberry daiquiris in a cabana at the Hard Rock Hotel & Casino's Rehab pool party.
Gavin Degraw doing a special hour long set singing 9 songs from his album, Free, for a crowd of over 500 people at the Wonderlust event at W Atlanta-Midtown Sunday night. The crowd included The Bachelorette Deanna Pappas and Real Housewives Nene Leakes and Kelly Bensimmon.
San Diego Chargers Shawne Merriman partying at The Bank nightclub at Bellagio Las Vegas on Sunday alongside Shawn Marion of the Toronto Raptors who was celebrating his birthday. Both jocks had plenty of eye candy to behold as the club's "MILF: In Search of Vegas' Hottest Mom" contest had sexy contestants all over VIP.
Estelle recording new tracks for her upcoming album with producer Kwame in his recording studio in the Tribeca neighborhood in New York City on Tuesday.
Nicole Richie, Amy Smart and Anna Getty signing autographs and posing for photos with Bernstein High School students in Hollywood as they planted an organic, botanical garden on Tuesday morning.
"Millionaire Matchmaker" Patti Stanger and "The Office" star Kate Flannery at the DeeAnna Staats and Shawn Warren's "BUBBLES, BAUBLES and BREASTS" event benefiting Susan G. Komen for the Cure in Malibu on Tuesday.
Spotted or Snapped a Star? Got a Good Scoop? E-mail poptartstips@gmail.com.