Why Sienna Miller's Romantic Bath With Keira Knightley Was Anything But Sexy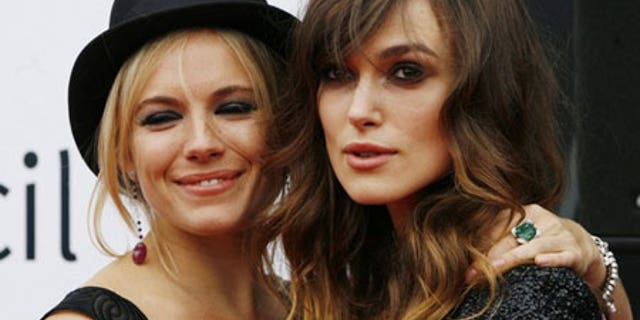 Why Sienna Miller's Romantic Bath With Keira Knightley Was Anything But Sexy… | Russell Brand Makes Sexual Advances & Wants to 'Impregnate' AP Reporter After Interview | Parker Posey Eats It
Why Sienna Miller's Romantic Bath With Keira Knightley Was Anything But Sexy…
While millions of men (and women) would give anything and everything for the opportunity to take a bath with Keira Knightley, her Edge of Love co-star Sienna Miller said stripping off and splashing around with her fellow British babe for a scene in the romantic war drama was definitely not an erotic experience.
"We were in the bath for so long we were shriveling up like prunes, it wasn't very sexy at all," Miller told Tarts. "But hey, I've had a bath with Keira Knightley — several people would love to say that I sure."
Due to the hype surrounding the two gorgeous girls baring their bodies in a bathroom during filming, the production big-wigs had to enforce a "closed set" that day and it comes as no surprise that Miller and Knightley have become a lot closer since filming.
"We were friends before but we weren't as close as we are now. I think we work really intensely and especially the relationship between the two women in this film is so intense," Miller added. "Thank God we were close because I think it really requires that. We had dinner last week and she cooked me pasta. I love her very much, she's wonderful."
And even though Miller's character does cartwheels in a bar and falls off her bike while under the influence, in her real life the 27-year-old finds herself making friends with long, hard objects.
"I'm pretty good at keeping it together if I've had a few glasses, but definitely I'll walk into the odd lamp post," she admitted. "Now that's going to be very misconstrued, I shouldn't have said that. I don't get too sloppy. I'm more clumsy just generally in life. I'll shut my fingers in car doors and trip over things. But that's just ditzy, clumsiness."
So when she's not hurting herself, the pap-popular starlet has opted for a slightly slower pace to escape the wrath of those sneaky snappers.
"I've bought a cottage in the country in England," Miller said. "So I'm growing vegetables and getting chickens."
Russell Brand Makes Sexual Advances & Wants to 'Impregnate' AP Reporter After Interview
Russell Brand took over a room at the Chateau Marmont last Thursday to promote his new publication My Booky Wook: A Memoir of Sex, Drugs, and Stand-Up, but it seems he had more on his mind than just speaking to the press. After a fun and flirty interview with Associated Press Entertainment Reporter Natalie Rotman, the British badboy asked her to step into the private room with him next door which she did out of curiosity.
Brand (known for his cheeky charisma and sex-addict attitude) then asked Rotman if he could kiss her. She denied his advances and it was then that he asked if she would show him and if he could touch her backside. According to Rotman, the Forgetting Sarah Marshall star told her "not to be nervous, there are no cameras" but again she firmly rejected him. Ouch.
"It went on for fifteen minutes," she told Tarts. "He kept persisting it was funny and charming but I am just not that kind of girl."
Amid the awkward situation, Brand even took a phone interview with Access Hollywood's Billy Bush but was quick to end the conversation as he had to "to go impregnate this reporter." Eventually a note from producers outside was thrown under the door and Rotman made a hasty exit.
So was this Brand just being his sexually-charged self or was he trying to punk a reporter? After all, he had a film crew on site and has already begun shooting a documentary (details are still sketchy) which is slated to wrap production in September.
A rep for Brand did not respond for comment.
Parker Posey Eats It
The stars aligned at Grey Goose's screening after-party of The Great Buck Howard at NYC's SoHo Grand on Tuesday evening, where the film's leads such as Tom Hanks, Colin Hanks, Emily Blunt and John Malkovich mingled and mixed with other guests including Selita Ebanks, Valentino, Beth Ostrosky, Michael Stipe, Jason Schwartzman and Jane Fonda. But it seems Superman Returns starlet Parker Posey was having just a little too much fun at the perky party.
According to a Pop Tarts spy, Parker was in the elevator with pals (including Jason Schwartzman) leaving in the late hours and talking about how she was well, pretty tipsy. Once out on the street, we're told Parker was signing an autograph for a fan then started running to catch up with her friends down the street she tripped and fell face first into a puddle. Her friends were quick to help her up and thankfully she wasn't hurt — but what kind of friends leave their female companion in the streets of New York with a stranger late at night anyway?