U.S. Among Governments Calling for Humanitarian Access in Sri Lanka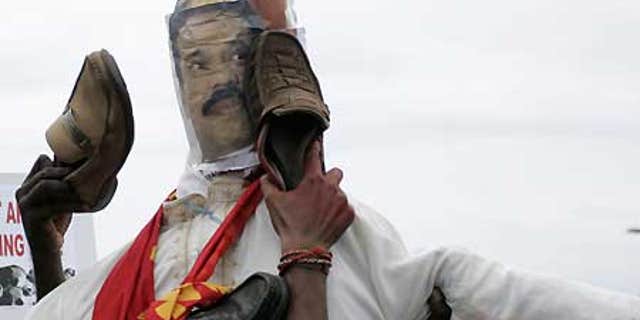 The State Department and other foreign governments are calling for the Sri Lankan government to allow humanitarian aid into a tiny strip of land in the north of the country where U.S. officials estimate that at least 60,000 civilians are trapped without food and water and are subject to hostile fire.
A senior State Department official briefed reporters Tuesday and described how Liberation Tigers of Tamil Eelam (LTTE), a powerful militant organization, retreated from the Sri Lankan military over the past few weeks and moved north, uprooting entire families in order to use them as human shields.
The official also said there were reports of civilians, including children, being forced to take up arms with the LTTE on the frontlines. The massive concentration of people living out in the open or in tents on the northern coastal strip has resulted in a humanitarian disaster that International Red Cross Director of Operations Pierre Kraehenbuehl is calling "nothing short of catastrophic."
Acting Assistant Secretary for South East Asian Affairs Michael Owen, told FOX News, "The 26-year-old conflict is at a decisive point, and we see the potential for major developments within 48 hours."
International aid groups have been refused permission to enter the so-called "safe zone" for weeks. No medical supplies or anesthesia have been allowed in, and casualties are increasing due to continued shelling from both sides.
State Dept Spokesman Robert Wood opened the daily press briefing with an appeal to the Sri Lankan government to let international aid in, refrain from "indiscriminate fire" and to reach a "diplomatic solution with the Tamil Tigers."
The Tigers have been at war with the Sri Lankan government for 25 years, led by Velupillai Prabhakaran, who is believed in hiding in the zone. Wood called for both the rebel forces and government to end the stand off and allow civilians to leave or aid safely through.
Sri Lankan President Mahinda Rajapaksa is under great international pressure to allow aid into the zone. A joint statement is expected Wednesday morning from interested governments, such as the U.S., Britain, Japan and Norway.
A senior State Department official said that the U.S. is engaged with Sri Lankan officials at the highest levels in an attempt to resolve the crisis. The official said U.S. diplomats are working to persuade President Mahinda Rajapaksa and his government to "protect its own interests" by letting the aid in and to reach a peaceful resolution with the LTTE in order to stabilize the country.
However, Teresita Schaffer, a former U.S. ambassador to Sri Lanka and head of CSIS South Asia Program, said the government has "no interest" in any kind of diplomatic solution to reach a peace agreement with the rebels, and that although the Tigers are in retreat, their tenacity should not be underestimated.
"When you're dealing with asymmetric warfare, insurgents are a weaker power by any normal measure, but the Tigers have nothing to lose," said Schaffer, who was ambassador from 1992 to 1995. She described the Sri Lankan president as "all tactics and no strategy," said Schaffer.
The government gave the Tamil Tigers a 24-hour ultimatum Monday to surrender, or government forces would enter the zone. State Department Spokesman Robert Wood told reporters there were credible reports of continued firing on both sides into the no-fly zone and appealed for both sides to allow civilians to evacuate the conflict area.
Assistant Secretary Owen said the latest estimates are that 35,000 civilians were able to flee the area Monday when government forces used explosives to create a gap in an "earthwork" wall a few miles long constructed by the Tigers using mechanical diggers.
A further 25,000 reportedly left Tuesday, Owen said. No international media is allowed into the zone and the State Department is relying on government figures and third-hand accounts. The Sri Lankan military has released video footage of mass civilian evacuations, but this remains the only source of information.
The government claims other displaced civilians that escaped by sea are being met by the navy and taken to government-run camps. Many of the refugees are believed to have been taken to a number of UNHCR camps in the Vanni region but with at least 125,000 potentially displaced people, the international community is preparing for the post-conflict situation that will see a refugee crisis on a massive scale.
A huge de-mining effort will also be needed as the Tigers have left landmines in their wake as they retreated north.