U.N. Security Council Approves Expanded North Korea Sanctions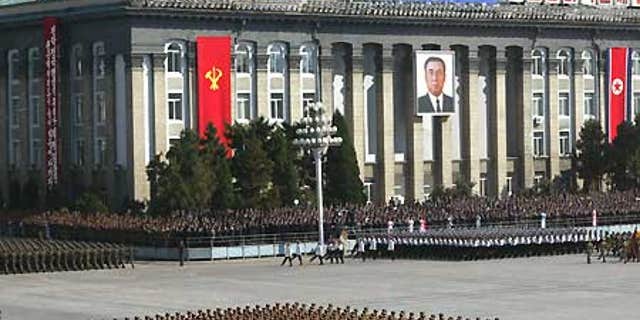 NEWYou can now listen to Fox News articles!
UNITED NATIONS – The U.N. Security Council on Friday punished North Korea for its second nuclear test, imposing tough new sanctions, expanding an arms embargo and authorizing ship searches on the high seas.
In a sign of growing global anger at Pyongyang's pursuit of nuclear weapons in defiance of the council, the North's closest allies Russia and China joined Western powers and nations from every region in unanimously approving the sanctions resolution.
U.S. Deputy Ambassador Rosemary DiCarlo said the resolution provides "a strong and united international response" to North Korea's test in defiance of a ban imposed after its first underground atomic blast in October 2006.
"The message of this resolution is clear: North Korea's behavior is unacceptable to the international community and the international community is determined to respond," DiCarlo said. "North Korea should return without conditions to a process of peaceful dialogue."
China's U.N. Ambassador Zhang Yesui said the nuclear test had affected regional peace and security and strongly urged Pyongyang to promote the denuclearization of the Korean peninsula.
He said the resolution demonstrates the international community's "firm opposition" to the atomic blast, "but also sends a positive signal" by calling for the resumption of six-party talks aimed at dismantling North Korea's nuclear program.
He also said it showed the council's determination to resolve the issue "peacefully through dialogue and negotiations."
The resolution seeks to deprive North Korea of financing and material for its weapons program and bans the country's lucrative arms exports, especially missiles.
It does not ban normal trade, but does call on international financial institutions not to provide the North with grants, aid or loans except for humanitarian, development and denuclearization programs.
North Korea reiterated Monday in its main newspaper that the country will consider any sanctions a declaration of war and will respond with "due corresponding self-defense measures." On Tuesday, the North said it would use nuclear weapons in a "merciless offensive" if provoked.
The provision most likely to anger the North Koreans calls on countries to inspect all suspect cargo heading to or from North Korea — and to stop ships carrying suspect material if the country whose flag the vessel is flying gives approval.
If the country refuses to give approval, it must direct the vessel "to an appropriate and convenient port for the required inspection by the local authorities."
The resolution does not authorize the use of force. But if a flag country refuses an inspection at sea — and refuses to direct the vessel to a port for inspection, a report must be made to the Security Council which could take action against the country, including sanctions.
China's Zhang cautioned that "countries have to act prudently, with sufficient grounds," and he stressed that "under no circumstances should there be use or threat of force."
The resolution condemns "in the strongest terms" the North's May 25 nuclear test "in violation and flagrant disregard" of the 2006 sanctions resolution.
It demands a halt to any further nuclear tests or missile launches and reiterates the council's demand that the North abandon all nuclear weapons, return to the Nuclear Nonproliferation Treaty, allow U.N. nuclear inspections, and rejoin six-party talks.
The 2006 resolution imposed an arms embargo on heavy weapons, a ban on material that could be used in missiles or weapons of mass destruction and a ban on luxury goods favored by North Korea's ruling elite. It also ordered an asset freeze and travel ban on companies and individuals involved in the country's nuclear and weapons programs.
The resolution calls on the 192 U.N. member states to implement these measures and asks the council committee monitoring sanctions to designate additional companies and individuals within 30 days that could face an asset freeze and travel ban.
It also expands the arms embargo, banning North Korea from exporting all weapons — which would eliminate a significant source of revenue for the country — and banning the import of all arms except light weapons.
The resolution also calls on all countries to prevent financial institutions or individuals in their countries from providing financing or resources that could contribute to North Korea's "nuclear-related, ballistic missile-related, or other weapons of mass destruction-related programs or activities."