Two Former 'Friends' Stars Now Playing Second Fiddle to 'High School Musical' Actors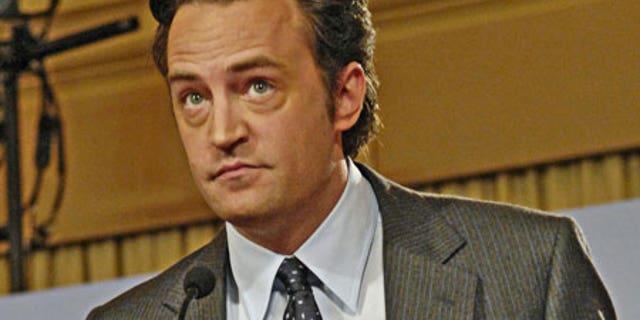 Friends Stars MIA | Rock Hall: Millions Banked, Near Zero To Charity | 'Hair' Makes a Sizzling Broadway Statement
Friends Stars MIA
Everyone knows what's new with Jennifer Aniston. She's got movies, an ex-husband and enough crazy tabloid magazine covers to wallpaper all of her homes.
But what's happened to the other "Friends?" All six of the actors certainly had the potential to go on to big things, whether it was in movies or TV.
The shock, though, is how badly things have gone. In fact, two of the "Friends" stars with the most promise — Matthew Perry and Lisa Kudrow— have wound up playing second fiddle to the "High School Musical" stars.
Perry, sadly, is playing the adult version of teen sensation Zac Efron in the upcoming "17 Again." Perry earned his movie comedy chops during "Friends" when he had a Tony Randall-like turn in the Renee Zellweger-Ewan MacGregor comedy "Down with Love." He also had a couple of hits with "The Whole Ten Yards" and its sequel. He's the youngest of the "Friends," but with "17 Again" it seems like he's almost given up.
Kudrow is the real head scratcher. She should be on NBC in a sitcom that casts her as a moden "Lucy." Her comic timing is impeccable. Instead, she's also been relegated to the "High School Musical" heap. She plays the mom of a teen in a Vanessa Hudgens movie set for this summer. Kudrow's had her chances. She produced and starred in an edgy, awful HBO comedy that nearly killed her career. Her one ace in the hole is director pal Don Roos, who casts her in all his films. But she needs TV genius James Burrows and some great writers to develop a show for her pronto.
And the rest of "Friends?" After "Joey," Matt LeBlanc has literally disappeared. He has no credit listings on the Internet Movie Database since the "Friends" sequel flopped. Of course, he had some personal problems, and those may be taking up his time.
There's better news for Courteney Cox and David Schwimmer. Cox and husband David Arquette produced the F/X drama, "Dirt." Cox is now filming a new pilot in which she plays—yes—the mom of a teen. Yikes. But it's work, and Cox is smart enough to take small interesting roles while she's waiting for a big comeback. Same, too, for Schwimmer, who directs TV and movies, and had a great recurring role in Larry David's "Curb Your Enthusiasm." And he still hasn't played anyone's dad— yet.
But this is why TV stars hold out for so much money in the final years of their shows. For instance, has anyone seen Paul Reiser or Helen Hunt from "Mad About You" in a while? Uh, no. My guess is they're playing cards with Matt LeBlanc somewhere, and at least driving nice cars.
Rock Hall: Millions Banked, Near Zero To Charity
This is no April Fool's joke.
Joel Peresman, the head of the Rock and Roll Hall of Fame, saw his pay go up to $367,823 last year — an increase of 10 percent. At the same time, the Hall of Fame Foundation did almost nothing to help anyone, let alone musicians: it donated $25,000 to a New York City school fund and gave $25,000 to a scholarship fund in Cleveland.
There is no line item on its new Form 990 tax federal filing for assistance to indigent musicians. Last year that amount was a whopping $4,183.
Pathetic? Yes. But business as usual for the Rock Hall, which this Saturday will induct new members at a dinner in Cleveland at the Rock and Roll Hall of Fame Museum — an entity separate from the Foundation.
Peresman runs the Foundation in New York under the aegis of Rolling Stone magazine publisher Jann Wenner. His main purpose is to select the new inductees each year.
Normally the induction ceremony takes place in New York at the Waldorf Astoria. But this year it's in Cleveland. The reason? This fall Wenner is planning to host a blow out all-star concert at Madison Square Garden with his cronies. (Expect the Eagles, John Mellencamp, and the like, with nary a nod to R&B or the blues with possibly the exception of Solomon Burke.) Two events in New York in one year would have been too much.
Still, the Cleveland Museum is a success despite the Foundation. Terry Stewart does a great job running it. His exhibits often feature acts that the Foundation hasn't voted into the Hall of Fame or have even acknowledged. On Saturday, Stewart's loyal fans and friends from Cleveland will fill the room — the event is said to be sold out.
But absent from the proceedings will be most of the people who come to the New York dinner. His office says that senior board member Seymour Stein is traveling for Warner Music in Europe. The Foundation's famed music attorney Allen Grubman, isn't going even though he was paid $90,000 for his services last year.
Most of the existing record labels are absent, too. Warner Music was forced to buy a table because Metallica is being inducted. ABKCO Music has bought a few tables to celebrate the overdue induction of R&B great Bobby Womack. But the other inductees don't have labels per se — like Little Anthony & the Imperials, Jeff Beck, Run-DMC, Wanda Jackson, and the Elvis Presley sidemen.
I do suspect that many of the people who should be in Cleveland will be at Radio City Music Hall for the spectacular Paul McCartney-Ringo Starr benefit for the David Lynch Foundation. That's the hottest music ticket in the world this Saturday night.
The Rock Hall show this year (and for the next three years) is also diminished by losing its TV berth on VH-1. Maybe because no one cares anymore, Fuse TV, sort of the MTV competitor that few people outside of Canada are aware of, has a three year contract with the group. They'll broadcast the show live this Saturday night from Cleveland. Fuse is part of Cablevision, which owns Madison Square Garden, so presumably the big November event from MSG will be on the network as well. But Fuse doesn't have the reach of MTV or VH-1.
Meanwhile, the Rock Hall Foundation continues to operate as its own fiefdom, separate and apart from the music industry. According to the new federal tax filing, the group has $14 million in net assets or fund balances, and $23 million invested in publicly traded securities. But they gave only $25,000 to charity, and it wasn't even to a music charity. The money went to Caroline Kennedy's Fund for Public Schools, where Wenner is a board member.
The Rock Hall could be giving substantial donations to MusiCares, the Grammy Foundation, VH-1 Save the Music, UJA Federation Music Division or, especially, the T.J. Martell Foundation for Cancer Research — the pet charity of the music business. The Rock Hall has also completely avoided helping to get passed the current Performance Royalty Act, which would secure royalties for performers whose songs are played on the radio. Performers have never been paid for 50 years of radio play. (Only composers and publishers get royalties.)
Instead of being involved in any of this, the Rock Hall paid Peresman his outsized salary and a pittance to his assistant ($53,000). They paid $1.8 for the line producer of the annual dinner/show, $74,000 to Wenner for office space at Rolling Stone, and $54,500 to their publicist. Travel expenses were almost $13,000. "Conferences, conventions and meetings" cost almost $9,000. A mysterious $76,000 went to "outside services." And so on.
'Hair' Makes a Sizzling Broadway Statement
Imagine that in 1968, in the middle of the Vietnam War, with the country burning in protests, some Broadway types put on a show with a strong anti-war statement. It was so successful that it stirred a whole generation of young people.
That was Hair, and it was forty years ago. Watching the musical's premiere last night — this is the version that played in Central Park over the summer, now at the Hirschfeld Theater — I couldn't remember whether we were still in a war today. (Apparently there are two — in Iraq and Afghanistan.)
You could not imagine young people coming up with a "Hair" for 2009 because there's no draft, and no threat of kids going to war if they don't want to. It was a different world in 1968. So, amid the hit songs, crackling direction, and sizzling performances, this really is a nostalgia trip. Make love, not war.
Even after the Central Park run last summer, there's still a lot of enthusiasm for this show. In fact, the Hirschfeld was really packed, and the people in it seemed like they were throwing off electricity before the curtain went up. There were lots of stars — Rosie O'Donnell and Kelli O'Donnell, Audra McDonald, Blythe Danner, Tim Robbins, Kathie Lee Gifford and Hoda Kodb, Diane von Furstenberg, Harvey Fierstein, Phoebe Snow, Martha Plimpton, Linda Eder, Melba Moore, Taye Diggs and Idina Menzel. Not bad for a Tuesday night!
The cast is outstanding: Gavin Creel and Will Swenson are the main guys, Claude and Berger. Caissie Levy and Kacie Sheik are Sheila and Jeanie. They are all wonderful. Superb. But I kind of liked Sasha Allen the best. She plays Dionne and gets to open the show with "Aquarius." Later she wails a standout solo in "The Flesh Failures." Someone please give this girl a CD and a real release.
"Hair" is filled with hits — the title song, "Aquarius." "Let the Sunshine In," "Good Morning Starshine," "Easy to Be Hard" (Caissie Levy was great, but we all miss Three Dog Night!), and the sleeper, "Where Do I Go." The show has a hot first act, drifts a bit in the second and has a strong, strong finish. The good news is that you can still dance on stage with the cast during the curtain call. (Kathie Lee, Hoda, and Marian Seldes were the first ones to jump up on the stage!) And the cast — even more so indoors than outside — really crawls all over the place. It's just the way I remembered it from long ago.
So the Tony Awards are shaping up with an exciting race in Best Revival — "West Side Story." "Guys and Dolls," and now "Hair." A few days after the Tonys — June 18th — "Hair" composers James Rado, Galt McDermott, and the late Jerome Ragni will be inducted into the Songwriters Hall of Fame. If you've never seen "Hair" run to the Hirschfeld and see what all the fuss is about. You won't forget it. It's a joyous night on Broadway.