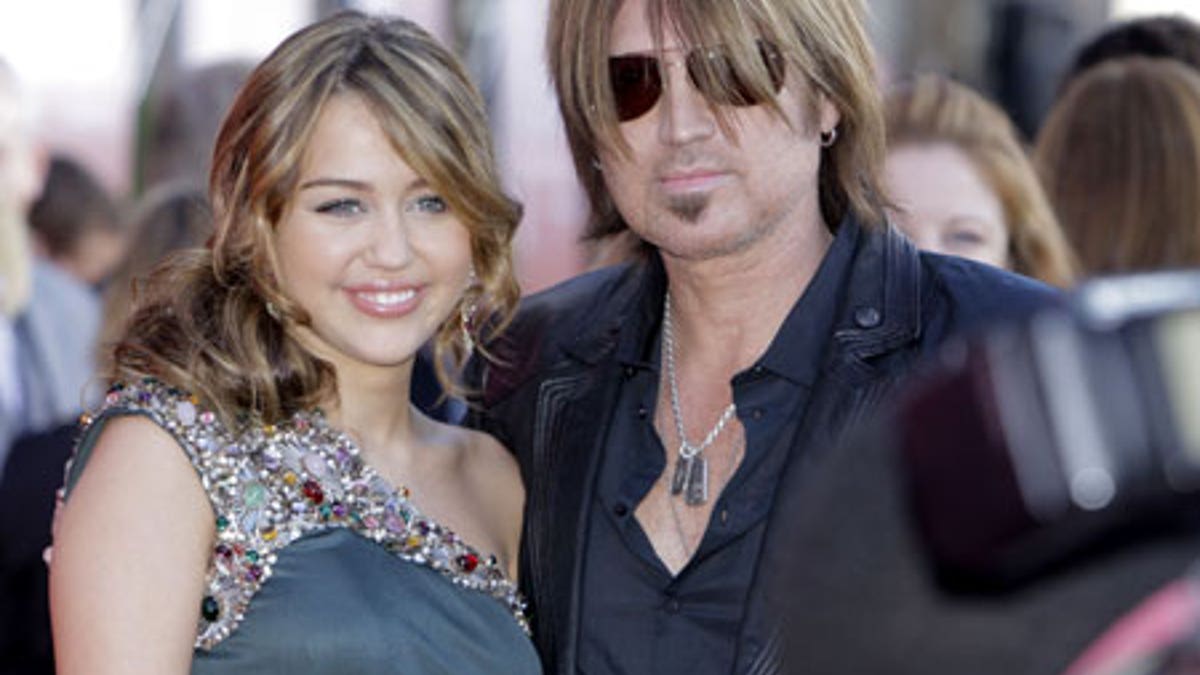 "Ruby & the Rockits," starring David and Patrick Cassidy with "Spy Kids'" Alexa Vega, premiered this week on ABC Family. If you missed it, be sure to check it out. It's funny. Really. The Cassidy family production features the two half-brothers as past-their-prime teen idols (sound familiar?) who discover one has a teenage daughter (also based on a true family story). Shaun Cassidy serves as executive producer and writer, and youngest brother Ryan is the show's set dresser. Family matriarch Shirley Jones is scheduled to make a guest appearance, and even Ryan may even poke his head out from behind the scenes. Could Shaun be far behind?
Photo gallery: See legendary TV family acting dynasties.
It's literally a family affair. And what a family it is. The Cassidys have played a huge role in TV history. Father Jack started it all with his '60s show, "He & She," and numerous guest appearances on such series as "Bewitched," "Love, American Style," "Columbo," and "McCloud." Shaun, Patrick, and Ryan's mom, musical legend Shirley Jones, may have made the biggest splash alongside stepson David on '70s sitcom "The Partridge Family" and on her own "Shirley" in '79. She's been acting steadily on TV ever since, including recent stints on "Days of Our Lives" and "The Cleaner."
After his teen-idol turn as Keith Partridge, David enjoyed a more adult role in the late-'70s drama, "David Cassidy - Man Undercover." He went on to numerous guest spots on such series as "Malcolm in the Middle" and "The John Larroquette Show." Patrick made a name for himself in the 1981 made-for-TV movie "Angel Dusted" and 1986's Emmy-nominated "Dress Gray," then went on to star in the TV version of "Dirty Dancing." He also had recurring roles on "Lois & Clark" and "Smallville." Youngest brother Ryan tried his hand at acting, most notably on a few episodes of "The Facts of Life," before turning to behind-the-scenes work as a set dresser. But it's Shaun who may have made the biggest TV mark, first in front of the camera on "The Hardy Boys/Nancy Drew Mysteries" and "Breaking Away," and more recently as a producer, writer, and creator of "Invasion" and "American Gothic."
But the Cassidys aren't the only showbiz family to dominate the small screen. Some aren't lucky enough to work on the same shows together, but throughout the years there have been many TV dynasties to grace our sets. Here are some of the best.
The Cyrus Family
Creepy and slightly inappropriate Vanity Fair photos aside, country star Billy Ray Cyrus seems to have passed on a strong work ethic and (we hate to even say it) a little bit of talent to his daughter Miley. But they have an interesting dynamic. Usually, even the most successful Hollywood legacies have to struggle for years to step out of a famous parent's shadow. Miley, on the other hand, seems to have totally surpassed her dad at the tender age of 16. At least she throws the old dog a bone and lets him play her father on her runaway hit series, "Hannah Montana."
The Spelling Family
Aaron Spelling clearly built an unparalleled TV legacy. During his five decades in the business he produced over 200 series, including some of the most iconic (albeit cheesy) shows of all time: "The Mod Squad," "The Rookies," "S.W.A.T.," "Vega$," "Starsky and Hutch," "Charlie's Angels," "Hart to Hart," "Fantasy Island," "T.J. Hooker," "The Love Boat," "Hotel," "Dynasty," "Models Inc.," "Melrose Place," "7th Heaven," and "Charmed." He also produced a famous daughter, Tori, who would star in one of Aaron's other big hits, "Beverly Hills, 90210." And now, whether they like it or not, Tori's dragging her own kids into the family business. They appear every week on the reality series "Tori and Dean: Home Sweet Hollywood," starring Tori and her husband, actor Dean McDermott. "Love you, babe. Love you, babe."
The Reiner Family
Carl Reiner and his son Rob have had two of the most enviable careers in Hollywood, both on- and off-camera. Acting-wise, Carl is probably best known as Alan Brady on the classic '60s sitcom "The Dick Van Dyke Show," which he also wrote and produced. Rob followed closely in dad's footsteps, finding fame as Mike "Meathead" Stivic on the legendary '70s series "All in the Family." And while he only scripted a couple of episodes for Archie and the gang, he went on to write, produce, and direct some of the finest contemporary film comedies, including our favorite John Cusack movie, "The Sure Thing," and the greatest mockumentary of all time, "This Is Spinal Tap."
The Sutherland Family
Donald Sutherland is one in a long list of actors who have made the switch from film to television, thus, as some believe, legitimizing the smaller screen for the first time in its history (we beg to differ, but we're happy these movie actors have joined the party). Most people missed Sutherland's performance on the short-lived "Commander in Chief" (you know, the one where Geena Davis played the first female President?), but his portrayal of mega-billionaire Tripp Darling on "Dirty Sexy Money" left us wanting more. And we got it. Next year he'll be back on "The Eastmans," a medical drama co-starring Jacqueline Bisset. Let's hope it's as dirty and sexy as his last show.
And speaking of sexy, Donald's son Kiefer has glowered his way through seven smokin' seasons of "24." We don't really even like crime dramas — too much violence — but somehow we don't seem to mind when Jack Bauer bites off someone's ear or breaks a neck with his bare hands. Despite a once-turbulent off-screen relationship, Donald and Kiefer have been in two movies together ("Max Dugan Returns" and "A Time to Kill"), but the two have yet to meet in TV land. Still, a girl can dream, right?
The Ball/Arnaz Family
The first family of TV dynasties has got to be the one started by Lucille Ball. She created the first TV monarchy with "I Love Lucy," starring opposite real-life husband Desi Arnaz. And although their TV son, Little Ricky, was not played by Desi, Jr., as is sometimes mistakenly reported, he did appear on-camera in mommy's tummy, as she became the first pregnant woman shown on network TV.
After Lucy's off-screen split with Desi, she went on to a few more successful sitcoms that featured both of her children, Lucie and Desi, Jr. Although neither enjoyed the same television acclaim as their legendary mother, Lucie starred in '85's "The Lucie Arnaz Show" and found fame on the stage, including recent runs in London's West End production of "The Witches of Eastwick" and Broadway's "Dirty Rotten Scoundrels." Desi, Jr., did an '80s series, "Automan," and made a few films, most notably as his father in 1992's "The Mambo Kings," but he hasn't pursued much acting work since. He recently turned his sights back to the band he formed at the age of 12 with the late Dean Paul Martin, Dino, Desi & Billy. With Dean Paul's death in 1987, Arnaz recruited Dino's younger brother, Ricci.
The Lamas Family
Perhaps they're too D-List for some to be included in this esteemed company, but you can't deny that the Lamas family has legs, beginning with Argentinian-born patriarch Fernando Lamas (famously parodied by Billy "You Look Mahvelous" Crystal on "Saturday Night Live"), who was a suave silver-screen star in his early career but is remembered by younger generations through his guest appearances on such stupendous '70s schlock as "Charlie's Angels" and "The Love Boat." Next came son Lorenzo, who won over female fans as corrupt but sexy playboy Lance Cumson on "Falcon Crest" and gained male followers as falsely accused bounty hunter Reno Raines on "Renegade."
Still, we were totally shocked when Season 12 of "The Bachelor" introduced us to Lorenzo's daughter, Shayne Lamas. The perky blonde actress might have done the show for some career heat of her own, but she went on to win the season and — temporarily, at least — the heart of "Bachelor" Matt Grant. And while she ultimately proved unlucky in love, she's become very lucky in TV. Her new reality series, "The Lamas Family," co-starring Lorenzo and her brother, A.J. (most famous for allegedly dating Lindsay Lohan back when she was interested in that kind of thing), premieres this fall on E! We can't wait to see them live out the adage "It's better to look good than to feel good."
The Nelson Family
Everyone's so surprised that the Cassidys are working together as a family, but they certainly aren't the first to team up and put on a show. The originators can be seen on the oh-so-wholesome family sitcom, "The Adventures of Ozzie & Harriet." During the series' 14-year run, the Nelson clan — Ozzie, Harriet, and sons David and Ricky — strove for authenticity, going so far as to film exterior shots outside their actual home and re-creating its interiors on a soundstage. And when David and Ricky grew up and got married in real life, their new brides joined the show. Inevitably, a third generation of Nelsons went into the family biz: Ricky's daughter, Tracy, became an actress (most notably on "Father Dowling Mysteries"), and his twin sons, Matthew and Gunnar, formed an '80s hair band named, appropriately enough, Nelson.
The Osbourne Family
In 2002 another famous Ozzy brought his family into our homes. On the surface the Osbournes seemed nothing like the Nelsons. But in reality the close-knit clan did work together, stand by each other through tough times, and share a genuinely caring bond, values Ozzie and Harriet would have been proud to see. But Ozzy and Sharon also seemed to pass on such rock 'n' roll afflictions as the love for drug and drink. Thankfully, son Jack and daughter Kelly seem to be clean and sober these days, and only time will tell if they'll carry on the entertainment bloodline themselves.
The Sheen Family
Martin Sheen began his almost 50-year career on television, even though many think of him as a movie actor, thanks to such roles as Captain Willard in "Apocalypse Now" and Kit in "Badlands." He's spent the better part of his career doing TV, everything from "As the World Turns" to "Columbo" to "Flipper." But it's his portrayal of President Josiah Bartlet on "The West Wing" that has solidified his place in small-screen history.
For a while it seemed like Martin's son Emilio Estevez was the Sheen dynasty heir, with parts in "The Outsiders" and "Repo Man," but then brother Charlie came from out of nowhere to take the reins. Charlie made a lot of movies in the '80s, but it was his breakout performance as Charlie Crawford (replacing Michael J. Fox) on "Spin City" that made him a TV fan favorite. A year after that show ended Charlie found even greater success on the seven-season-and-counting hit "Two and a Half Men." The show has become another TV family affair with Martin's guest spot as Harvey, father to Rose, the stalker neighbor; brother Emilio's turn as an old friend of Charlie's; pre-split ex-wife Denise Richards as one of Charlie's girlfriends; and Charlie and Denise's real life daughter, Sam, as Lisa's TV kid. Yes, it's all a bit complicated.
The Ritter Family
With the tragic death of John Ritter in 2003, we lost one of TV's best. From "Three's Company" to "8 Simple Rules…for Dating My Teenage Daughter," he always kept us laughing. The son of famed country singer and Western movie star Tex Ritter, John was no stranger to the spotlight. He passed his comic genius to his son, Jason, who first came into our consciousness in the best Friday night cry-fest ever, "Joan of Arcadia," followed by the short-lived but well-received "The Class." Jason's turned more to film in the last few years in movies like "W." and "The Education of Charlie Banks," but we're wondering if someone could use the magic of television to unite father and son onscreen a la Natalie Cole and her late father, Nat "King" Cole. Surely it would be a magical event.
More at GetBack.com: