Tuesday Marks Climax of Worldwide Carnival Celebrations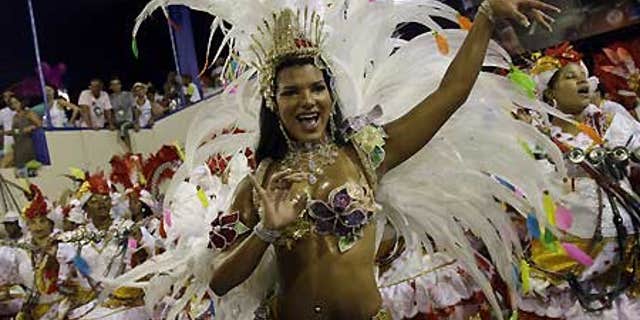 Tuesday marks the climax of pre-Lent Carnival celebrations around the world. In Rio de Janeiro, nearly-nude dancing beauties led elaborate floats past 70,000 revelers in the city's Sambodrome stadium, AFP reported.
Street festivities in Rio will continue through Tuesday night for locals and hundreds of thousands of tourists enjoying the party.
In Italy, hundreds of thousands flocked to Venice for more than 10 days of Carnival celebrations that end on Tuesday, Reuters reported.
"People may have less money in their pockets but they don't have any less desire to entertain themselves, in fact maybe they have more because things aren't going well," Mauro Pizzigati, president of Venezia Marketing & Eventi, which organized the carnival, told Reuters.
The Venice Carnival includes a huge masked costume contest and lavish masquerade balls.
Click here for photos.
Belgians celebrate "Mardi Gras" with ostrich feathers while Hungarians dress as "buso," masked creatures with sheepskin coats, AFP reported.
In Germany, thousands of costumed revelers joined Carnival parades amid floats that depicted, among others, a soaring President Barack Obama, a menacing Russian prime minister and a struggling banker.
Carnival parades are a cherished annual tradition across a swath of western Germany, particularly in Rhineland cities such as Cologne, Duesseldorf and Mainz.
The brightly painted papier-mache floats traditionally focus on current political events and this year was no exception.
In Duesseldorf, one showed Obama flying on wings decorated with the words "Yes we can," with a figure representing Europe clutching his cloak. Another float depicted Russian Prime Minister Vladimir Putin as the handle of a gun, whose barrel bore the inscription "Putin's press freedom."
Brazil's Carnival, long a symbol of youth, beauty and sex, added a mature twist early Tuesday by giving two women in their 40s a chance to dance nearly nude at the head of their samba parades.
Some of Brazil's most beautiful women battle it out each year to become their school's "drum queen" and lead their parades by furiously dancing samba in little more than glittery body paint, an enormous headdress and dangerously tall high heels.
The role usually goes to young starlets or beautiful women plucked from the downtrodden areas where the samba schools are based.
But two leading samba schools taking part in Monday's final night of the top-tier parades surprised Brazilians by choosing women aged 46 and 44 — though one is a former model and the other was once a Playboy cover girl.
"It's a huge change," Luiza Brunet, 46, told The Associated Press as she prepared for her showcase role in the Imperatiz samba school's parade. "It shows that women who are more mature are gaining space in a country with so much machismo, where we give more value to youth and beauty."
Reuters, The Associated Press and AFP contributed to this report.