Trial for Sudan Journalist Facing Lashes for Wearing Trousers Delayed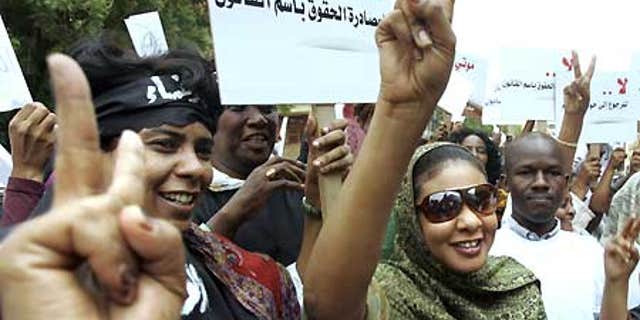 KHARTOUM, Sudan – A Sudanese judge adjourned the case of a female journalist accused of violating the Islamic dress code until September Tuesday, as police fired tear gas and beat protesters outside her trial.
Police moved in swiftly and dispersed about 50 protesters, mostly women, who were supporting Lubna Hussein, a former U.N. worker facing 40 lashes on the charge of "indecent dressing." Some of the women demonstrators wore trousers in solidarity with Hussein.
Trousers are considered indecent under the strict interpretation of Islamic law, adopted by Sudan's Islamic regime which came to power after a coup led by President Omar al-Bashir in 1989. But activists and lawyers say the implementation of the law is arbitrary.
The judge adjourned Hussein's case until Sept. 7, saying that he had to seek clarity on whether she was immune from prosecution. He said the issue would be referred to the Sudanese Foreign Ministry.
"We are here to protest against this law that oppresses women and debases them," said one of the protesters, Amal Habani, a female columnist for the daily Ajraas Al Hurria, or Bells of Freedom in Arabic.
No injuries were immediately reported but witnesses said police wielding batons beat up one of Hussein's lawyers, Manal Awad Khogali, while keeping media and cameras at bay.
Hussein was among 13 women arrested July 3 in a raid by the public order police on a popular cafe in Khartoum. Ten of the women were flogged at a police station two days later and fined 250 Sudanese pounds, or about $120. But Hussein and two others decided to go on trial. She has sought to publicize her case internationally, inviting human rights workers, Western diplomats and fellow journalists to witness her trial.
While the police broke up the demonstration outside the Khartoum Criminal Court, the judge adjourned Hussein's trial for a month to seek clarification from Sudan's foreign ministry.
At the time of her arrest, Hussein was working for the media department of the U.N. Mission in Sudan, which gives her immunity from prosecution. She submitted her resignation after her trial began last week because she wanted to go on trial to challenge the dress code law.
Defense lawyer Jalal al-Sayed told reporters Tuesday the judge wanted to know whether Hussein still has immunity because her superiors have not yet accepted the resignation.
Hussein's hearings first opened last Wednesday but immediately adjourned to give her the opportunity to resign.
After the adjournment, Hussein could not immediately be reached for comment. But earlier, she told reporters she expected a swift sentence and was not sure whether the court would allow an appeal. Public order cases usually involve summary trials with sentences carried out shortly afterward.
She told The Associated Press that she was "ready for what may come" and lauded the protesters, saying they showed that "Sudanese women from different political parties and groupings stand with us."
The case has drawn criticism from the United Nations. The U.N. Staff Union urged authorities last week not to flog Hussein, calling the punishment cruel, inhuman and degrading.
U.N. Secretary-General Ban Ki-moon said he was "deeply concerned" about Hussein's case and said flogging was a violation of international human rights standards.
Click here for more on this story from the Times of London.
The Associated Press contributed to this report.