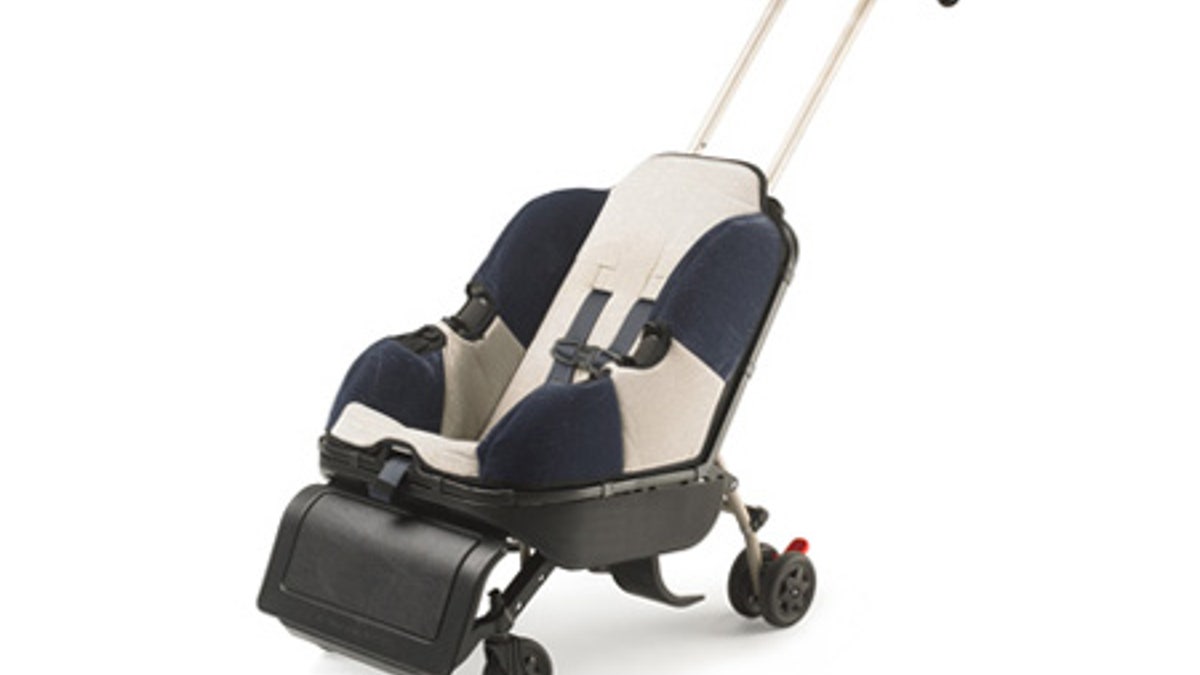 The list of new gadgets available to travelers grows longer each year. But however long that list is, it's nothing compared to the list of new products parents are expected to buy year after year.
Combine all those lists, add in products specially designed for traveling families, and that's a lot of stuff. And if you're a parent you probably have nowhere to keep any of it, and even fewer ways to carry it. That said, the family travelers in your life may be in need of a worthy gadget. Here are five to consider.
Best Overall Gadget: Sit 'N' Stroll 5-in-1 Car Seat Stroller, $249.95
At the risk of sounding too emphatic, this is the best thing I have ever bought. Ever.
I'm not a compensated spokesperson for the Sit 'N' Stroll 5-in-1 Car Seat Stroller, I'm just a fan who's seen the thing last through three kids. Years ago, on the verge of becoming first-time parents, my wife and I were shopping for our first "travel system" – the name that's evolved for any car seat that snaps into a backseat base, stroller, or simple frame with wheels – when we discovered the Sit 'N' Stroll.
At 23 lbs. the Sit N' Stroll isn't lighter than most standard car seats, mainly because it houses a metal frame with wheels that extend when you push down on a handle in the back. There's also a wheelie-bag-like retractable handle on top. This setup permits you to convert the seat into a stroller and back again without using or attaching other products. In addition to serving as a rear-facing and front-facing car seat, stroller, and booster seat, it's also an FAA-approved child restraint device, which most airlines require you to place in a window seat.
The best thing about the seat is the ability to pull a sleeping child from a car without having to move him into a separate stroller or snap the seat into a wheelie frame. And the act of removing the seat and extending the wheels, especially if there's a child inside, makes even non-parents stop and stare.
Best Twist on a Car Mirror: SafeFit Baby Night Sight, $19.99
The shatterproof "baby view" mirror is a nifty gadget. If you hang one on the backseat of your car and peek in your rear-view mirror, you'll be able to see the backseat mirror reflecting the face of your rear car seat-facing baby. If there's more than one kid in the back, rear-facing or not, a wide mirror that likewise permits a convex wide-angle view is a good pick. The SafeFit Baby Night Sight is a backseat mountable mirror with a twist: a remote-controllable light attached to the top that shines on the baby's face for about seven seconds before dimming.
The actual surface area of the mirror is a bit small, but still permits you to see what you need to see: that your child is okay, even at night. The a collection of attachments work with bench seats, center back seats, tether-anchor seats, and head rests; pack them all if you're renting a car. The remote, which attaches to the driver's sun visor, needs three inexpensive AG13 batteries; the mirror itself needs three AAs. It goes without saying that batteries are not included.
Best Reboot of a Classic Game: Flip to Win Hangman, $12.99
If your brood includes a tween or bickering siblings you've likely come to accept as I have that at times it's desirable to let them plug in to portable electronics and leave the rest of the family alone. A small part of me still resists it, though, because driving through a state like Connecticut takes forever and it's a good opportunity to interact. Enter Melissa & Doug's Flip to Win Hangman, an 8" x 10" wooden board with 26-letter tiles and 11 doomed-man tiles fastened to the board with elastic. A dry-erase pen clipped to the side and a small white board-area for incorrectly guessed letters complete the package.
Sure, the dry-erase surface is a bit too narrow, the pen's easy to lose, and, of course, you can play hangman with a pen and paper. However, this is a gift, remember? Its bright red, white, and blue color scheme is whimsical, as is the stick-figure man, who when fully "hanged" reveals a sickly but good-natured grin. The best thing about it? You and your kids can't coddle each other by drawing extra, bogus body parts or clothes on the doomed man to extend the turn of a player who can't guess the word. Once you exhaust the 11 little body-part tiles, game over.
Best Room for Growth: Deuter Starlight Expandable Sleeping Bag, $79
My eldest daughter got a new sleeping bag two years ago and given that it's mostly used on living room floors, it's still almost new. Problem is she's too tall for it now. The Deuter Starlight EXP child-sized sleeping bag has something most sleeping bags don't: a bottom section that once unzipped, extends the 51" long bag another foot so your child then has 5' 3" of space to outgrow. The red-orange color scheme should suit a boy or girl and at 2lbs and 6" x 15" rolled, the bag's manageable enough for young campers to carry themselves.
Best Bell Around the Neck: Giggle Bug Toddler Tracker, $19.95
A family trip invariably finds me in a large store, which in turn inspires my youngest kid to burrow into a rack of clothes or shelf thick with stuffed animals and be ninja quiet for the first time all day. Without my always noticing.
If a parent you know momentarily loses track of a child in this fashion, consider gifting a Giggle Bug Toddler Tracker. Child trackers usually involve a "child unit," which as you may guess is clipped to the child, and a "parent unit," which you keep in your pocket. Some trackers enable either the parent unit or the child's to beep loudly if the child strays a certain distance from you, but if I lose track of my kid I want a more proactive option: The Giggle Bug functions the same way the "find handset" button works on a cordless phone: punch the button on your parent unit and it'll transmit a signal causing the child unit to emit a loud beeping so you can hone in on his location. One thoughtful feature: should anyone, including your child, try to pull off the unit, it'll beep until the clip is opened and closed again.
The parent unit will transmit up to 100 feet, assuming there isn't atmospheric or electronic interference or obstructions that might interfere with the signal. So don't rely on it working outdoors and, of course, try not to rely on it at all. But if you've got a wanderer in your brood, the Giggle Bug could help smoke him out of his hiding place.