The Return of 'Jon & Kate Plus Eight' : Before, During and After the Breakup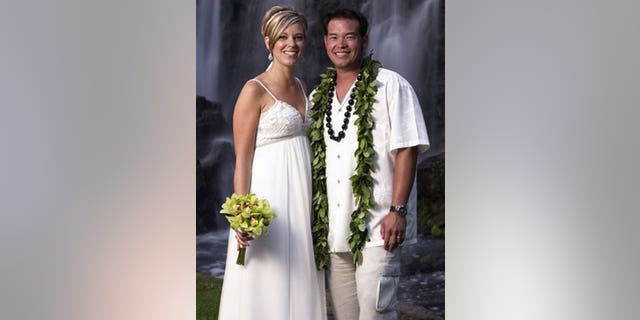 Tonight, viewers got more insight into the long, sad story that is the dissolution of the Gosselin marriage, as TLC ran two half-hour episodes of "Jon & Kate Plus Eight."
These were the first new episodes to air since the June 22 show, in which Jon and Kate announced that they were divorcing. Tonight's shows contained footage shot before the rumors of Jon's infidelity began to make tabloid headlines, as well as footage shot during the height of that coverage. The second episode took place after the couple officially began living separate lives.
In the first of tonight's episodes, titled "Renovations & Vacations," Jon and Kate decided to accept an offer from a remodeling company to redo their kitchen, which probably looked pretty nice to most viewers already. "It's kinda strange that we're remodeling our kitchen in the middle of our separation and stuff like that," said Jon to the camera.
Indeed, the opening sequence included shots of them glaring at each other in slow motion, in those bleached-out colors that reality TV uses to indicate that something happened a while ago. "The official decisions have been made," said Kate in voice-over. "It's kind of strangely more a sense of peace."
But the process of renovating the kitchen apparently began in January, four months before the stories of Jon's infidelity first surfaced. The scenes of the Gosselins sitting down with the representatives from the renovation company brought back old times. For example, when Jon quietly suggested installing a below-the-counter refrigerator, Kate said contemptuously, "What planet do you live on?" At least they were talking to each other, and in the same room.
Eventually the renovators talked Kate into getting the under-the-counter refrigerator; she seemed to jump at every other possible kitchen feature without any prodding. It was the kind of bridal-registry-style feeding frenzy that saddles most married couples with a waffle iron.
But as usually happens with renovations, the actual work took place months later, probably in May and June. After spending a full day unpacking the cabinets and hearing that she would have to wash the dishes in the bathtub, Kate decided to let Jon handle the contractors and to take the kids to the beach. (School could wait, apparently.)
"I think Kate and I needed a break from each other," Jon told the camera. "It also gave us a break to think about what we needed to do as parents for our kids."
Kate and the eight children headed down to Bald Head Island, N.C., leaving at 4 a.m. in order to avoid the paparazzi, who were following them nonstop by this point. According to Kate, the photographers showed up on the beach within two and a half days.
The resulting bikini shots of the paparazzi's favorite MILPh (Mom I Love to Photograph) graced the covers of numerous supermarket weeklies, including the sixth of the record seven consecutive Us Weekly covers devoted to the Gosselins.
Despite the cover line of that Us issue ("Mommy, You Are Mean!"), Kate and the kids seemed to have a wonderful time splashing around in the ocean and the pool and digging in the sand. As usual, there was a sad irony to the sight of the young ones playing happily as their family fell apart.
Talking to the camera, Kate (seated alone in an armchair rather than in the couple's famous couch) said that the kids repeatedly said they wished that Jon could be there but that she needed to take them somewhere where they could be stress-free. She also said that she wasn't worried about how the renovation was going: "The bigger stresses in life—it makes the ones you thought were big seem small."
Jon didn't have much to say this episode, except for occasional comments about how the renovation was going and how happy he was that the kids were far away from all the dangerous tools.
But viewers didn't learn how the renovation turned out. The second half of this episode will air next week, probably because TLC wants to spread out the mid-breakup footage over as many episodes as possible, in the hope that it will prove to be ratings gold.
Tonight's second episode, titled "Camping Out," lacked the dramatic tension of the first, not only because it was shot after the divorce announcement but also because Jon was completely absent.
Kate decided to camp out in the backyard with the children. "It is not their fault that what has transpired has transpired," she said. "My main goal is to make this transition as painless for these kids as possible."
So Kate took on two jobs that would have been Jon's: pitching a tent (she confessed that the show's production assistants pitched the second one) and building a fire for s'mores.
Kate was quite pleased with her tent-building skills. "I can do things that I have never done before," she said. The kids were less impressed. "She did a terrible job," said one of the eight-year-old girls.
After a dip in the pool (the cutest point being where one of the 5-year-old boys proudly showed the camera how badly he was shivering), the kids announced they were going to have "breakfast": s'mores.
Kate had an absurdly hard time getting the fire to start in the fire pit. ("Mom's not naturish," said one of the 8-year-olds.) And then Kate worried that the kids might injure themselves with the sharp sticks and fire and melting marshmallows, most of which were burned to a crisp. (Fortunately, Ashley, a friend's daughter, was there to help, as she had been for the trip to North Carolina.)
Showing her control-freak side, Kate insisted that the children shower before going to bed. "God forbid they wake up stuck to their sleeping bags," she said.
The night passed uneventfully. "It was nice to be surrounded by my babies," said Kate. Asked by the interviewer if she would camp out again, she replied, "I'll do it again for my kids. I'll do anything for my kids."
Whether viewers would watch this kind of episode a second time is another question. Since it's obvious how much support Kate has, her single-supermom act is a little unconvincing. The kids are reliably adorable, but their cuteness has always been the icing on the cake, with the show's real appeal being the dysfunctional byplay between Kate and Jon.
Viewers will probably tune in next week to see how Kate manages to find fault with Jon's handling of the kitchen renovation. But judging by the second of tonight's episodes, "Jon or Kate Plus Eight" won't do.
REALITY BITES
In the next-to-last week of competition, the six remaining dancers on season 5 of "So You Think You Can Dance" performed four times each: in solos, in an all-guy number (in which Ade and Brandon threw Evan around), in an all-girl number (in which Melissa, Jeanine and Kayla played superheroines), and in two routines per couple. Ade couldn't manage to get down enough to pull off his samba with Jeanine; they both got good judges' reviews for their hip-hop number, in which they played a couple moving boxes out of the apartment from which they were being evicted. Melissa and Evan performed a Broadway routine to "Get Me to the Church on Time"; judge Mary Murphy said, "This could be 'Get Me to the Finale on Time'!" But Mary and executive producer Nigel Lythgoe weren't fond of Melissa and Evan's quickstep. Playing a married man and his mistress in a contemporary number, Brandon and Kayla were appropriately sensuous and tortured, and the audience and judges ate it up. Their disco routine had Nigel standing up and screaming like Mary. Unsurprisingly, Brandon and Kayla skated through the eliminations, with Melissa and Ade going home. On a happier note, many of the season 4 cast members returned to perform the four routines that are up for Emmy Awards in choreography.
Although the housemates seemed unanimous in their animosity toward him, Teflon Ronnie survived another week of "Big Brother." Jessie, the head of household, decided it would be better to get rid of Casey, presumably because Casey had dared to suggest that if Jessie didn't target Ronnie, everyone else would target Jessie. Casey managed to get picked for the power-of-veto competition, which involved dressing like pigs and rooting around in mud, but he blew his chance by picking a prize instead of points. Instead, Michelle won and took herself out of nomination. When Jessie picked Casey, Ronnie couldn't help beaming, and Jordan took offense. "I might not be the smartest crayon in the box," she told the confessional, "but I'm not that dumb." On Thursday, the infrared camera showed Lydia the Tattooed Lady getting in bed with Jessie so she could look at him while he slept. But both she and Natalie denied they were feuding over Jessie. The weekly taped segment focused on the apparently chaste "showmance" between Jordan and Jeff. Casey made a bitter plea not to be eliminated, but everyone but Russell voted against him. Hostess Julie Chen announced that the "cliques," which hadn't been that interesting anyway, were now being broken up. The head of household competition involved being spun around on what looked like amusement park swings while being smacked by a giant "diploma" or sprinkled with cold water. When only Russell and Jeff were left hanging, Russell promised not to nominate Jeff or Jordan if Jeff would let him win, and Jeff threw the competition. Sensing danger, Lydia got on Russell's bed and told him how "sweet and lovey" he'd become since winning head of household, and Ronnie told Russell that his main allegiance was to him. Nonetheless, Russell nominated Lydia and Ronnie for eviction, telling Ronnie, "If you want to catch a snake, you gotta be a mongoose, and I'm that mongoose." "I'm not just a snake, I'm a king cobra," Ronnie told the camera, "a nd many times the king cobra kills the mongoose." Good thing Russell didn't hear that, because he probably would have said, "Oh, yeah? Well, I'm a mongoose with heat vision." And Ronnie would have replied, "I'm a king cobra with a heat-vision repel shield and the power of invisibility," and it would have gone on all night.
The big news on the special "The Bachelorette: After the Final Rose" was that there was no news. Neither Jillian nor Ed has decided that he or she made a big mistake, and they're planning to get married within the year. Melissa Rycroft, Jillian's fellow rejectee from their season of "The Bachelor," appeared to assure fans that she's happy (and engaged to an ex-boyfriend with whom she recently reconnected). Both Kiptyn and Reid kicked themselves publicly for not saying they loved Jillian earlier. Reid snarkily excused his hesitation by saying, "I didn't think I had too much competition." He said he was still in love with Jillian and didn't have any questions for her, although he was still wondering about the fantasy suite….When Ed finally came out, he said he felt that he and Jillian really connected mentally and physically in the fantasy suite in Spain, despite all evidence to the contrary. Speaking of which, an audience member asked Ed and Jillian if everything was working out all right in the bedroom. The only problem in the bedroom, Jillian said, is that they can't get enough time in the bedroom.
On "Brooke Knows Best," Ashley decided that the roommates needed to go green. Brooke was fine with that if it involved shopping, but she wasn't excited about buying paper made from elephant poop. Hulk Hogan wasn't happy with how hot the apartment was, saying, "It's making my hair extensions stick to my neck." But he said keeping his carbon footprint small was easy since his divorce: "I don't have cars and houses anymore." Ashley began nudging Brooke: She turned off the clothes drier when Brooke put only one garment in it, and cut the water when Brooke's shower went on too long. "She, like, instantly turned into this psycho green killer," said Brooke. Glenn made Ashley and Brooke go out to dinner together, where they agreed to compromise. Showing that she'd learned something, Brooke picked up Ashley's napkin and held it up to the waitress, saying, "Excuse me! Could we please recycle this and make it into a crouton?"
"The Real World: Cancun" was all about irony this week. Although Joey spent much of last week's episode trying to drive Ayiiia out of the house, he was the one who nearly got sent home when the housemates' bosses learned that he failed to show up for a shift because he was recovering from an afternoon partying with spring breakers, one of whom he brought back to the hotel. (She was "a ho from the booty-shaking contest," according to Jasmine.) Meanwhile, Jonna's boyfriend, Matt came to visit; they fought a little because she hadn't told him that CJ had kissed her; and then he went home. Days later, he called back all worried that she was mad at him. Actually, she hadn't called because she had spent the night with her new crush, a big, good-looking jock named Kirk. ("I really didn't think anything bad was going to happen," she said in the confessional.) Though she promised us viewers that she was going to tell Matt everything, she flat-out lied to him, saying she hadn't called because she fell asleep on the hammock. You could tell how upset she was during the call because at one point she almost stopped applying her nail polish.