Television Executive Accused of Beheading Wife Remains Jailed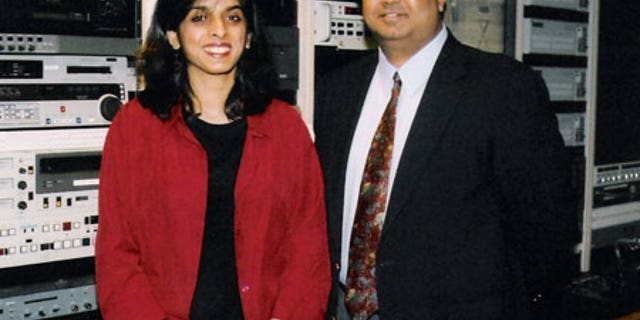 A Muslim-American television executive who allegedly beheaded his wife days after she filed for divorce remains jailed without bail following a court appearance in western New York.
Muzzammil Hassan, 44, did not speak during the brief appearance Wednesday before Judge Philip Marshall in Orchard Park Village Court, where an attorney waived Hassan's right to a felony hearing.
Officials at the Erie County District Attorney's Office told FOXNews.com that Hassan will now be held for possible grand jury action within 45 days.
Hassan — who was shackled at his wrists and ankles during his first court appearance — wore a tan suit, white shirt and a tie. He allegedly beheaded Aasiya Hassan, 37, on Thursday and surrendered to police. Hassan was later charged with the second-degree murder of his wife, whose body was found at the office of Bridges TV, their television station in Orchard Park, near Buffalo.
"He came in and said his wife was dead," said Orchard Park Police Chief Andrew Benz, who declined to elaborate on the particulars of his conversation with the suspect.
Reacting to speculation that the crime may have been an "honor killing," defense attorney James Harrington said "culture, religion doesn't play a role."
"It's not an issue in this case," said Harrington, who described the burly businessman as almost in shock.
"He has an almost blunted affect. He's having difficulty coping with this," the lawyer said.
Following multiple episodes of domestic violence, Aasiya Hassan filed for divorce on Feb. 6 and obtained an order of protection that barred her husband from their home, according to attorney Elizabeth DiPirro, whose law firm, Hogan Willig, represented Aasiya Hassan in the divorce proceeding.
The Islamic Society of North America issued a statement of condolence to Buffalo's Muslim community and urged leaders to take a strong stand against domestic violence.
"Women who seek divorce from their spouses because of physical abuse should get full support from the community and should not be viewed as someone who has brought shame to herself or her family," the statement by Imam Mohamed Hagmagid Ali said.
Muzzammil and Aasiya Hassan founded Bridges TV in November 2004 to counter anti-Islam stereotypes, touting the network as the "first-ever full-time home for American Muslims," according to a 2004 press release.
The Associated Press contributed to this report.