Tape of 911 Call Released as Michael Jackson Autopsy Under Way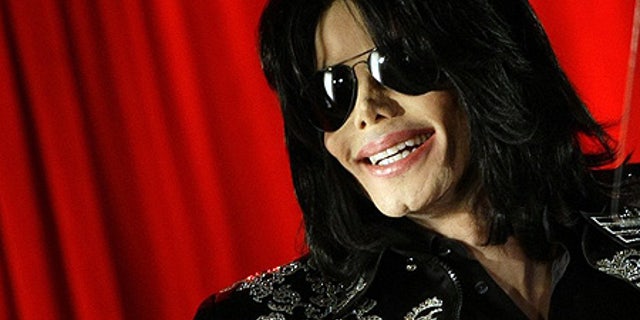 NEWYou can now listen to Fox News articles!
The recording of a 911 call made shortly before Michael Jackson was rushed to the hospital Thursday that reports a 50-year-old man is "not breathing" was released Friday as authorities conducted an autopsy on the pop music icon.
The autopsy began Friday morning in an attempt to clear up the mystery surrounding Jackson's untimely demise, including whether prescription drugs played a role.
"We have a personal doctor here sir, but he's not responding to anything," a man's voice can be heard telling the dispatch during the call."He's not responding to CPR or anything."
Meanwhile Friday, law enforcement officials were looking to speak with Jackson's personal live-in physician, who was briefly interviewed by detectives at the scene Thursday.
LAPD Spokeswoman Karen Rayner told FOX News that police hope the physician — whose identity police have not confirmed — can help with the investigation.
Rayner stressed that he was not under criminal investigation, but coroner's investigators wanted to contact him for more information. His car was impounded last night by police.
But other reports about the mystery doctor were far more disturbing — according to TMZ, he may have given Jackson a possibly fatal narcotic injection.
A local Houston report claims the doctor's name is Conrad Robert Murray, a cardiologist based out of Texas. The LAPD did not confirm that information.
The male on the 911 call told the emergency dispatch that the doctor was the only person at the scene when Jackson lost consciousness.
Jackson, whose fame spanned from his childhood with the legendary Jackson 5 to a superstar solo career that earned him the nickname 'King of Pop,' died Thursday afternoon at a Los Angeles hospital. He was 50.
The autopsy began at 11 a.m. EDT, though results were not likely to be final until toxicology tests could be completed.
The process could take up to six to eight weeks, Ed Winter, L.A. County Assistant Chief Coroner told reporters Friday morning.
However, if a cause can be determined by the autopsy, they will announce the results, said Los Angeles County Coroner Investigator Jerry McKibben.
There has been speculation that drugs may have played a role in the death of the icon, with TMZ citing sources who claim he was given a "heavy dose of morphine" before his death. Other reports claim that Jackson received a shot of Demerol — a similar narcotic— shortly before his death.
Brian Oxman, a former attorney of Jackson's and a family friend, said he was concerned about Jackson's use of painkillers and he warned the singer's family about possible abuse.
PHOTOS: Click here for photos of Michael Jackson.
"I said one day, we're going to have this experience. And when Anna Nicole Smith passed away, I said we cannot have this kind of thing with Michael Jackson," Oxman said. "The result was, I warned everyone, and lo and behold, here we are. I don't know what caused his death. But I feared this day, and here we are."
Jackson died at UCLA Medical Center after being stricken at his rented home in the posh Los Angeles neighborhood of Holmby Hills. Paramedics tried to resuscitate him at his home for nearly three-quarters of an hour, then rushed him to the hospital, where doctors continued to work on him.
Click here to see Jermaine Jackson's statement.
"It is believed he suffered cardiac arrest in his home. However, the cause of his death is unknown until results of the autopsy are known," his brother Jermaine Jackson said at a press conference Thursday.
Jackson said his brother's physician was with him at his home at the time of his suspected cardiac arrest, and both the physician and the paramedics who transported to the UCLA Medical Center attempted to resuscitate him.
"Upon arriving at the hospital at approximately 1:14 p.m. a team of doctors, including emergency physicians and cardiologists, attempted to resuscitate him for a period of more than one hour, but they were unsuccessful," he said.
Jackson was pronounced dead at at 2:26 p.m. PDT, his brother said.
"My family request that the media please respect our privacy during this time, and may all love be with you Michael, always. We love you."
Cardiac arrest is an abnormal heart rhythm that stops the heart from pumping blood to the body. It can occur after a heart attack or be caused by other heart problems.
Jackson's death brought a tragic end to a long, bizarre, sometimes farcical decline from his peak in the 1980s, when he was popular music's premier all-around performer, a uniter of black and white music who shattered the race barrier on MTV, dominated the charts and dazzled even more on stage.
Jackson was born in Indiana in 1958. He rose to fame as part of the successful pop group The Jackson 5, formed with his brothers in 1967. The group went on to earn four number one hits in 1970 alone, and the 12-year-old Jackson became the undeniable breakout star of the group.
In 1972, Jackson enjoyed his first solo hit with the song "Ben." Six years later, he made his film debut in "The Wiz," in which he renewed his friendship with producer Quincy Jones.
Collaborating with Jones, Jackson went on to become remarkably successful with his solo efforts "Off The Wall" in 1979 and "Thriller" in 1982.
From there, Jackson went on to become the undeniable "King of Pop," winning eight Grammy awards for "Thriller" alone.
TOPIC: Click here for the latest on Michael Jackson.
During the 1980s, he became an icon with a distinct style of fashion and performing, as well, wearing one sparkling glove, bejeweled military clothing and short pants with socks.
It was around this time that Jackson began experimenting with excessive cosmetic surgery, including lightening of his skin.
In 1992, Jackson founded the "Heal the World Foundation," a charity that brought underprivileged children to his Neverland Ranch, where Jackson would spend time with them and allow them to stay the night.
This practice raised many eyebrows, especially when Jackson was accused of molesting a 13-year-old boy who had become a regular Neverland guest. Jackson maintained his innocence. In 1994, he settled the case out of court for an undisclosed amount.
Jackson briefly was married to Lisa Marie Presley, daughter of Elvis. The union drew intense public scrutiny, there was speculation as to whether the marriage was simply an attempt to improve Jackson's image, though he maintained that they lived genuinely as husband and wife; however, the marriage broke up after less than two years.
From there, his career never quite recovered, but he remained in the news, making headline after headline for strange and unusual behavior, including dangling his child over a balcony in Germany in 2002.
In 2004, police raided the Neverland Ranch, issuing an arrest warrant for charges of child molestation based on allegations of a boy who had appeared in Martin Bashir's infamous documentary about Jackson. Later that year, a man filed a lawsuit against him, alleging he had been molested 20 years earlier, explaining that he had repressed the memory until 2003. However, a judge eventually dismissed the lawsuit.
In 2005, he was cleared of charges he molested the 13-year-old cancer survivor at Neverland in 2003. He had been accused of playing the boy with alcohol and groping him. The case took a fearsome toll on his career and image, and he fell into serious financial trouble.
Jackson was preparing for what was to be his greatest comeback: He was scheduled for an unprecedented 50 shows at a London arena, with the first set for July 13. He was in rehearsals in Los Angeles for the concert, an extravaganza that was to capture the classic Jackson magic: showstopping dance moves, elaborate staging and throbbing dance beats.
Hundreds of people gathered outside the hospital as word of his death spread. The emergency entrance at the UCLA Medical Center, which is near Jackson's rented home, was roped off with police tape.
In New York's Times Square, a low groan went up in the crowd when a screen flashed that Jackson had died, and people began relaying the news to friends by cell phone.
"No joke. King of Pop is no more. Wow," Michael Harris, 36, of New York City, read from a text message a friend sent to his telephone. "It's like when Kennedy was assassinated. I will always remember being in Times Square when Michael Jackson died."
FOXNews.com's Allison McGevna and the Associated Press contributed to this report.