Students Use 'Free Speech Cage' Ahead of Churchill, Ayers Event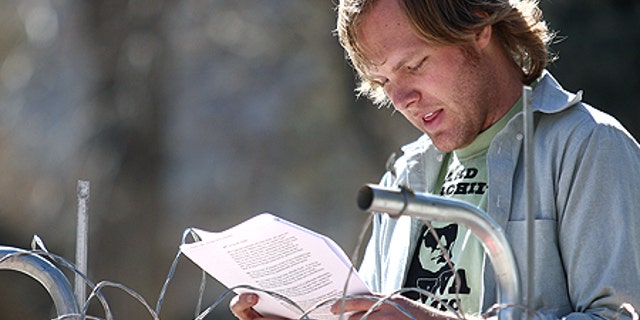 A cage match is looming at the University of Colorado. Students at the Boulder campus have built a 3-foot-by-3-foot "Free Speech Cage" outside a campus building ahead of an appearance by two well-known radical professors:
— Ward Churchill, a former ethnic studies professor at the 29,000-student university who once infamously referred to the 3,000 people killed in the Sept. 11 terrorist attacks as "little Eichmanns."
— William Ayers, an education professor at the University of Illinois who was a co-founder of the Weather Underground, which was responsible for several domestic terror bombings in the U.S. during the Vietnam War. Ayers returned to the national spotlight during the presidential campaign last year because of his ties to Barack Obama.
The pair will be among the speakers at a rally for Churchill, who was fired in 2007 for repeated academic misconduct, including plagiarism, according to school officials, and has sued the school to get his job back. The trial in the case will begin in Denver on Monday.
The university is beefing up security for Thursday's 7 p.m. rally and has charged the student organizers $3,000 for additional security.
Critics of the event say Churchill and Ayers shouldn't have the opportunity to address the crowd.
"The only platform [Churchill] should have should have a noose in front of it," said Peter Gadiel, whose son James was killed in the 9/11 attacks.
"I'm all for free speech, but let's face it, these people are traitors. Bill Ayers should've been put in prison years ago."
Gadiel, president and co-founder of 9/11 Families for a Secure America, called upon Churchill — whom he called a "plagiarist" and a "whiner" — to stop making public appearances protesting his firing.
"Eventually the American people are going to be pushed too far and when that happens, he's not going to like it," Gadiel told FOXNews.com.
"I don't want to hear anything about free speech … If there were conservatives speaking, there'd be violence by the left-wingers. It's a one-directional thing; the violence comes from the left."
Dick Wadhams, chairman of Colorado's Republican Party, defended Churchill and Ayers' appearance on grounds of free speech, but said he hopes students will embrace conservatives in the same way in the future.
"I find them despicable, both of them," Wadhams told FOXNews.com. "And I find them to be two peas in a pod. I just wish the left was more tolerant of conservatives when they come to town."
On the other side is Churchill supporter Sean Daly, who says he expects to experience an "attack on academic freedom" at the Thursday night rally.
Standing inside the chain-link "free speech cage," the 23-year-old history major called it "kind of a mockery of the so-called free speech zones.
"America is a free speech zone unless you say the wrong things," Daly said. "Mr. Ayers and Mr. Churchill have been targeted because of their political beliefs."
He and other members of Students for True Academic Freedom, which is co-sponsoring the rally, say the "trumped-up" plagiarism charges against Churchill were retaliation for his 2005 essay, "On the Justice of Roosting Chickens," in which he referred to World Trade Center victims as "little Eichmanns," a reference to Nazi war criminal Adolf Eichmann.
"We're hoping to raise awareness of the attack on critical thinking and academics around the nation for their unpopular speech or writings," said organizer Aaron Smith. "Bill Ayers and Ward Churchill have been similarly targeted for their unpopular political beliefs."
Smith said his group was "unfairly punished" with excessive security fees in connection to the rally at the university's 1,200-seat Glenn Miller Ballroom.
"We're being unfairly punished because of the political nature of the presenters we're bringing," he said. "We believe the security cost is an indirect way to try to ban free speech."
Smith said the security fee for additional campus police officers was three times higher than the group had budgeted for the event.
"It's being imposed on us," Smith said. "It seems a little unjust, unfair and unbalanced to have such high security costs."
But university officials called the claim "nonsense," citing $4,800 in security costs paid by the College Republicans last summer for an event featuring two men who claimed to be former Palestinian Liberation Organization members.
"It's a ridiculous assertion that has absolutely no basis in fact," university spokesman Bronson Hilliard told FOXNews.com. "It is customary here that when students have large-scale events in our facilities that they bear the basic cost of security."
Fewer than 100 tickets have been sold for the rally — billed as the "Forbidden Education and the Rise of Neo-McCarthyism" — but university officials are prepared for a strong showing.
"Obviously people have strong feelings about these individuals on either side of the issue," Hilliard said. "We could have a very large walk-up crowd for this event."
Hilliard declined to say how many campus police officers are expected at the rally, which is not sponsored by the university.
"We have to plan for all kinds of contingencies and variables," he said. "Every event is different."
Charlie Smith, chairman of the College Republican National Committee, said the event demonstrated a "leftward tilt" on college campuses nationwide.
"Everyone should have a chance to speak, but we're talking about balance here," Smith told FOXNews.com. "The issue here is balance. We want out students to be educated, not indoctrinated."
Both university officials and students say they expect the rally to be non-violent.
"But it's good to have every precaution," Daly said. "I'm expecting to reveal the attack on academic freedom in the United States of America."