Silicone Scandal: eBay Forced to Remove Kerry Katona's Unauthorized Breast Implant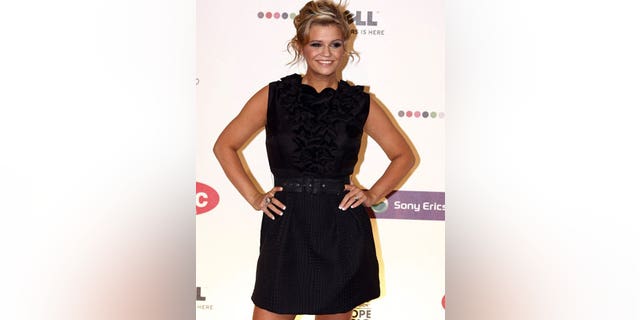 Silicone Scandal: eBay Forced to Remove Kerry Katona's Unauthorized Breast Implant | Lindsay Lohan Bought Garry Marshall Clothes & Took Him Out for a Wild Night | Tyra Wants Her Squabbling 'Top Models' to Return | Gay/Mormon Oscar Winner: 'Milk' Saved My Life
Silicone Scandal: Ebay Forced to Remove Kerry Katona's Unauthorized Breast Implant
British pop princess Kerry Katona had her breast implants removed on UK's MTV last year, but hit headlines again last week when she placed one (autographed and all) on eBay apparently to raise funds for charity breastcancercampaign.org. While the 28-year-old's intentions might have been honest, the 34GG fake filet caused too many legal issues for the world's leading auction site.
"The implant was on eBay and I believe the idea was to raise money for Breast Cancer Campaign," a rep for the charity told Tarts. "However eBay have now taken the item off because people were putting fake bids in, £8 million ($11.34 million US) at one point."
But according to eBay it wasn't bogus bidders that resulted in the item being removed, it was actually Katona who broke the rules.
"Our policy team weighed in and said that this auction was removed for the Charity Violation contained within the item description as there was no letter of written consent by eBay's Office of the President to allow the item to be sold under our Charity guidelines," an eBay rep told Tarts.
PHOTOS: Click here for photos of ten celebrity "boob job busts."
The famous female asset up-for-grabs was listed with the unsubstantiated and unauthorized caption "… any monies received by this auction will go to the charity Breast cancer campaign…" Katona initially announced the auction on her Facebook page and as it turns out she didn't even inform the charity she planned to donate the funds toward. So was it all just a planned PR stunt by the "Atomic Kitten" and will she actually live up to her word and still use her plastic prop to raise money in another way?
"We have no idea what her plans are as it wasn't something we knew about until we saw the media coverage," the Breast Cancer Campaign rep added. "She isn't someone we have been in contact with before so this story just appeared out of the blue. She has also just announced that she's getting divorced so she's probably got other things to worry about."
A rep for Katona did not respond for comment.
Lindsay Lohan Bought Garry Marshall Clothes & Took Him Out for a Wild Night
It looks as though relations between director Garry Marshall and Lindsay Lohan have come a long way since 2006 when he requested that a scolding letter be sent to Lohan regarding her disruptive, undedicated behavior on the set of Georgia Rule. After all, the 22-year-old took the Hollywood heavyweight for a wild night out in Tinseltown.
"She and I always got along terrific and she goes out at night, so when we were working I said, 'I keep hearing, reading in the paper you're out there,' and I said, 'can I come with you?' And she said, 'yes but not dressed like that, you don't dress for my crowd.' So she went and she bought me a shirt, she bought me a hat and took me on the town and we went to all the places, mostly what they talk about is boys (oh, really??) and we had a nice evening," Marshall told Tarts at last week's premiere of Race to Witch Mountain. "We were at some nice hippy dippy restaurant, Koi or something, and I said, 'how am I doing Lizzy, am I happening?' And she said, 'almost,' she said, 'you have Velcro shoes, we don't wear Velcro, just put your feet under the table and you'll be happening more.'"
And in response to recent rumors that the ex-rehabber has been falling off the wagon and drinking again, Marshall said all he can do is wish her the very best.
"I wish her well and I hope she find whatever she's trying to find, which is a life with a center, because she's really truly is a sensational actress. That's what she really does well," he added. "I think that part of it is you want to have a solid family, and that's very important, that's why I do family movies."
Tyra Wants Her Squabbling 'Top Models' to Return
If you happened to be one of the wannabe top models caught in the chaotic crush of the casting call in New York on Saturday, host/creator Tyra Banks doesn't want the experience to crush your lifelong dream, too.
"To all the Top Model hopefuls who were affected by the New York casting, we are doing everything we can to make sure that ALL the girls who weren't seen, get an opportunity to audition -- we'll update you on our plans very soon," Banks said in a statement on Monday afternoon. "It is so important to me to redefine beauty, and make sure that everyone gets a fair chance to pursue their dream. I am beyond excited for Cycle 13; for the first time ever, young women 5'7" and under have a shot at becoming America's Next Top Model! I encourage each girl to come out ready to rock the runway and show off their fiercest pose. I'm rooting for all of you!"
Gay/Mormon Oscar Winner: 'Milk' Saved My Life
Milk writer Dustin Lance Black took home the coveted Academy Award this year for Original Screenplay, but the Mormon (and openly gay) writer is counting his blessings just to still be here today.
"Harvey gave me his story and it saved my life," Black told Tarts recently. "I just thought it's time to pass it on so the only thing I really knew I wanted to tell those kids out there they are going to be all right. It's easy in San Francisco and L.A. and New York, Chicago, because you can find support; you can find mentors and heroes. But where I'm from, and a lot of places in this country, in small town America, they just don't know there are gay heroes, and they don't know there's other gay people, and they don't know there's a potential future."
Black also said his mother went against the grain of the Mormon way-of-life and supported his sexuality, but given the success of Milk the young writer has faith that America will publicly open its heart soon, too.
"I definitely feel very stuck in the middle, but we took Milk to Salt Lake City and it actually got a standing ovation," Black said backstage at the recent Independent Spirit Awards. "I think secretly America loves gays but just doesn't know it yet."