Shuttle Endeavour Cleared for Saturday Launch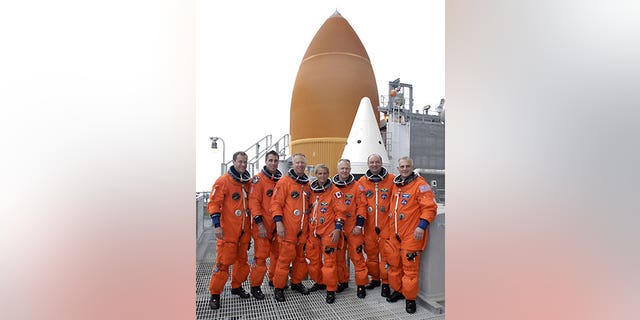 CAPE CANAVERAL, Fla. – The space shuttle Endeavour is "go" to launch an ambitious mission to the International Space Station on Saturday, NASA managers said today.
"We're in really good shape to fly," said Mike Moses, Endeavour's mission management team chief, in a briefing here at NASA's Kennedy Space Center. "As a management team we had a good unanimous "go" for launch."
The weather outlook is near perfect for the shuttle's planned liftoff 7:17 a.m. EDT (1117 GMT) from the seaside Launch Pad 39A here. Endeavour's seven-astronaut crew is also eager for launch.
Shuttle weather officer Kathy Winters forecasted a 90 percent chance of favorable weather for Saturday. The only concern is the slight chance of clouds over the launch pad, which could trigger lightning.
"The weather does look very good for launch," she said. "We also look very good if we happen to delay."
• Click here to visit FOXNews.com's Space Center.
Endeavour is slated for a 16-day mission to deliver a porch-like experiment platform for the station's Japanese Kibo lab and other gear to the International Space Station.
The STS-127 mission's seven crewmembers, led by veteran astronaut Mark Polansky, are sleeping in today to prepare for their nocturnal mission schedule.
They are scheduled to wake up tonight at 8:15 p.m. EDT (2415 GMT). Mission specialists Chris Cassidy and Julie Payette, who represents the Canadian Space Agency, plan to conduct practice flights in NASA's T-38 training jets tonight.
The astronauts plan five tricky spacewalks and a series of challenging robotic arm operations to install the new piece of the Kibo laboratory, as well as a set of spare equipment for the space station.
With Endeavour's crew onboard, the orbiting station will host a record number of 13 people at once. The space station doubled its population to a full, six-person crew last month.
"It's like having your family descend on you for the holidays and they're gonna stay for a very long time ... and they're going to bring all their stuff," Moses said.
Since the shuttle crew and station crew trained together before launch, Moses expects things to go pretty smoothly. "I think what we're going to see is probably some unprecedented efficiencies," he said.
If Endeavour is unable to launch Saturday, NASA can try again on Sunday or Monday. The weather looks 90 percent favorable for a 24-hour delay, and 80 percent favorable on Monday.
After that, the shuttle must stand down to make way for a pair of unmanned lunar spacecraft set to launch toward the moon on June 17 from the nearby Cape Canaveral Air Force Station, mission managers have said. If the shuttle cannot launch in June, the next opportunity for Endeavour will open up on July 11.
Endeavour's official launch countdown began early Wednesday, and preparations are going smoothly to get the vehicle ready to lift off.
Copyright © 2009 Imaginova Corp. All Rights Reserved. This material may not be published, broadcast, rewritten or redistributed.