Russian Fire Chief Suspended After Deadly Nightclub Blaze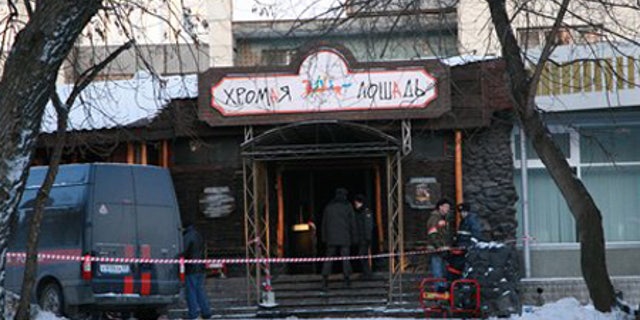 MOSCOW – The fire chief of a Russian city where a nightclub blaze killed 119 revelers was suspended along with five subordinates Tuesday and authorities said inspection records for the club appear to have been falsified.
President Dmitry Medvedev and Prime Minister Vladimir Putin urged a broad review of fire regulations, demanding tougher enforcement and lambasting officials and businessmen for their irresponsibility.
The blaze at the Lame Horse nightclub in the city of Perm broke out early Saturday when an indoor fireworks display ignited the plastic ceiling, which was decorated with wooden branches. The blaze spread swiftly while the hundreds of customers tried to flee through a single exit. Many of the victims succumbed to gases or were crushed in the throng. About 130 people were hospitalized, scores of them with severe burns. More victims died on Tuesday, bringing the death toll to 119, the Emergency Situations Ministry said.
A top Emergencies Ministry official, Yuri Deshyovikh, said Tuesday that the paperwork showing the club's fire-safety measures had been approved in 2003 by a man who had left his post as a fire inspector the previous year. "It's clear that it's criminal," he said, according to the ITAR-Tass news agency.
Six fire officials including the fire chief of the city of 1 million people some 700 miles east of Moscow were suspended during the official investigation, the emergencies ministry said.
Four people, including the club's co-owner and manager, have been arrested on charges including violation of fire-safety standards and negligence causing the death of two or more people.
In a pre-dawn visit to Perm, Putin laid flowers near the site of the fire and told local officials that "the businessmen in this case violated everything there was to violate."
"I don't understand how they could use in a closed room pyrotechnics that had direct instruction written on it in Russian: indoor use prohibited," he said.
Enforcement of fire safety standards is infamously lax in Russia which records up to 18,000 fire deaths a year, several times the per-capita rate in the United States and other Western countries. Russian media reports say that fire safety officials are notoriously corrupt and often turn a blind eye to violations for money.
Devastating blazes in recent years have hit drug-treatment facilities, nursing homes and nightclubs.
"It is necessary to admit: The measures that are being taken are insufficient and they are ineffective," Putin said.
Deshyovikh also said the club's fire alarm worked properly, but apparently couldn't be heard by customers amid noise.
In video shown on Russian television the club's master of ceremonies tells the crowd evenly "we are on fire" and urges them to evacuate. It was not clear how quickly he made the announcement after the fire began.
"It's clear that the owners and organizers of that show were irresponsible scoundrels, but it's necessary to focus on the role of state structures," Medvedev told the chief prosecutor Tuesday. "Otherwise we will never be able to crawl out of these string of catastrophes."
He ordered the prosecutors to strengthen their action against officials responsible for turning a blind eye to safety breaches.
"This kind of mindless recklessness has become a threat to the state, leading to a great number of emergency situations," he said.