Rescuers Launch All-Out Search For Signs of Missing Climbers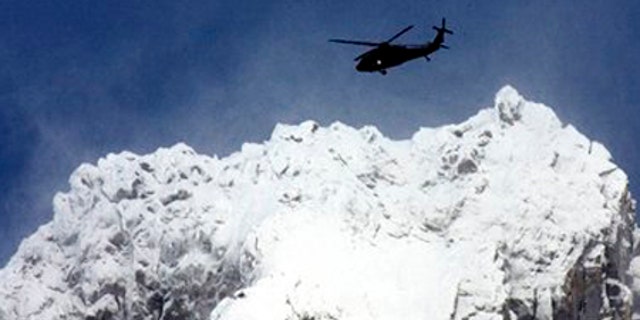 As a winter storm barreled toward Mount Hood, rescuers raced to find two experienced climbers missing for four days on Oregon's highest peak.
A military Black Hawk helicopter spent Monday scanning the upper reaches of the mountain as ground teams fanned out below. But the desperate search ended for the day as darkness fell and the storm approached.
"No sign at all," said Monty Smith, a member of the Portland Mountain Rescue team who was aboard the helicopter.
Bad weather has hampered the search for Anthony Vietti, 24, of Longview, Wash., and Katie Nolan, 29, of Portland, who have been missing since Friday. The next storm was expected to hit Monday night.
SLIDESHOW: Missing Climbers on Mount Hood
Mountaineers found the body of fellow climber Luke T. Gullberg, 26, of Des Moines, Wash., on Saturday at the 9,000-foot level on Reid Glacier.
Officials were examining photos from Gullberg's camera for possible clues about the location of his two companions.
Teri Preiss, an aunt of Vietti, said the photos suggested the trio had changed their route up the mountain to avoid one that looked too dangerous.
Preiss believes her nephew and Nolan were strong enough to survive somewhere on the 11,249-foot mountain.
Steve Rollins, a search leader, said the climbers had ice axes that could be used to hack out a snow cave.
"It's more like digging with a spoon than a shovel, but if your life is in danger, you can do wonderful things," Rollins said.
Photos from Gullberg's camera also showed the group had standard mountaineering gear such as helmets and ropes. Officials previously said the climbers did not have shovels.
Gullberg's body was found on a flat area near the base of a 1,500-foot headwall, Rollins told The Associated Press. It was unclear, however, if he had fallen.
Other photos showed the trio had been roped together at some point, but rescuers found no rope with Gullberg's body.
"That's a big part of the mystery. Where's the rope? Why wasn't the group together," Rollins said.
Using ropes at a particular point of a climb is a decision climbers make depending on their confidence, ability and terrain, Rollins said, adding that roping slows climbers.
Click here for the latest news from KPTV Fox.