Reality Check: 'Dancing With the Stars' Turning Into a Series of Unfortunate Events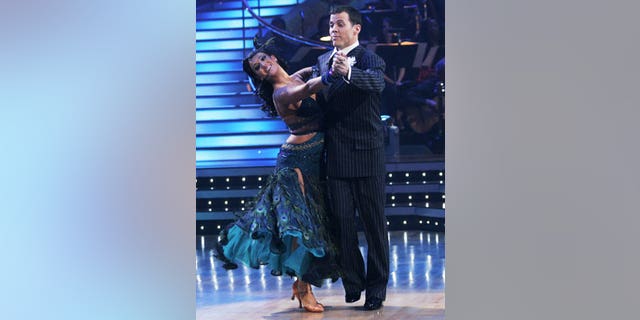 It's official: Season 8 of "Dancing With the Stars" is cursed.
First, singer Jewel and "Access Hollywood" host Nancy O'Dell dropped out before the premiere episode because of injuries, and tonight, on the season's second episode, Steve-O of "Jackass" was a no-show after falling on his mike pack in dress rehearsal. (As of the end of the episode, it was unclear whether he would return to the competition.)
Meanwhile, Apple co-founder Steve Wozniak sustained what was diagnosed as an "incipient fracture" in the foot after bouncing a little too hard during rehearsals, but he rebooted and performed with a big smile. (If he was a PC, you know he would have crashed.)
RELATED: MONDAY NIGHT'S 'DWTS' SCORECARD
The episode started off rather unpromisingly as well, with a quickstep by Jewel's replacement, Holly Madison, whom host Tom Bergeron introduced as a "reality TV star and model." (Whenever a contestant is famous for something a little dodgy—Holly was one of Hugh Hefner's live-in "girlfriends"—"DWTS" tends to euphemize furiously. Sex-tape victim Kim Kardashian was also described as a reality TV star, and Paul McCartney's partner in divorce, Heather Mills, was described as an "activist.")
As her professional partner, Dmitry Chaplin, guided her around, Holly kept a fixed smile on her face and looked like she was thinking about being somewhere else, a skill she may have developed during her time with Hef. Judge Len Goodman advised her that in the quickstep you have to separate the upper half of your body from your lower half, which is another skill you would think she would have developed during her time with Hef. Len also told her that her bust was a little too far forward. Holly, bless her, just gave a little shrug, as if to say, "I can't help that." The judges' total score of 18 (out of a possible 30) suggested they were going easy on her in anticipation of much worse.

Enter comic actor David Alan Grier and pro Kym Johnson, whose salsa was one of those classic "DWTS" performances in which the pro is the dancer and the celebrity is the pole. She did all the spinning; he managed not to trip her up. Grier redeemed himself a little with a pretty good imitation of one of judge Bruno Tonioli's incoherent critiques, but then Bruno spoiled it by giving him the same score (a 6) as the other two judges.

It seems the hosts are going to keep calling actress Denise Richards a "hot mama" for the duration, perhaps as a way of telling viewer/voters, "Don't hate her because she's beautiful," or reminding them that she's been through a tough divorce from Charlie Sheen. Richards did look lovely in her quickstep, extending her legs and arms gracefully. After she and partner Maksim Chmerkovskiy got three 7's from the judges, Maks, who's notorious for browbeating his celebrity students, said, "For once, I didn't comment negatively."

Last week Bruno compared Belinda Carlisle to season 7's Cloris Leachman. Belinda's hair color kind of makes her look like Priscilla Presley, stirring up some not-so-fond memories of season 6. Understandably, tonight she tried to reassert her own identity by announcing that she was going to mix some moves from her years with the Go-Go's into her salsa. It's unclear exactly what those moves were: Did she used to shake her chest at the audience and then pat herself under her bosom? Did she used to come to a dead stop and do a handstand, ending with her partner's head between her legs?
In any case, the performance was more ketchup than salsa. Bruno even got up out of his seat and started showing her how to hit the beat, prompting Tom Bergeron to grab one of Bruno's judging panels and give him a 1. Nonetheless, the judges gave Belinda straight sixes, largely, it seems, because she looked like she was trying hard. But that's not a good thing in dance, right?
Ty Murray also seems to have decided that it's a good idea to remind viewers what they should know him for (and not, say, for being married to Jewel), so the rodeo champ kept dropping cowboy references into his rehearsal footage, saying that you don't smile when you ride bulls, and that last week, "the cha-cha might have bucked me off." (Funny, you don't hear Holly Madison saying things like "Sometimes you have to fake enthusiasm" or Denise Richards saying, "I have to divorce myself from the negatives.")
Ty was charming as hell performing his quickstep to a countrified version of "Life Is a Highway." As the judges pointed out, Murray controlled his partner (Chelsie Hightower, the ballroom cutie from last season's "So You Think You Can Dance") like she was a spirited horse. (These cowboy similes are catching.) Carrie Ann Inaba even gave out a "Yee-hah!" Len, however, after saying that Ty had gone from being a caterpillar to a butterfly in one week, gave him a 6 to the other judges' 7's.

Pointing out that gymnasts aren't allowed to shake their hips, Shawn Johnson built up plenty of sympathy in her rehearsal footage, especially when her partner, Mark Ballas, showed he could shimmy better than her. Nonetheless, she nailed her salsa, making up with precision and athleticism for what it lacked in spiciness. While praising her, Bruno said, "You've got to work on the naughtiness. I want you to be naughty, much more naughty and flirtatious," to which Tom Bergeron replied, "She's 17!" After Bruno calmed down, he and the other judges gave her three 8's.
Though Steve Wozniak received last week's lowest score, he seems happier to be here than any other contestant. He's like the jolly nerd you hope will show up when you call tech support. Wearing sneakers and a pair of taped-up geek glasses, he powered through the quickstep like a man without shame or pain. (He later said that he had only taken one aspirin since being injured.)
Unlike many of the show's male contestants at this stage of the game, he actually seemed to be leading his partner, Karina Smirnoff. If you focused on Karina, however, it seemed she was wishing she could fall through the floor and disappear. It was like watching the snootiest bridesmaid at a wedding dancing with the groom's overenthusiastic bachelor uncle. But the enthusiasm won over the judges, who gave Wozniak 17 largely underserved points.
Last week, Bruno said that at one point during country singer Chuck Wicks and Julianne Hough's waltz, it seemed as if Wicks were going to strangle her. In a backstage segment, Wicks said, "I would never strangle her. One time I almost did." Hough, who is Wicks' fiancée, laughed and laughed. Had they forgotten about the Chris Brown-Rihanna story, or were they alluding to it?
Later, in rehearsal, when Julianne encouraged Wicks to perform the salsa the way her brother Derek would, he said, "I'm gonna walk like Derek Hough . . . like a girl." I'm starting to feel a little protective about Julianne. Fortunately, she showed Chuck who's boss in their salsa, not only literally dancing circles around him but also making his all-black ensemble fade in the background with her ridiculuscious pink-and-yellow ruffly pants ensemble. The judges pointed out that Wicks might as well not have been there at all, then gave them a total of 22 points, because . . . uh, maybe because if their scores made sense, then viewers wouldn't be inspired to call in and vote? Wicks ended the segment uncomfortably by joking that "we all know what Bruno wants." Tom Bergeron's follow-up zinger—"Welcome to the new read-between-the-lines edition of 'Dancing With the Stars' "— didn't really save things.

There was a lot of discussion of strategy or something during Lawrence Taylor's rehearsal segment, but the décolletage in that blue garment worn by his partner, Edyta Sliwinska, made it a little hard to follow. Taylor, a former New York Giants great, probably needn't worry about being eliminated early. The show's producers know that the viewers love big, cuddly ex-NFLers—think Emmitt Smith and Jerry Rice—so all Taylor has to do is play the part. And the judges seemed all too willing to play along, overpraising Taylor's arrhythmic quickstep and giving him a 22. Do you think maybe Carrie Ann Inaba had rehearsed singing, "That's the way, uh-huh, uh-huh, I like it," and was afraid that if she didn't use it now, she might not be able to use it till next week?
Poor Lacey Schwimmer had to spend the whole evening without her partner, Steve-O, though in the rehearsal footage we got to see how he had wanted to take their salsa and "make it a big hot lunch." Was it going to be salsa con queso, or maybe salsa with a big plate of nachos? It turns out it wasn't any salsa at all. Tom Bergeron informed us that "according to the official rules," the judges and the viewers would be rating Steve and Lacey based on their dress-rehearsal footage, when the aforementioned mike-pack accident occurred. Even giving the dancers the benefit of the doubt—no one is going to perform as well in dress rehearsal as live—the result was a big hot mess. The song choice, "Cobrastyle," was a quintessential "DWTS" mismatch of music and dance genre. Steve-O was off the beat throughout, and the choreography was a typical Lacey hodgepodge of whatever moves she felt like doing this week. (Ballroom rebel!) As Bruno put it, "It was a series of unfortunate events." The score of 14 was just about right.
The big challenge for Lil' Kim this week was to show that she could be classy enough to do the quickstep. She probably didn't help things last week when she said that she became a fan of the show while watching it in prison. But the lil' rapper totally sold her performance, wearing a retro bobbed wig and a red sequined dress that perfectly suited the song choice, "Diamonds Are a Girl's Best Friend." Partner Derek Hough let her shine; the two skipped as if they'd been dancing together for years. The only real criticism from the judges, who gave the couple a 23, was that their hold could have been tighter. Kim replied, "I didn't want no boobies." Tom Bergeron rightly pointed out that "Nature has rendered that moot."
One thing a contestant never wants on "Dancing With the Stars" is to be labeled a ringer, i.e., someone with actual dance training. Mario Lopez probably lost votes when it was pointed out that he had danced on TV before, and fans seriously debated whether Kristi Yamaguchi's experience as a figure skater should have disqualified her. Melissa Rycroft, the last-minute replacement for Nancy O'Dell, must be confident of having a lot of audience support thanks to being dumped by Jason Mesnick after the most recent edition of "The Bachelor," because she boldly admitted to having studied ballet and having been a member of the Dallas Cowboys Cheerleaders. She hastened to add, "But I've never danced with a partner before, never did ballroom, so this is a whole new ball game." It didn't look that way. She paced partner Tony Dovolani through a tricky salsa that may have been the hardest routine of the night. They got the first 9's of the season, for a total of 26 points. "That was a juicy salsa," said Bruno, leaning lustfully over the judges' table. "So much flavor and so much content to satisfy the most demanding appetite. And I want more." Hmm, maybe we don't all know what Bruno wants.
Gilles Marini knows what his fans want. The Naked Guy from the "Sex and the City" movie decided to take his shirt off in rehearsal so that his partner, Cheryl Burke, could examine his slightly injured shoulder. For their quickstep, set to 3 Doors Down's "Kryptonite," Marini wore a suit and a pair of Clark Kent glasses. Did anyone else see what was coming? After the slow buildup (is that an unfair advantage in a quickstep?), Gilles and Cheryl did the requisite quick steps, then he tossed off his glasses, slid across the stage, and ripped open his dress shirt to reveal a T-shirt with a big G logo. It might have been more of a surprise if Cameron Mathison hadn't famously danced in a shirt with a C symbol back in season 5. The judges thought Marini was super and gave him three 9's.
Since he also had last week's highest score, Marini should sail through Tuesday night's episode, which will feature, as Tom Bergeron promised, "the always humiliating first elimination of the season." The two couples with the lowest total of the two nights' judges' scores and viewer votes (as the show constantly tells us, you can go to abc.com for an explanation of the voting rules) will compete in a dance-off to see who is eliminated (you can also go to abc.com for an explanation of the dance-off rules).