Reality Check: 'Dancing With the Stars' Ends in a Three-Way Tie at the Top, Two Steves on the Bottom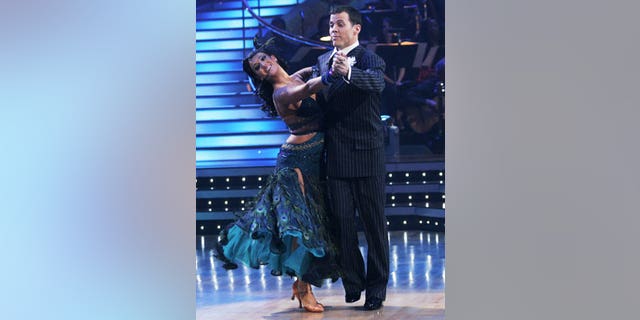 It's a measure of how loosely the term "star" is used in the title "Dancing With the Stars" that if you announced that the three top scorers on the show tonight were Shawn Johnson, Gilles Marini, and Melissa Rycroft, most people would respond, "Who, who and who?"
(In case you've forgotten, they are, respectively, an Olympic gymnast, the naked guy from the "Sex and the City" movie and the scorned fiancée from "The Bachelor.")
And it's a measure of how many casualties there have already been on this season of "DWTS" that it hardly seems worth mentioning that the two Steves, Steve-O of "Jackass" fame and Steve Wozniak of Apple obscurity, danced injured. Despite the judges' expressions of sympathy, they ended up as the bottom two.
RELATED: Monday's 'Dancing With the Stars' Scorecard
Outside of those highlights and lowlights, the most memorable moment of tonight's show was when Maksim Chmerkovskiy dressed up as Carmen Miranda. Apparently, his star partner, Denise Richards, was taking things too analytically in rehearsal and not getting into the sensuous spirit of their dance, the samba. At one point, she asked him, "Three quick-quicks or two?" and he replied, "Nahn of your business." Break out the fruity head dress! Maks is a good sport, but I think some of his female fans might have been disappointed to see that his lower abdomen isn't as cut as they might have imagined (is that why his trousers are always riding so high?) and that his pecs actually jiggled a little in his bikini top. "One thing I didn't expect," said Denise, sounding almost as if she were being interviewed spontaneously and not reciting a scripted line, "was Maks to go from the bad boy of ballroom to the samba queen."
Warning to viewers: These contrived attempts to enliven the rehearsal segments usually get more frequent and more far-fetched as the "DWTS" season wears on, and they often involve a Disney corporate tie-in: The professional dancer will say something like "I think [Star Name Goes Here] needs to find his/her identity, so I'm going to take him/her to the set of ABC's hit comedy 'Samantha Who?' "
Anyway, Maks and Denise's samba wasn't as bad as you might have expected, though there was an odd moment when it seemed that Maks was trying to hoist Denise with his belly button. (Judge Carrie Ann Inaba didn't call an illegal lift, so it must be OK.) Generally, the judges agreed that Denise seemed to be too serious (though she was the only one in the whole theater who laughed when judge Bruno Tonioli said of their dance, "That was so flat and full of holes, it was more a waffle than a samba"), and the couple got a 16 (out of a possible total of 30).
Country singer Chuck Wicks and his girlfriend-partner Julianne Hough, addressing the camera, tried to disabuse viewers of the notion that Chuck has an advantage in the competition because they're involved, pointing out that he grew up on a potato farm. (Constant "Dancing With the Stars" viewers know that the only thing that really gives dancers a competitive advantage is growing up in either Utah or a former Warsaw Pact country.) "From now on," Chuck said in rehearsal, "it's all businass." Which is potato-farmer slang for…?
In their foxtrot, Chuck led Julianne better than he had last week, but the couple, who were in formal wear, weren't helped by the incongruous backing music, Sugarland's "All I Want to Do." One might blame the producers for that, but Chuck announced that the song was "for our country fans out there." Bruno waxed enthusiastic if a little incoherent, saying, "I'm happy to say that I'm glad to see you on the driving seat finally¬—hand on the stick shift." Making the point that he could understand how hard it is to teach one's partner, judge Len Goodman continued the automotive theme, oversharing that when he had tried to teach his wife to drive, she failed the test and divorced him six months later. Carrie Ann, who apparently thought Chuck said that he grew up on a vineyard rather than a potato farm, told him to work on his "grapevine." The judges gave them a total of 23 votes.
If you've posed for Playboy, you really can't complain about being objectified, but we can still feel sorry for Holly Madison. First, host Tom Bergeron referred to her as a Playmate rather than the usual "reality TV star." Then came an overlong segment examining Len's comment last week that Holly's bust made her bottom come out. "As far as the bust being too far forward," she responded this week, "well, duh!"
Holly performed a herky-jerky samba in a bra that probably strained the show's generous fringe budget, and it seems the male judges saw little else. The performance, Len said, "was like a match: hot at the top, wooden at the bottom." ("That's the first metaphor of yours I've actually understood in eight seasons," said Tom.) "There was so much on display in the top shelf that I felt I landed in the land of plenty," said Bruno. Carrie Ann, perhaps feeling it would be inappropriate to pile on, apologetically pointed out an illegal lift. The dance earned Holly and partner Dmitry Chaplin a 17.
During rehearsal Holly had said that she was feeling that Dmitry wished he had Jewel, his original partner, back. Perhaps trying to cheer Holly up after the bad scores, cohost Samantha Harris gave Dmitry the chance to say something gracious about this, and he responded, "Of course, I miss Jewel, but [Holly's] my partner. ... We have great time. It's hard." Tom, laughing, added, "I'm sure Holly feels very reassured now."
At least Steve-O and partner Lacey Schwimmer seem to enjoy each other's company. In fact, Steve-O is surprisingly unironic in his commitment to the entire project. Describing his enforced medical absence last week, he declared, "It was a nightmare. And I hated it." Though Tom had said this was the first week that all the stars had the same amount of time to rehearse, Steve-O had apparently taken two days off to recover. "I don't want to rest," he said, to swelling applause from the audience. "I want to dance."
This "Rocky" moment was followed by several rocky moments in the couple's foxtrot. For some reason, Steve-O kept missing steps and then wincing. (Maybe he was realizing that Jason Mraz's "I'm Yours" is a completely inappropriate accompaniment to a ballroom dance.) The judges apparently assumed that Steve-O was stumbling because he was hurting. Len said the O in his name should stand for "ovation," and Carrie Ann said, "We can see he's in genuine pain." (Bruno, meanwhile, praised him for being "cling-cat"—or was that "clean-cut"?) But Steve-O himself just said, "I kind of drew a blank there." Since he got only a 15 from the judges, it probably doesn't matter if he was actually injured or merely accepting their sympathy.
The former football star Lawrence Taylor has also learned the importance of talking up your commitment to the show. He mentioned that he had missed a round of golf in order to rehearse, and "I don't give up golf for nobody." After scoring, he said to Samantha, "My wife told me to take her ballroom dancing, and I told her I don't dance with amateurs."
Accordingly, the judges went easy on him for a clunky samba set to the Temptations' "I Can't Get Next to You," giving him a 20. As usual, partner Edyta Sliwinska's skimpy attire was a distraction. "If they get through to next week," said Tom Bergeron, "Edyta's going to wear the other half of this outfit."
Little Shawn Johnson, sadly, can't say anything without sounding as if she were reading off cue cards, and some of the things she said in her interview segment tonight were so cheesy that it's giving her the benefit of the doubt to assume they were scripted (for example: "Tonight in my foxtrot, I want to prove that this 17-year-old can be transformed into a lady." Even her banter with her friends via video conference was a little stiff. (And couldn't a show with more than 20 million viewers find a software or hardware company to spring for the product placement?)
But Shawn, working with partner Mark Ballas, more than compensates for that awkwardness on the dance floor. As Carrie Ann said, their foxtrot transformed her into a princess, or, as Bruno put it, "a beautiful bejeweled hambird." (It helped that the accompanying version of "More Than This" got an atypically ballroom-ready arrangement.) For a moment, it seemed we would get our first 10's of the season, but Shawn had to settle for straight 9's.
Gilles Marini seems to think he was working at a disadvantage: "Being not as famous as the other people," he said in an interview, "I gotta really perform." Being foreign, he can be excused for not knowing that fame is relative on "Dancing With the Stars." He tried to win over the audience by inviting his mother to rehearsal, but she blew it by insisting on speaking French throughout the segment. (How pretentious is that?)
Indeed, Gilles had to come through on the dance floor, and he did. His and Cheryl Burke's samba was one of those routines in which it's sometimes hard to see who is the pupil and who is the pro. Carrie Ann said, "You bring out something in Cheryl that I haven't seen in a long time. She was working it for you." (Since Gilles is married, he and Cheryl probably won't be this season's implied showmance.) Gilles also brought out something in Bruno, who raved, "You came out here like a throbbing, red-hot poker." After everyone calmed down, they got straight 9's.
David Alan Grier was a necessary palate cleanser after all those high scores. He and partner Kym Johnson performed a foxtrot that kept the attention on him without forcing him to do anything too difficult (although those high kicks were pretty impressive). Appropriately, Carrie Ann gave the former "In Living Color" star two snaps up; inappropriately, Bruno compared him to Ben Vereen. (I mean, get real.) The judges gave him straight 8's.
Sadly, the judges seem to have ended their love affair with Steve Wozniak, even as his partner, Karina Smirnoff, seems to have warmed to him slightly. The Apple co-founder grinned through rehearsal footage showing him pulling a hamstring, collapsing and being wheeled into an ambulance. Unfortunately, he was back for tonight's performance, a samba that contained moves that would have been hard for a half-decent dancer to pull off. "All that and the worm, too," said Tom Bergeron. The judges ganged up on Steve: "You are so cute and so adorable," said Carrie Ann, "but at some point, the novelty wears off." "For me it was consistent," said Len. "It was terrible from start to finish." "That was the worst I've ever seen," said Bruno.
Those harsh comments set up the following odd exchange between Steve and the usually quick-on-his-feet Tom:
Tom: Wow, they don't even give a discount for courage.
Steve (to Bruno, apparently): I'll take your computer on any time you want.
Tom: And I bet I know what you'll do with it, too.
Carrie's score of 4 received boos from the audience; Len and Bruno's 3's received audible gasps, followed by boos. "Well, you do get a 10," said the usually unwitty Samantha, "but it's a 10 total."
Melissa Rycroft, a.k.a. Melissa Not-Mesnick, put things back on track, but not before an odd pre-dance segment in which she went home to Dallas to clean out her office at the beverage distributor where she had been working. She and partner Tony Dovolani got 10's from all of her co-workers, but when she loaded her name plate into a cardboard box full of her possessions, it looked as if she were getting fired, a tableau that too many of us have seen too often recently. If reality TV turns out not to be a viable career, will Melissa regret having given up a steady job in these troubled times?
All negative thoughts were banished, however, when she and Tony hit the dance floor. With a smile as bright as a disco ball, Melissa handled her samba like a pro. She was graceful, cute and sexy whether in hold or doing solo moves. Len and Bruno were purely positive. Carrie Ann said that she felt that there was something lacking. And then all three gave Melissa 9's, once again signaling to viewers to ignore everything they say.
While rehearsing her samba, rapper Lil' Kim kept showing off that she's Big Kim in all the right places. And she and Derek Hough worked those places in her routine. She not only kept up with him but kept reminding the audience who is the star. (Still, with a flower in her hair and extra-long fringe on her dress, it looked as if she must bust out some hula moves.) The judges were a mostly positive. "Oh, it worked for me," Bruno purred. "You're a pocket-size Venus with a super-size sex appeal. OK, it wasn't perfect, but you sold it to me, big time girl." (Did he mean to say, "You sold it to me big time, girl"?) Len did his ballroom-stickler bit, telling Derek, "There was no voltas and no bota fogos. Just make an old judge happy and maybe slip in some of the more fundamental steps throughout the routine." This probably won't affect audience voting; most viewers probably wondered why Len likes Buttafuocos. In the judges' voting, Bruno topped Carrie Ann and Len's 8's with a 9, but he did it without the usual triumphant air. Was he nervous because he doesn't know what a Buttafuoco is?
Rodeo star Ty Murray won the crowd over with his aw-shucks demeanor in the rehearsal segments. Besides trying to master the steps of the foxtrot, he said, "it's like you're playing a character also, and I'm no Robert De Niro." But he turned into a city slicker once he and Chelsie Hightower started dancing. The judges especially praised him for holding Chelsie up and helping her recover when she slipped. 'Tweren't nothin', ma'am. "I thought I was the one who was supposed to fall," he said modestly. The judges' praise suggested they were going to give Ty more than a 23 total, but they may be setting him up for the coveted "most improved" slot, which on "DWTS" often gets you farther than being good from the start.
With Steve Wozniak's scores trending downward, it seems likely that he'll be booted off the show tomorrow, no matter how well he performs in the bottom-two dance-off.