Raging Australian Wildfires Kill 35, Death Toll Expected to Climb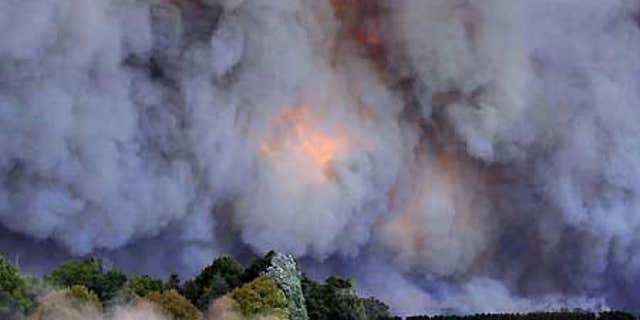 At least 35 people are dead and hundreds of houses destroyed by a wave of raging wildfires in southeastern Australia Saturday — some deliberately lit.
The death toll is expected to climb much higher, possibly exceeding 40, as authorities begin to assess some of the most horrific blazes the state of Victoria has ever seen.
Deputy Commissioner Kieran Walshe Friday said the body count could rise because rescue crews had only been able to get into the fringe areas of the worst hit towns.
Click here for photos.
"This has been an absolute tragedy for the state,'' he said. "We are concerned the figure could even reach up into the forties."
Whole towns have been cut off and thousands of people left homeless with record temperatures and fierce winds sparking devastating infernos.
More than 30,000 volunteer firefighters were battling fires after dark, when helicopters and planes that hand-dumped millions of tons of water on the flames returned to base for safety reasons.
Residents in the paths of the fires reported seeing their towns ablaze, and television footage showed flames leaping at least 25 feet in the air.
"The whole township is pretty much on fire," Peter Mitchell, a resident of Kinglake town, told Australian Broadcasting Corp. radio. "There was no time to do anything ... it came through in minutes."
Officials said chaotic scenes on the ground and ongoing firefighting efforts had hampered the collection of information, including the number of deaths and properties burned.
The deadly fire burned on a front of up to 12 miles and was moving at around 40 mph, officials said. At least 115 square miles of land were burned by that one fire.
Victoria's fires were by far the worst of blazes in three states Saturday as temperatures soared to 117 degrees Fahrenheit.
Victoria's Country Fire Authority Deputy Chief Greg Esnouf said the conditions on Saturday were "off the scale" in terms of danger, and warned that the forecast for Sunday was the same.
Police said they believed some of the fires were deliberately lit and were questioning one man in relation to a fire near the Victoria state capital of Melbourne.
Wildfires are common during the Australian summer, as rising temperatures bake forest land tinder dry and blustering winds fan embers. Some 60,000 fires occur each year, and about half are deliberately lit or suspicious, government research says. Lightning strikes and human activity such as use of machinery near dry brush cause the others.
Australia's deadliest fires were in 1983, when blazes killed 75 people and razed more than 3,000 homes in Victoria and South Australia. In 2003, hundreds of houses were destroyed and four people died when a huge blaze tore into the national capital, Canberra. In 2006, nine people died in fires on South Australia's Eyre Peninsula.
Click here for more on this story from News.com.au.
The Associated Press contributed to this report.