Police: Man Eyed in 2nd Calif. Teen Murder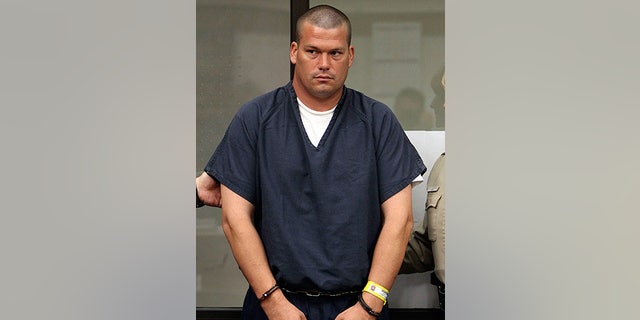 NEWYou can now listen to Fox News articles!
ESCONDIDO, Calif. – A registered sex offender charged with murdering a teen girl last month is a focus of the investigation into the death of a 14-year-old girl whose remains were found more than a year after she disappeared near her school, police said Monday.
Police said they are eyeing John Albert Gardner III in the death of Amber Dubois, whose bones were found Saturday in a remote area of the Pala Indian Reservation.
A police statement did not elaborate on the investigation and only said the scene was still being processed. Police Lt. Craig Carter did not immediately respond to a phone message seeking further details.
FBI teams worked under rainy skies during their search of the mountainous area of dense shrubs and rocks.
Gardner, 30, pleaded not guilty last week to murdering and raping or attempting to rape 17-year-old Chelsea King of Poway and attempting to rape another woman in December in the same park where King disappeared.
His public defender, Michael Popkins, did not respond to a phone message.
Gardner was expected to make his second court appearance Tuesday in the potential death penalty case.
Police have not revealed how they learned the location of Amber's remains, saying it was part of the ongoing investigation. Amber's mother, Carrie McGonigle, also declined to say what led authorities to the remains.
However, she said she was grateful for the sense of closure after the long hunt for her daughter.
"I'm managing," McGonigle said in a brief interview. "It was a roller coaster the last year and now we have closure, which is more than a lot of parents have."
Amber disappeared Feb. 13, 2009, near Escondido High School, about 10 miles north of the site where King vanished Feb. 25. A body presumed to be Chelsea was found March 2 in a shallow, lakeside grave, but authorities have said they would not make an official identification until Gardner's preliminary hearing.
At a candlelight vigil Monday night in memory of Amber, McGonigle and Dubois called for better laws to protect children from predators.
"We as parents in the community need to make a change for the protection of our children, Dubois told the more than 1,000 mourners who gathered near the site where Amber vanished.
"I still see a lot of kids walking by themselves and it scares me," McGonigle said.
Escondido High School Principal Rich Watkins called for families to re-evaluate their daily routines and take other measures to protect children.
"Let's work together to make sure we don't have to meet like this again," Watkins said
Brent and Kelly King shared their grief with Amber's family.
"We have spoken with the Dubois family and our hearts go out to them in this time of deep sadness," the Kings said in a statement. "We share their indescribable grief for the loss of Amber's precious young life."
Friends and classmates put candles, cards, flowers and balloons outside Escondido High School, near the spot where Amber was last seen at 7:10 a.m. that February morning. The school held a moment of silence in her memory. Crisis counselors were on hand to help students deal with their grief.
"They'll be here as long as it takes to make sure we get through this time," Principal Rich Watkins said.
Jeff Fidel skipped work as an investment adviser to stay home with his daughter Jade, who was Amber's best friend. Jade Fidel was watching television Sunday when Escondido Police Chief Jim Maher announced Amber's remains were positively identified through dental records.
"All I heard was a blood-curdling scream," Jeff Fidel recalled. "My wife and I came running in ... It's been rough."
Maher spoke at the Monday night vigil, vowing to work toward a successful prosecution of Amber's killer. "If not closure, we can certainly get justice," Maher said.
Amber, a member of Future Farmers of America, had left home with a $200 check to buy a lamb. It was never cashed, fueling suspicion of foul play.
Paul Levikow, a spokesman for the district attorney's office, said the brief hearing Tuesday would address procedural issues and could involve delaying the preliminary hearing now set for March 19. He declined to comment on the investigation into Amber's death.
Gardner was registered as a sex offender in Escondido, a north San Diego suburb, from January 2008 to January 2010, with some gaps, police said.
He served five years of a six-year prison term for molesting a 13-year-old neighbor in San Diego in 2000. He completed parole in September 2008.