Police Acknowledge 'Possibility' That Florida Couple Could Be Murder-for-Hire Victims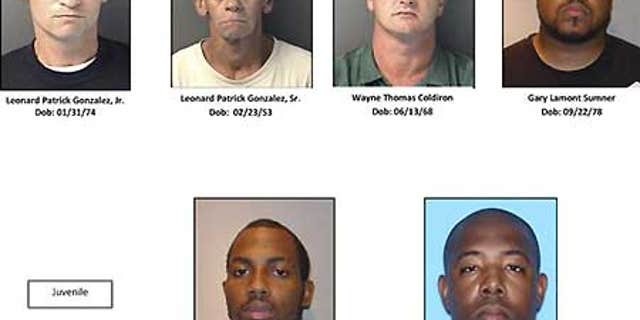 Authorities said Friday night they have not ruled out the possibility that the murders of a wealthy Florida couple could have been contract hits.
The Escambia County Sheriff's Office previously had refused to address whether the home-invasion shootings of Byrd and Melanie Billings may have been murders-for-hire. The couple, known for adopting special needs children, were found dead July 9.
Two unidentified sources told a cable news network that there were double motives for the crime: robbery and contract killings. The sources reportedly said suspected crime ringleader Leonard Patrick Gonzalez Jr. orchestrated the hit, but that most of the team of accomplices working for him believed they were only there to commit robbery.
Escambia County Sheriff David Morgan would neither confirm nor deny at a Friday night news conference whether the report was accurate.
"It's always a possibility," he said. Morgan had initially said robbery was believed to be the main motive.
On July 21, The Daily Beast and FOXNews.com reported that Gonzalez, one of eight suspects charged in the case, told investigators he'd been paid between $20,000 and $50,000 to kill the Billings.
Gonzalez reportedly said his team was planning the hit for several months. He allegedly told authorities that much of the plotting happened at the home of the eighth suspect arrested in the case, real estate investor and Gonzalez family friend Pamela Wiggins.
Documents obtained July 20 by the Pensacola News Journal revealed that Gonzalez told investigators he knew Byrd Billings because Billings gave him money to open a martial arts studio.
It wasn't clear who may have paid for the alleged hit against the couple.
Investigators have said they're seeking at least one more suspect believed to have been charged with disengaging the security camera system on the property.
Police believe the person failed to show up or disable the device remotely on the night the robbery and killings were carried out. The camera captured some of the suspects on tape while they were on the grounds.
The Billings were the parents of 17 children, 13 of them adopted, and owned several local businesses — including a finance company and a used-car dealership. They lived in a mansion in Beulah, a rural area west of Pensacola near the Alabama state line.
Click here for previous coverage from FOXNews.com.