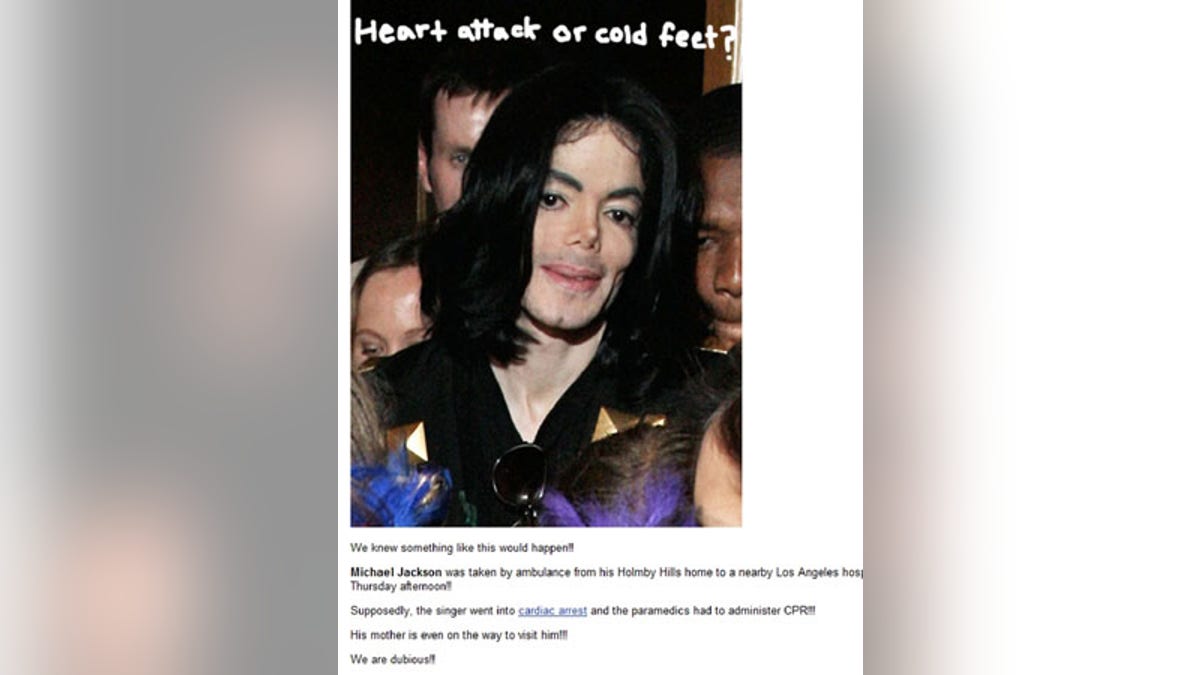 Perez Hilton's coverage of Michael Jackson's death has brought the celebrity blogger more attention -- but not because he broke any news.
The gossip hound is being slammed from all corners for dismissing the initial word on Thursday that Jackson had been rushed to the hospital, calling it a publicity stunt.
"Supposedly, the singer went into cardiac arrest ..." Hilton wrote in his blog, before stating, "We are dubious!!"
Click here to see photos of Michael Jackson.
"Either he's lying or making himself sick," the blog continued. Then it urged those who had purchased tickets for Jackson's series of concerts in London to "get your money back!"
The post included a picture of Jackson with the hand-scrawled headline: "Heart attack or cold feet?"
Bloggers and Web site posters responded quickly and angrily. "Despicable Michael Jackson Coverage Spurs Backlash" was the headline on the social media site Mashable, which was among many reporting that outraged Jackson fans and others were flocking to the Web to slam Hilton.
TOPIC: Click here for all of FOX News' coverage of Michael Jackson's life and untimely death.
"That guy is seriously sick in the head. He does more harm that good and he needs to get off the internet now," wrote one blogger, in a fairly typical response.
Hilton apparently got the message, because he seems to have replaced the offending post with a shorter one that links to a story at the entertainment news site TMZ, which said the singer had in fact gone into cardiac arrest. The Jackson photo with the "Heart attack or cold feet?" headline was also apparently removed.
Hilton did not respond immediately for comment.
RELATED: Tape of 911 Call Released as Michael Jackson Autopsy Under Way.
This is just the latest in several controversies surrounding the gossip blogger, who's real name is Mario Lavandeira. On Monday Hilton Twittered authorities in London reporting an alleged assault at the hands of an associate of Black Eyed Peas singer Will.I.Am, after Hilton, who is gay, called the singer a "faggot" outside a club.
Two months ago, Hilton called Miss USA runner-up Carrie Prejean "a dumb bitch" in a video on his site after her answer to a question about same-sex marriage offended him.