Patriot Girls Wear Their Love of Country On Their, Well...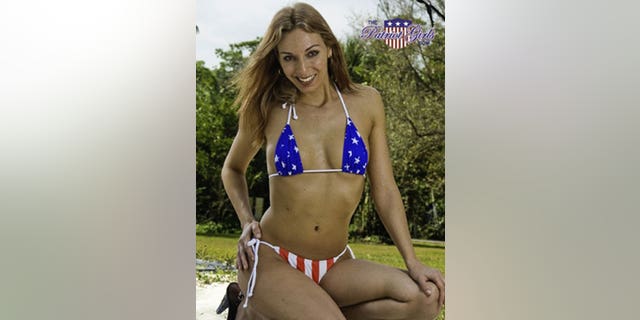 Hundreds of Bikini Models Look to Restore America's "Fading Patriotism"
Six years after the start of combat operations in Iraq, one volunteer organization is still going strong, and looking to expand.
The Patriot Girls currently operate in 38 states, and hope to spread their unique brand of stars and stripes boosterism to all 50 states by the end of the year, as they train the spotlight on the sacrifices the troops and their families are making.
And how do they attract the spotlight? With their stars-and-stripes bikinis, of course.
PHOTOS: Which state has the hottest patriots? You decide!
According to The Patriot Girls spokesmodel, pro-wrestling diva Amy Vitale, the "American Flag bikini is the standard attire" and the some 200 girls do everything from posing for calendars to creating military-themed merchandise (like men's and women's swimwear, posters, and collectible dolls) to waitressing and washing cars in their red-white-and-blue swimsuits.
By promoting events like "Game Day at the Playboy Mansion" for the Super Bowl, a model contest in the Dominican Republic for Spring Break, and an "Official Ring Girls for the WPAL National Golden Glove Championship" in Pennsylvania, the teams of young hotties raise money for soldiers and their families, with funds going to foundations such as Wounded Warrior Project and Operation Troop Appreciation.
"Any kind of help for our people serving in the military and their families is good help, especially in these financial times as things are getting tougher and tougher," said former marine and star of HBO's "Generation Kill" Rudy Reyes.
So what exactly does it take to be a Patriot Girl?
"It doesn't matter if you are for or against the war, we just want to make our men feel important and show them we love them. You have to be all-American and all out there for the troops," Vitale said. "And you've got to look great in a bikini."
Vitale said ever since their conception almost two years ago, apart from some who wish the American flag wasn't part of their attire, the response to their fund-raising efforts for vets an their families has been overwhelmingly positive.
"The D.A. has historically done a horrible job of looking after them when they get back so as Americans we need to step up to the plate," Dep. Chris Landavazo, who served in the Persian Gulf and now runs one of the biggest law enforcement charities in Los Angeles, Cops4Causes.org, told tarts. "What these girls are doing is awesome."
"We get very insulted when people criticize the war and forget that a lot of Americans are still sacrificing their lives so we can still live here in this great country," adds Afghanistan war veteran Alfred Soler (who now works for New York's The Tax Club and offers free tax services for returning veterans). "What The Patriot Girls'are doing is great, they're bringing awareness back, and reminding everyone that the troops still need our support."
Exclusive: PETA Going After DWTS Bull-Rider Ty Murray
When he's done on "Dancing With the Stars" will Ty Murray be the next spokesman for the People for the Ethical Treatment of Animals? It seems unlikely given that he makes a living romping around rodeos, but the animal rights activists are already digging in their claws in the hope that Murray's fellow foxtrotters slap him around a bit.
The animal-unfriendly cowboy might be breathing easier now that Belinda Carlisle, who starred in PETA's first-ever "I'd Rather Go Naked Than Wear Fur" ad, has been eliminated— but the Go-Go was just one of several in the PETA posse on the show this season. Holly Madison and Steve-O have each starred in their own anti-fur ads, and Denise Richards once wrote to PETCO on PETA's urging the company to end its sales of live animals. Even judge Carrie Ann Inaba has stepped up to underscore the importance of spaying and neutering.
"Maybe Murray should avoid mentioning the fact that he makes his living off the broken backs of animals— but then again, considering his history of eight-second rides, Murray might not have much more time left on the show to worry about it," a rep for PETA told Tarts in an exclusive statement on Thursday.
Meow.
Carrie Underwood Still Feels Like She Has to Prove Herself to "Idol" Judges
Carrie Underwood is the most successful "American Idol" winner to-date, but the country crooner stills feels like she needs to prove herself worthy of winning when returning to the "American Idol" stage.
"I am nervous everytime I take the stage and I want to show everyone why I won," Underwood told Tarts before her guest appearance for "Country Week" on Tuesday's episode of "American Idol". "But it's joy more than anything. I see people I haven't seen in a long time, the flood gates open and everytime it just hits me all at once."
Taryn Manning on Simon Cowell: He Takes It Too Far
Taryn Manning bared her bod as a hooker in "Hustle & Flow", but the renowned actress has returned to her musical roots, and is exposing much more of herself in the new record "A Million Trillion Stars" she recently released with her brother under their band name "Boom Kat".
"A lot of the songs on the album like 'Runaway' and 'I Wish I Could' evoke very personal memories, they are very sentimental. I'm a very personal songwriter, some people say it is like reading my diary," Manning told Tarts. "I've always been into my music but I got so caught up in the acting world I stopped putting it out there for a while so now I'm just trying to balance both."
The 30-year-old songstress also feels for the finalists in "American Idol" - and feels judge Simon Cowell may go over the line.
"I think it ("American Idol") is amazing to watch but a little bit heart-breaking aswell. I understand why these people get so upset, being so close to your dream and losing it is horrible," Manning added. "The truth hurts and we all need criticism to make us grow but it can be permanently damaging. Sometimes (Simon Cowell) doesn't need to go there - it's like ouch."