Pakistan Police Seize Personal Items from Americans in Terror Case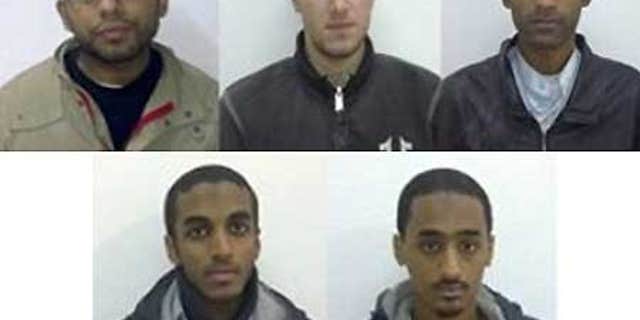 KARACHI, Pakistan – Pakistani police Monday seized luggage and a cell phone from a hotel where three of five Americans arrested on suspicion of militant links stayed, while a court ruled the men cannot be deported until judges review the case.
Police allege the young Americans intended to join militants in the northwest tribal areas and then travel to Afghanistan before their arrest last week. The case has fanned fears that Americans and other Westerners are heading to Pakistan to link up with Al Qaeda and other militant groups.
SLIDESHOW: Homegrown Terror Threats
Police searched the mid-range Saddam Hotel in the southern city of Karachi, the country's commercial hub, where some of the men stayed on Nov. 30 after their arrival in the country. They found five travel bags containing clothes, a cell phone and a book, police official Abdullah Sheikh said.
Hotel manager Mohammed Farooq Khan said the three left the hotel without informing management after staying one night.
The book was "The Pact," the best-selling true story of three young men from broken homes who pledged to support each other as they pursue academic dreams.
The detainees are accused of using Facebook and YouTube Web sites to try and connect with extremist groups in Pakistan and are said to have established contact with a Taliban recruiter. They have not been formally charged with any crime or produced in court.
The court order Monday was aimed at preventing any deportation of the Americans before the judiciary gets a chance to review the case, Lahore High Court registrar Tahir Pervez said. No deportation order is known to have been issued so far, but officials in both countries have said such a move is likely.
The court issued the order in response to a petition from Khalid Khawaja, a civil rights activist who has often filed court cases on behalf of alleged militants and people believed to have disappeared at the hands of Pakistan's security apparatus.
Pervez said the court ordered the government of Punjab province to file a report on the case in a hearing Thursday.
The men, who are from the Washington, D.C. area, were picked up by Pakistani authorities last week in the Punjab town of Sargodha after their worried families in the U.S. turned to the FBI to track them down. They were shifted over the weekend to Lahore, the provincial capital, for further questioning.
FBI agents, who have been granted some access to the men, are trying to see if there is enough evidence to charge any of them with conspiracy to provide material support to a terrorist group, an American official and another person familiar with the case said Friday.