N.J. Church Group Returns Home From Haiti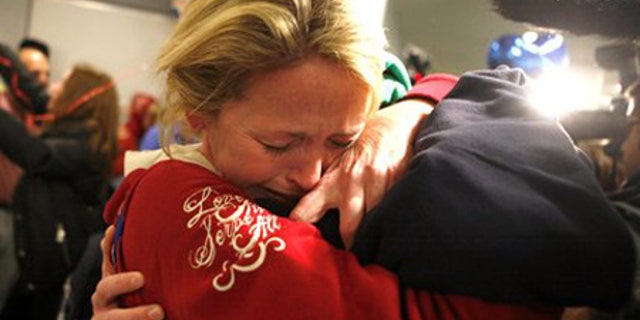 HACKETTSTOWN, N.J. – Members of a New Jersey church group who were in Haiti on a humanitarian mission when a massive earthquake struck the island nation this week have returned to the United States, recounting the horrors they experienced and thankful to be home.
Relatives and friends were waiting at John F. Kennedy International Airport early Friday to greet the 15-member group from the Trinity United Methodist Church in Hackettstown, a town of about 11,000 residents in northwest Jersey. They hugged and kissed their loved ones in front of a banner saying, "Welcome back, Haiti team. We love you."
Frank Procaccini, returning from his fifth Haitian aid trip, said the church group was in an open field playing ball with children from an orphanage when he heard an explosion and felt the ground shake.
"The ground was actually like an ocean, and we were actually like riding the waves," said Procaccini, of Long Valley, N.J. "It just kept rolling."
He said the group took a school bus to the airport for a flight out of the decimated country and saw chaos and misery along the crumbled roadways.
"Total devastation, buildings down, supermarkets just crushed in," he said. "People looking in the rubble for people, trying to dig them out, but they couldn't do it."
The church members who visited Haiti included two high school students and were led by the Rev. Frank Fowler. They provided birth kits, diapers and other supplies to the impoverished country.
Fowler's wife, Karen Fowler, called the group's safe return "a happy ending."
But a New Jersey college student on a separate trip to Haiti was still unaccounted for early Friday.
Officials at Lynn University in Fort Lauderdale, Fla., said four of its 12 students who were in Haiti when the earthquake hit Tuesday were missing. Among them was Christine Gianacaci, of Hopewell, N.J.
Two faculty members also had not been located.
For much of the day Thursday, university officials said that Gianacaci was the only missing student, but they announced late Thursday that three students believed to have been found were not. They said they had received "bad intelligence."
Gianacaci's grandfather James Hall, of Hopewell, was anxiously awaiting word.
"That's the hardest part of this — the waiting," he said.
Hall said that Gianacaci's parents had traveled to Florida and that he hears from them often, but he didn't know much about the trip his granddaughter was on.
Another New Jersey native on the trip, 19-year-old Lindsay Doran, of Rumson, was with a group of eight students who arrived safely in Santo Domingo, Dominican Republic, on Thursday, the university said.
Members of another church mission from New Jersey also were safe. A group from three Mercer County congregations was at the U.S. Embassy in Haiti's capital, Port-au-Prince, on Thursday awaiting evacuation to the Dominican Republic.
Cooper University Hospital, in Camden, and Hackensack University Medical Center announced they were organizing medical missions to Haiti.
The Record of Bergen County reported that four New Jersey men who were in Haiti on a humanitarian mission to build housing for orphans remain stranded in Les Cayes, about 85 miles southwest of Port-au-Prince.
Speaking Thursday with family members through an online video chat, the group said they plan to do what they can to help those affected by the earthquake.
"We have the skill set, we have the time and we have ability to help these people," Jeff Wells, an architect, said from a mission home and hotel in Les Cayes. "We're here, so we'll see if we can help."
Frank Fowler, the leader of the Trinity church members, said God played a role in rescuing his group. When the church group arrived at the airport, he said, it found the crew of an Icelandic search and rescue plane that had just dropped off supplies and was leaving — with enough room to take people out.
"I believe God's hand," he said, "is in everything."