Murders at Zimbabwe Diamond Mine Undercut Claims of Normalization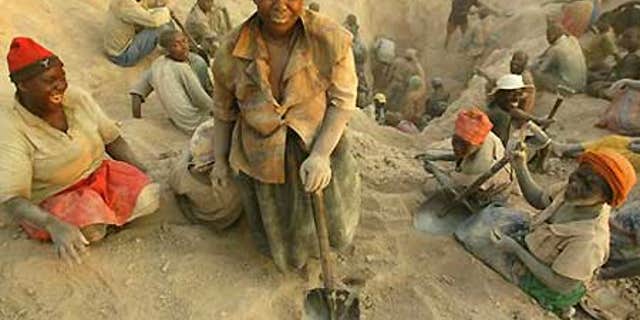 Diamonds, soldiers, smugglers, helicopter gun ships, child labor, torture, rape, and more than 200 dead. It sounds like a scene from the film Blood Diamond, but it's no movie.
"People were killed like flies," recalled one former illegal diamond dealer in Mutare who goes by the name Fat Man. "They came with choppers, ground force, commando, riot police. It's now a no-go area. They rotate the military and the field is surrounded by road blocks. This district was thriving for a while, but since the soldiers it is dead," he told FOXNews.com.
Stories like this echo a Human Rights Watch report released Friday that highlights ongoing atrocities at a lucrative diamond field in rural eastern Zimbabwe that has become a cash cow for military commanders and government officials close to President Robert Mugabe. The report comes barely a week after Zimbabwe's opposition leader, Morgan Tsvangirai, prime minister in a tense and complicated power-sharing agreement with Mugabe, visited President Obama and other western leaders to plead for donor money for the country, claiming it was a "rapidly normalizing" nation.
Human Rights Watch's report, The Diamond in the Rough, catalogs a series of atrocities in the Chiadzwa diamond field in the rural Marange district, 50 miles west of Zimbabwe's third city Mutare, since 2006, as Mugabe's military wrests control of the 25-acre field from villagers and informal diamond panners. More than 50,000 desperately poor Zimbabweans had converged on the area to dig for gem stones since the discovery of alluvial diamonds there in September 2006.
"The worst abuses occurred between October and November 2008, soon after the ruling ZANU PF party signed a power sharing deal with Tsvangirai's opposition," said HRW spokesman Dewa Mhungu. "In a military operation called 'No Return,' soldiers came with machine guns mounted on helicopters, and shot panners in the fields. More than 200 were killed, some buried alive in tunnels. More than 5,000 were arrested and beaten."
According to the report, since taking control of the field, soldiers have established their own illegal syndicates, and are busing women and children in from neighboring villages, forcing them to dig for stones. "Children describe being made to carry diamond ore, and working up to 11 hours per day with no reward," it reads. "One local lawyer has estimated that up to 300 children continue to work for soldiers in the diamond fields."
The report names Joice Mujuru, a senior ZANU PF official and Zimbabwe's vice president, as a major stakeholder in the field. International media recently reported on alleged attempts by Mujuru's daughter to sell uncertified gold and diamonds on the international market in Spain.
The story of the Marange diamonds has its echo in the violent takeover of white farms launched by Mugabe in 2000, which began Zimbabwe's slide from regional bread basket to basket case. The diamond field was discovered in September 2006, by a British-based company, Africa Consolidated Resources, which had the license to mine it, but just as the Mugabe government seized white farms, it revoked the company's license and took the field for itself. But, unable to mine it properly, thousands of illegal panners soon flooded the area, turning the region into a wild, relatively prosperous frontier, even as the rest of the country faced mass famine.
But by October 2008, with the regime bankrupt and hyper-inflation in the millions, the military descended, seeing easy pickings.
The report recommends that until soldiers are removed from the field and an independent commission investigates the abuses, Zimbabwe be immediately suspended from the Kimberly Process that controls the trafficking of "blood" or "conflict" diamonds.
The timing of the report is certain to embarrass Tsvangirai and the MDC as they try convince Western donors that Zimbabwe is improving, and that Mugabe can be trusted. Indeed, there is growing concern that the opposition is simply being co-opted by Mugabe, to do his bidding. Speaking to a meeting of Kimberley Process in Namibia on Wednesday, the country's deputy mining minister, Murisi Zwizwai, an MDC member, denied there had been any killings in Marange, and called such claims "unsubstantiated reports." Yet the MDC has claimed since January that hundreds of diamond panners have been buried in mass graves in Marange "to hide the regime's murderous activities."
"The MDC deputy of mines is as lying and disingenuous as anyone in ZANU PF," said one outraged financial analyst from Harare. "The MDC don't have any power, and they have been swallowed by Mugabe. That cunning old fox is too good."