Mullen in Afghanistan for Front-Line View of War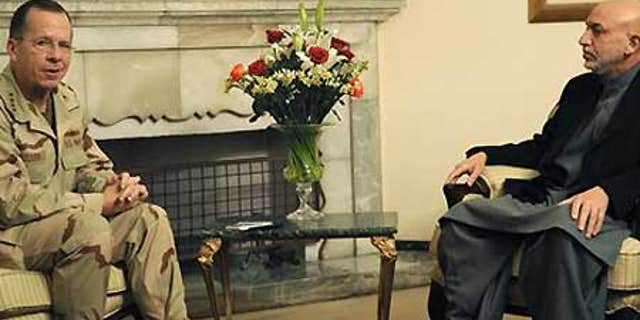 KANDAHAR, Afghanistan – The top U.S. military officer told Afghan tribal leaders in this center of insurgent resistance Thursday that making immediate progress against widespread corruption is critical.
"We have to start delivering results now," Adm. Mike Mullen, chairman of the Joint Chiefs of Staff, told five Afghan chieftains during a stop at Camp Nathan Smith, a small U.S. base in Kandahar.
Keeping Kandahar from falling to insurgents is a key goal for American forces, both because of its long history as a Taliban enclave and its importance in the new military strategy pushed by Gen. Stanley McChrystal, the top U.S. commander in Afghanistan.
Kandahar was the Taliban's regional capital before it ascended to power in the late 1990s and later was the headquarters for Osama bin Laden and his al-Qaida network.
The city is now central to McChrystal's plans to use American troops to protect major population centers in an effort to win over Afghan civilian support for the war.
In his meeting with the tribal leaders, Mullen also assured them that U.S. forces do not plan to stay any longer than needed and want to turn over responsibility for security to local Afghan forces as soon as possible.
The Afghans complained that corruption at every level of government is crippling the country.
The August elections proved that people were losing confidence, one leader told Mullen. He said 2,000 people in his district participated in national elections five years ago, but only 50 turned out in August.
The tribal leaders also made a pitch for a hydroelectric dam to go along with one the U.S. built here in the 1950s. Mullen made no promises, but said he'd see what he could do.
Earlier in a stop at Forward Operating Base Frontenac, another outpost near Kandahar, Mullen advised troops to "focus on the people of this country."
U.S. forces have taken heavy losses at the installation since arriving in August. The Army's 1st Battalion, 17th Infantry has suffered 21 killed and 40 wounded — out of a group of roughly 800 — in the short time it has been deployed.
The troops have made inroads against Taliban supply lines in the critical Kandahar province.
Mullen told them the way to win is to focus on protecting major population areas and ensuring that Afghans can move freely in their own country.
"We can tactically win, but if we're killing local civilians were going to strategically lose," he warned. "I hope more than anything you will be able to focus on the people of this country. That's what this is all about."
Mullen said the southern region of Afghanistan, a traditional Taliban stronghold, "is absolutely vital to our national interests because of the risk that still exists here."
The brigade commander, Col. Jonathan Neumann, said his soldiers have begun to get better tips from the locals and are learning how to find and avoid deadly roadside bombs.
In the brigade's first 100 days on the ground, Neumann said, it counted more than 300 "enemy engagements," including improvised explosive devices and direct and indirect weapons fire. But the brigade has not hit a roadside bomb in about a month, he said.
Mullen was making one more hop Thursday, to a very small outpost called Patrol Base Jaker, before returning to the Kandahar air base.