Mothers of Detained Iran Hikers Feel Left in the Dark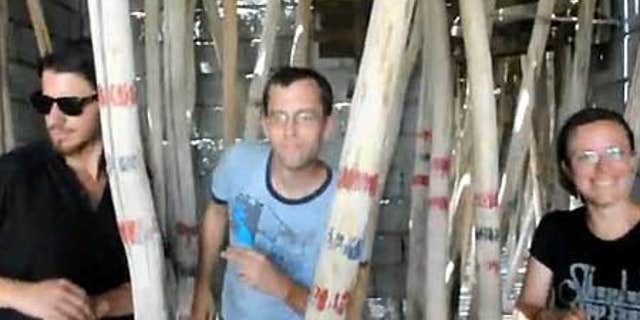 MINNEAPOLIS – The mothers of three Americans detained in Iran said Thursday they've held off on hiring a lawyer for their children and are still hopeful they will be freed without being put on trial despite being left in the dark by authorities about their case.
It's been almost five months since the three were taken captive in Iran for allegedly straying across the country's border and almost two months since their families have had any word on their condition.
Iran's foreign minister said Monday the three would be tried in court — but their mothers have not been able to confirm that with Iranian authorities. An Iranian prosecutors has accused them of espionage, something the mothers also haven't been able to confirm.
"We just feel the Iranians have had almost five months to look at our children, and we really believe they know and understand the kids are innocent and if anything, what they did was an accident," said Laura Fattal, the mother of Josh Fattal. She spoke by phone to The Associated Press from her home in suburban Philadelphia.
Fattal, 27, along with Shane Bauer, 27, and Sarah Shourd, 31 — all graduates of the University of California at Berkeley — had been trekking in Iraq's northern Kurdistan region when they accidentally crossed the border, according to their relatives.
The U.S. has no diplomatic relationship with Iran. Since the three were captured, the only word on their condition came after two prison visits by Swiss diplomats, who represent U.S. interests in Iran. The last prison visit was at the end of October, with the diplomats reporting the three appeared healthy. Family members say the Swiss have requested more visits but have been denied.
"We're being stonewalled, and it's tough not to have any information," said Shourd's mother, Nora Shourd, of Oakland, California. "We can only fill in the blanks."
The three captives are by no means the only high-profile case of Americans being detained in Iran amid an increasingly bitter standoff between the U.S. and Iran over the Islamic Republic's disputed nuclear program.
Roxana Saberi, a dual American-Iranian citizen who had been working as a freelance journalist in Tehran, was released from an Iranian prison in May after almost five months in captivity — but only after she was tried and convicted of spying for the U.S.
Saberi, who maintained her innocence, was initially sentenced to eight years in prison. An appeals court reduced that to two years and then soon released her.
But Saberi's father was Iranian, and traveled to the country where he was able to obtain a lawyer and work on his daughter's release. The families of the three now held said none have any special knowledge or understanding of Iran. While hiring a lawyer has been discussed, they have decided to wait until definitive word of charges.
"We're constantly talking about all our options," said Bauer's mother, Cindy Hickey, of Pine City, Minnesota.
Family members said some have spoken with Saberi, as well as multiple Iranian expatriates and other experts on the country's legal system. One is Hadi Ghaemi, an Iran native who's now spokesman for the New York-based International Campaign for Human Rights in Iran.
Ghaemi is among those urging the families to hire a lawyer in Iran. "With a lawyer there's that possibility they could get some information," he said.
But Ghaemi was quick to add that the families are in a complex situation with few easy calls.
"It's very difficult even for specialists like us, who do this work around the clock, to have a very good understanding of what is going on inside Iran," Ghaemi said. "I think they're doing their best, given the circumstances."
Ghaemi is expecting a course similar to the Saberi case, with Iran convicting the three Americans of spying but then releasing them soon after to curry favor with the U.S. government.
While all three mothers hope for a quick release without a trial, Hickey said she's "open to movement" if a trial opens the proceedings some and gives the three a chance to argue for their innocence. Saberi's trial was held on a single day behind closed doors.
Before her son's capture, Hickey had been planning a one-month visit to see Bauer and Shourd in Damascus, Syria, where they'd been living.
She would have left on Thursday, she said. Instead, she was on her way to New York City for a new round of media interviews about the case, followed by a vigil next Tuesday in several U.S. states where the three Americans have family members — the latest in a series of vigils and other efforts to publicize the case in recent months.
"Christmas will be very difficult without Shane if he's not home by then," Hickey said. "But I'll be surrounded by the rest of my family, and that's really important."