Michigan Family Helped by 'Robin Hood' Gets Clean Bill of Health for Daughter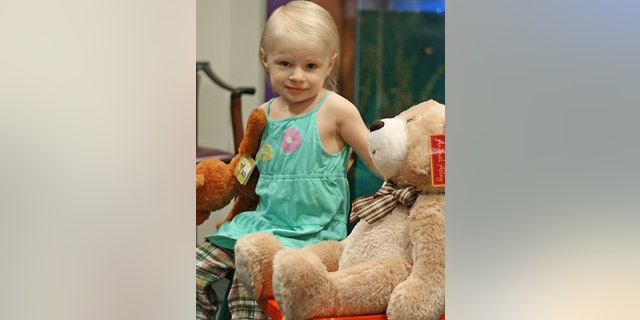 One year after receiving $35,000 from an anonymous high-stakes blackjack player to rid themselves of debt, a Michigan family has received another blessing: A clean bill of health for their 3-year-old daughter who had battled a brain tumor.
Megan Kegler, of Washington, Mich., told FoxNews.com that an MRI taken last month on her daughter, Madison, found "no sign" of the tumor that once grew near the girl's cerebellum, a region of the brain that controls motor skills.
"It came back clear," Kegler said. "They could find her surgery site, but they found nothing that resembled a tumor. So that was a little miracle."
Kegler said her daughter, now in pre-school, still has developmental delays associated with her condition, pilocytic astrocytoma, but has been steadily improving since finishing chemotherapy in July.
"Her speech has really picked up," she said. "And she's getting a lot better with writing and drawing. She's gained a lot of weight, too."
Madison was even healthy enough to enjoy a trip to Disney World earlier this month thanks to the Make-A-Wish Foundation.
"She loved that," Kegler said. "She was in awe while we were there."
Kegler said she last spoke to the Las Vegas gambler who gave her family $35,000 — known as "Robinhood702" — just last month and was happy to report that Madison's health had vastly improved.
"Here and there we'll get a phone call from him seeing how things are," she said. "He likes to check up on us."
Since receiving those funds to free themselves from health care-related debt from the gambler calling himself "Robinhood702," a reference to Las Vegas' area code, the family's life has gone from extremely stressful to "handleable," Kegler said.
"Whereas before, we felt like we couldn't take it anymore," she said.
Kurt Kegler said he and his wife now both work at a local Target on opposite shifts to ensure that someone is always home with Madison.
"It's either my wife or myself taking care of her all the time," he said.
Kurt Kegler had been employed as a maintenance worker on heavy machinery — earning "darn good money," he said — before tearing his rotator cuff and later receiving workers' compensation for nine months.
Madison Kegler, meanwhile, will be ecstatic come Christmas morning when she finds a large toy pony awaiting her beneath the tree. But the biggest gift of all this season for the Keglers will be Madison's health.
"You couldn't get anything better," Kurt Kegler said.