Man Shoots Self in Front of Crystal Cathedral Cross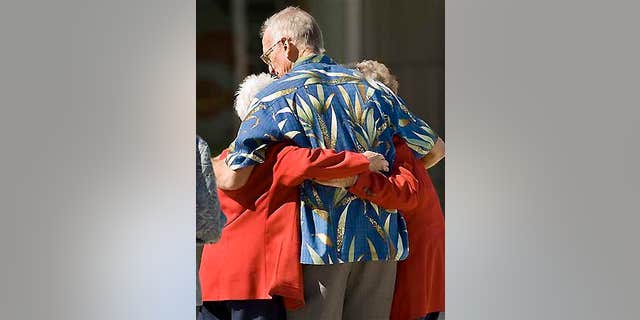 GARDEN GROVE, Calif. – A man shot and killed himself in front of a cross inside televangelist Robert H. Schuller's Crystal Cathedral on Wednesday as a nearby volunteer told a group of visitors about the church's suicide-prevention program, police and church officials said.
The man handed a note and his driver's license to two ushers, walked to the cross and then shot himself in the head as he appeared to be praying, Senior Pastor Juan Carlos Ortiz said.
The Orange County coroner's office identified the man as Steve Smick, 48. Church spokesman Mike Nason said there was no record of Smick being a member at the cathedral.
Betty Spicer, a volunteer usher at the famous sanctuary, said she greeted Smick when he entered. She said he handed her a folded note with two cards inside as the man told her: "You may want this."
Spicer said he then walked to the foot of the cross. She and Yvette Manson, another volunteer, said they thought Smick was praying when they heard a pop.
The man used a semiautomatic handgun, said police Lt. Dennis Ellsworth.
A tourist, one in a group of several visitors from Canada, told Manson the man had shot himself.
"I didn't realize it. I thought he was praying," Spicer said.
Manson said she "had just finished telling them about our intervention hotline that we have — suicide prevention on the fifth floor — and all of a sudden I heard this pop, a loud pop, it almost sounded like a firecracker," she said.
Spicer said one of Smick's cards was a driver's license, and that the note mentioned a pickup truck in the parking lot.
Cathedral spokesman John Charles said none of the tourists was injured.
The glass-walled, 10,000-member megachurch in Orange County is home to the "Hour of Power" broadcast, an evangelism staple aired internationally for more than three decades. Thousands visit the cathedral to see where the broadcast is filmed before a live congregation.
It was not immediately clear where Schuller was at the time of the shooting.
Afterward, police could be seen through the cathedral's glass doors investigating the scene and taking photographs before the body was removed. They also searched his pickup truck, Ellsworth said.
There have been two other shootings at the church in recent years.
In December 2004, Crystal Cathedral Orchestra conductor Johnnie Carl, 57, killed himself at the complex after a standoff that began when he opened fire in offices before a Christmas pageant. He had been hospitalized for severe depression.
Also that year, a man was wounded by a plainclothes police officer in the cathedral parking lot. Authorities said the man was meeting his mother, but the officer didn't know they were related and intervened in what he thought was an argument.