Lindsay Lohan in Talks to Star in a Topless Las Vegas Strip Show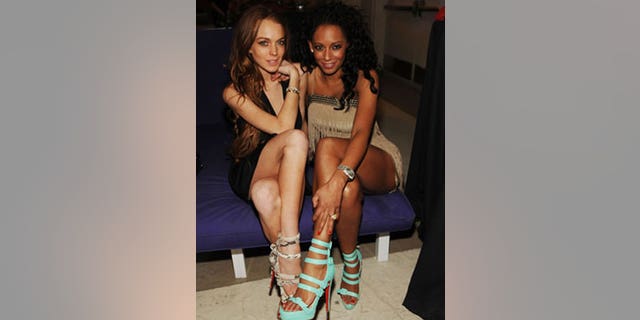 Lindsay Lohan in Talks to Star in a Topless Las Vegas Strip Show | Miss California Openly Objects to Gay Marriage During Miss Usa Pageant | Romance Rekindled: Drew Barrymore and Justin Long Get It On at Coachella | Pop Tarts Scene & Herd
Lindsay Lohan in Talks to Star in a Topless Las Vegas Strip Show
Word on the street for quite some time has been that newly-single Lindsay Lohan is strapped for cash and unemployed, but it looks as though the 22-year-old may have finally found her forte: starring in a topless show in Sin City.
Lohan flew from Los Angeles to Las Vegas on Saturday on the private plane of the producer of Mel B. and Kelly Monaco's "Peepshow" to attend the grand opening of the sexy striptease production, but made the trip more importantly because she had a meeting scheduled with director and Broadway big-wig, Jerry Mitchell.
PHOTOS: Click here to see Lindsay Lohan through the years.
"Peepshow" is designed to have rotating leads and according to very close inside sources, Lohan is in official negotiations to take over from Monaco who wants to move on and get back to work on "General Hospital," however Mel B. reportedly intends to stay on once her three-month contract is finished.
"People forget that she (Lohan) is a "triple threat" — she can act and sing and dance," said our source. "She feels that this would really revitalize her career and give her some serious theater cred."
The "Mean Girl" was even overheard gushing to Mel B. as they headed to the after-party at Planet Hollywood's Prive nightclub about how much she loved the provocative production and how much she trusts Mitchell to direct her in an on-stage striptease.
"If they make me an offer, and the money's right, I'll do it," Lohan reportedly said.
We're told the producers are very interested and would be "more than happy" to take the risk of having the "reformed rehabber" come on-board, but apparently it's a toss between Lohan, Holly Madison and Brooke Burke for the racy role. So if Lohan does get the adults-only gig, she'll play "Bo Peep," a timid girl who the Diva (played by Mel B.) guides in her transformation into a confident, sensual woman while surrounded by a slew of semi-naked burlesque beauties.
We've also been told that the former "Scary Spice" and Lohan have become pretty close and that Brown is pushing for Lilo to snag the job. The two ladies stayed at the afterparty chatting until 3 a.m. and so much for sobreity — Linds made no attempt to hide that she was drinking vodka and soda with a splash of cranberry.
Also spotted in the audience for Peepshow's opening night were Charlie Sheen and wife Brooke Mueller, Chris Noth, Matthew Morrison, Perez Hilton and Donald Trump.
Miss California Openly Objects to Gay Marriage During Miss Usa Pageant
She just missed out on taking home the tiara which went to Miss North Carolina Kristen Dalton, but Miss USA 2009 first runner-up Carrie Prejan still managed to be the most talked about contestant following the crowning in Las Vegas on Sunday night.
During the Top 5 interview portion of the Donald Trump-owned pageant, the 21-year-old was asked about her thoughts on legalizing same-sex marriages.
PHOTOS: Scenes from the controversial telecast.
"We live in a land where you can choose same-sex marriage or opposite marriage," Prejan said after stumbling to find the right words. "And you know what, I think my country, in my family, I that I believe that a marriage should be between a man and a woman. No offense to anybody out there, but that's how I was raised."
The controversial response was met with a commixture of cheers and boos from the audience and even more bickering between attendees in the lobby following the show.
VIDEO: Click here to see Prejan's answer.
Considering the self-confessed "Queen of Media" and strong advocate against Proposition 8 Perez Hilton was one of the judges, one may assume that could have played a prominent role as to why Prejan didn't take home the honors. But hey, its a free country and kudos to the San Diego native for biting the bullet and giving an honest answer which is bound to give her a strong following of both lovers and haters.
Romance Rekindled: Drew Barrymore And Justin Long Get It On At Coachella
Despite constant denials from Drew Barrymore and Justin Long that they have romantically reunited, Pop Tarts has exclusively learned that the "best friends" have definitely been getting it on again. The two were escorted to private VIP on stage for the MIA performance at the Coachella Music Festival in Palm Springs on Saturday night where they couldn't keep their hands off each other.
"They were 100 percent together — Justin had his hands on her hips all night and they were kissing and hugging throughout the whole show," said our side-stage spy. One of MIA's dancers even dragged Drew to center stage and had her help throw blow horns out to the fans.
On the note of cute couples, Pop Tarts spies also spotted Reese Witherspoon and Jake Gyllenhaal at the popular music festival having lunch in the artist compound on Saturday. While Jake opted for a sausage and Reese went for a raw/organic fix, the star-studded couple did share a coconut Thai drink together. Awww.
The night before Kate Bosworth and her beau James Rosseau slow-danced together in the VIP tent during Paul McCartney's two-hour set, but the occasion was bittersweet for the former Beatle who became emotional upon telling the crowd that it was the 11 year anniversary of his first wife Linda McCartney's death and dedicated two songs in her memory.
Pop Tarts Scene & Herd
"American Idol" alum Jordan Sparks dining with pals at Koi Los Angeles on Tuesday evening, while David Spade sat a table nearby.
Alyssa Milano encountering a nervous basketball fan while promoting her new Touch line of NBA women's apparel at the NBA Store on 5th Ave, NYC on Wednesday afternoon.
Tori Spelling with husband Dean McDermott celebrating her new book "Mommywood" with a chic cocktail party, where guests (including Project Runway's Christian Siriano) sipped on SVEDKA's specialty cocktails at trendy NYC restaurant Rogue Tomate on Wednesday evening.
Rapper Ludacris at Koi Los Angeles with a fifteen-person entourage on Wednesday evening. Actor Billy Zane stopped by solo and joined a party of friends on the back patio.
Shane West and Tyler Hilton partying at Hollywood hotspot MyHouse for the Asics Paper Magazine event on Wednesday. Leonardo DiCaprio, Marc Anthony, Lindsay Lohan and Brody Jenner were all spotted at the club later that night. Leo and Marc shared a table and looked like they were in deep conversation for most of the night and oddly enough, Leo didn't pay any girls attention whatsoever. Woah!
Eva Longoria Parker, Lindsay Lohan, Joe Francis, Hayden Panettiere, Kristen Bell, Sophia Bush, Shannen Doherty, Vanessa Minnillo, Ludacris, Nicky Hilton, Jaime King, Mario Lopez, Estella Warren, Sean Faris, '90210's' Adam Gregory and 'DWTS' star Maksim Chmerkovskiy celebrating the launch of Armani Exchange (A|X) watches with an exclusive party at the SLS Hotel Rooftop in Los Angeles on Wednesday night.
Models Coco Rocha, Hilary Rhoda and Selita Ebanks along with designer Zac Posen at the 6th Annual New Yorkers for Children Spring Dinner Dance at the Mandarin Oriental Hotel on Wednesday.
Shana Moakler dining inside Strip House at Planet Hollywood Resort & Casino, Las Vegas on Thursday.
Dylan McDermott getting a "Smooth Massage" at Hollywood's Ona Spa on Thursday evening.
Queen Latifah partying with pals in a private cabana at Stone Rose, West Hollywood late on Thursday night.
Denise Richards, Lisa Rinna, Jamie Pressly, Alison Sweeney, Holly Robinson Peete and Jewel at the Hotel Bel Air on Friday for the Neutrogena and Cookie mag exclusive ladies tea in honor of "Access Hollywood" host Nancy O'Dell's new book "Full of Life: Mom-to-Mom Tips I Wish Someone Had Told Me When I was Pregnant."
Perez Hilton at Blush Boutique Nightclub inside Wynn Las Vegas on Friday happily retelling the story of his fight with Criss Angel. Apparently Angel attempted to take a dig at the blogger but Hilton in return thanked the magician for the free tickets to his show and found the whole scene particularly amusing.
Brooke Hogan dancing around and flashing her panties at the All Star Birthday Bash and Record Release party for her new boyfriend Stack$ at SOBE in Miami on Friday night.
Kate Bosworth, Kirsten Dunst, Anne Hathaway, Lake Bell, Chloe Sevigny, Rob Pattinson, Zoe Kravitz, Paul McCartney, Agnyess Dyne & Shirley Manson partying in the VIP at Coachella Music Festival in Palm Springs on Friday night.
Jonathon Rhys Meyers rocking out at the Britney Spears concert in Los Angeles on Friday evening.
L.A Lakers star Lamar Odem, Luke Walton and Derek Fisher raising money for Lamar's "Cathy's Kids" Foundation with a bash at Hollywood's Roosevelt Hotel on Friday night. R&B artist Faith Evans entertained the crowd with an intimate performance while odd actress Bai Ling also amused with her very serious dirty dancing while showing off her new boyfriend.
Vegas hometown band, The Killers, de-flowering the new Joint music venue at the Hard Rock Hotel & Casino Las Vegas Friday night to a sold out show of 4,000 fans.
Keanu Reeves, Mary Lynn Rajskub, Adrien Brody, Carlos Mencia, Raven-Symone, Alex Trebek and Bentley at the 33rd annual Toyota Pro/Celebrity Race as part of the Toyota Grand Prix of Long Beach on Saturday. (Reeves won, but only because the two front runners crashed just before the finish line).
Lauren Conrad hosting the pool party at MGM Grand's famous WET REPUBLIC in Sin City on Saturday before heading inside her VIP bungalow to play the Nintendo Wii.
Perez Hilton buying a Tous laptop bag inside the Miracle Mile Shops at Planet Hollywood Resort & Casino on Saturday.
Brody Jenner & his girlfriend (the reigning Playmate of the Year) Jayde Nicole rebuffing any rumors of a split by staying together in a two-bedroom suite at Palms Place Hotel & Spa on Saturday. They were spotted dining at Simon at Palms Place before heading up to the Playboy club for Blackjack. The duo also partied down further down on the Strip at PURE nightclub inside Caesars Palace.
Paris Hilton and beau Doug Reinhardt, a sober Tara Reid (sipping Pepsi Amp Energy and Vitamin Water only), Audrina Patridge, Adrian Grenier and Shaun White hanging out at the Rocket Dog/5Gum "Music Loves Fashion At House Of Hype" at Coachella in Palm Springs over the weekend.
Rain Nightclub resident DJ, Paul Oakenfold was dining at Nove Italiano inside Palms Casino Resort with a lady friend Saturday night.
Zach Braff, Jessica Alba, Cash Warren and Rihanna celebrating LA Clippers star Baron Davis's 30th birthday with Grey Goose at Hollywood hotspot MyHouse on Saturday night.